Tres Leches Cake is a long standing Tex-Mex favorite. The name literally means "three milks". The three milks we use are evaporated milk, sweetened condensed milk, and half & half. I've also heard rumors that some people swap out the evaporated milk for goat's milk.
The idea behind Tres Leches is that the three milks are combined and allowed to soak into white vanilla cake for a day or two to make an extremely luscious dessert. The resulting texture is somewhere between custard and bread pudding, and intensely sweet – in a great way.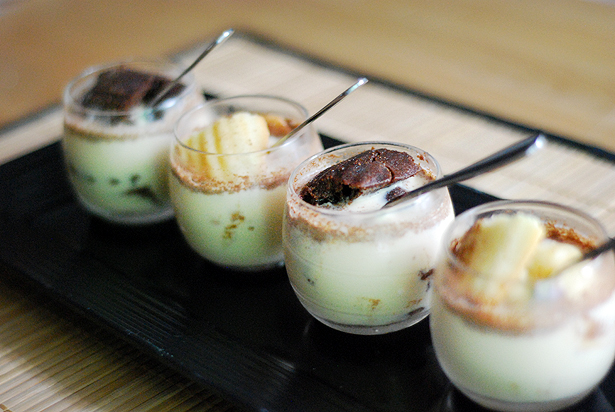 I've never been able to eat a whole slice of Tres Leches Cake on my own. I always thought it would be cool to make some sort of mini version that I would be able to finish. When Donsuemor came to me and asked if I'd like to participate in their Dessert A Day promotion, my wheels started turning. The madeleines made by Donsuemor are cakey cookie perfection. Surely they'd be awesome soaked in Tres Leches.

Add in some shot glasses, tasting cups, or even small mason jars, and you've got the perfectly sweet ending to your next dinner soiree – and it comes together in about five minutes flat. Just remember they should be refrigerated for 24-48 hours before serving, to allow the cookies to soak up the milks.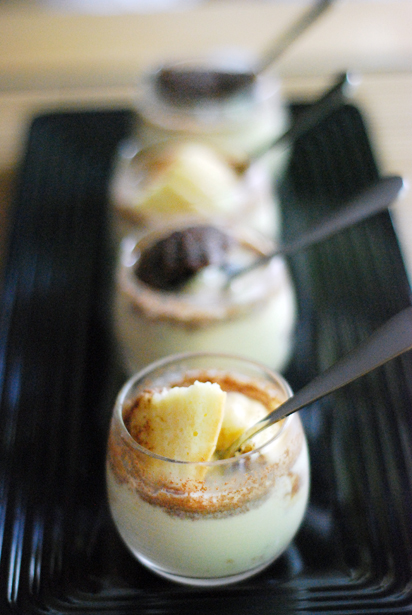 Donsuemor Tres Leches Tasting Cups
Serves 12 to 16 depending on your vessel size
Ingredients
1 12 oz can Evaporated Milk
1 14 oz can Sweetened Condensed Milk
1/2 cup Half and Half or 1/4 cup Heavy Cream
12-18 Donsuemor Traditional Madeleines
12-18 Donsuemor Chocolate Madeleines
1/4 tsp Cinnamon (optional)
Directions
Mix the three milks using a whisk in a large measuring cup with spout.
Using small bowls, tasting cups, or mason jars, break madeleines in half and pile them on top of each other into each vessel. I used roughly 3 per tasting cup, but you can use more depending on your vessel size. Fill it compactly, but with room for liquid.
You can make mixed chocolate and traditional cups, or keep them separated by flavor. It's up to you.
Pour Tres Leches milk mixture over cookies, filling until just below top of the cookies. Cover with plastic wrap and chill for 24 to 48 hours.
If you want to make only a few tasting cups, any leftover milk can be used in coffee or on an ice cream sundae. It should last in the fridge in an airtight container for 3-5 days.

[wpurp-searchable-recipe]Donsuemor Tres Leches Tasting Cups – – – [/wpurp-searchable-recipe]