Mixed Berry Mascarpone Scones are sweeter than sweet, with a delightful "cream tea" flavor to them that can't be beat. Mascarpone makes them wonderful.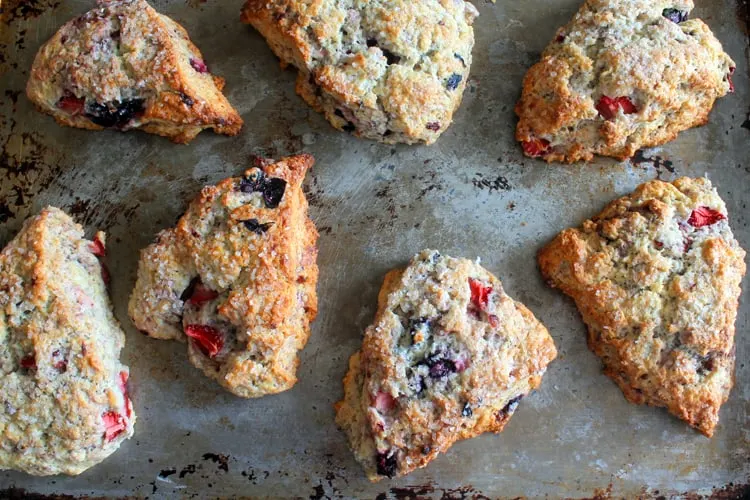 You know how sometimes you get an idea in your head and it just won't go away? That's where these Mixed Berry Mascarpone Scones come from.
You see, I have a toddler now. And he eats a LOT of fruit.
But sometimes I over-buy accidentally, and that fruit starts to spoil before he can eat it all. Especially berries.
I'm buying more berries than I ever have in my life, because this kid will eat them when he won't eat anything else. Except, much to my chagrin, blackberries. (My favorite.)
And because I'm not so smart sometimes, it didn't occur to me that I should eat the berries until they were on the cusp of not so greatness.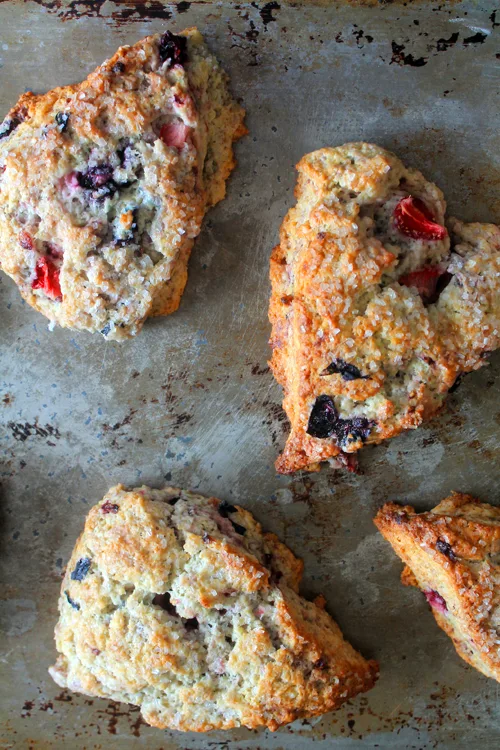 Armed with those softening blackberries, raspberries, strawberries and (sigh) blueberries, I knew I had to bake something, and bake something quick.
I'm also having a love affair with mascarpone right now. During my childhood, we never experienced mascarpone.
I think the first time I had a cannoli was in high school, at some school-sanctioned restaurant trip, and simply had no idea there was actually cheese in the middle of that sucker.
If you've never had mascarpone before, to me, it tastes and feels the same way heavy cream does to your tongue – only in a more solid form.
Then my friend Megan made Mascarpone Pancakes for Food Fanatic, and we became completely enamored with them around here.
They're one of Evan's favorite breakfast foods. So we suddenly had spare mascarpone kicking around pretty much all the time. It's not a bad problem to have.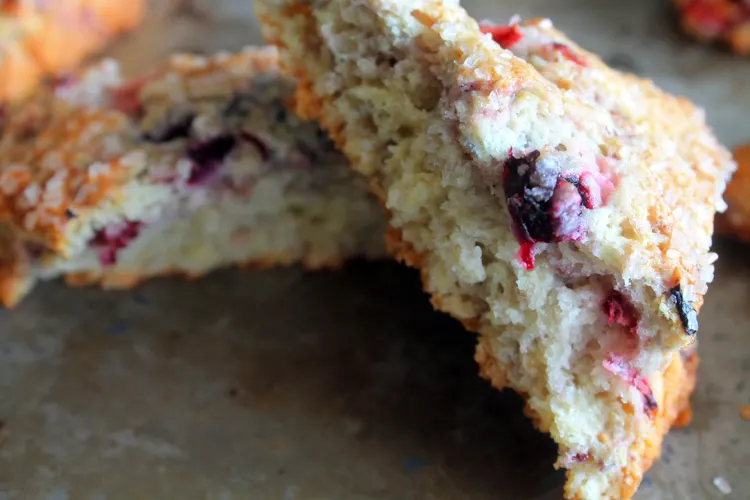 These scones went through a few iterations before this current recipe. In case you were wondering, when baked in frozen chunk form, mascarpone does, in fact, still melt.
It also takes on a much "cheesier" taste than it started with. Not what I wanted at all. So I backed off a bit, and just used mascarpone in the liquid portion of the scones.
I just kept makin' 'em until I got it right, because I was obsessed with the idea of mascarpone in scones – and you should be too.
What comes through is exactly what you wish a scone made with heavy cream would taste like. It's got that heavy, decadent mouthfeel that keeps you going back bite after bite.
Paired with berries, it's like the most magical tea time treat you can imagine.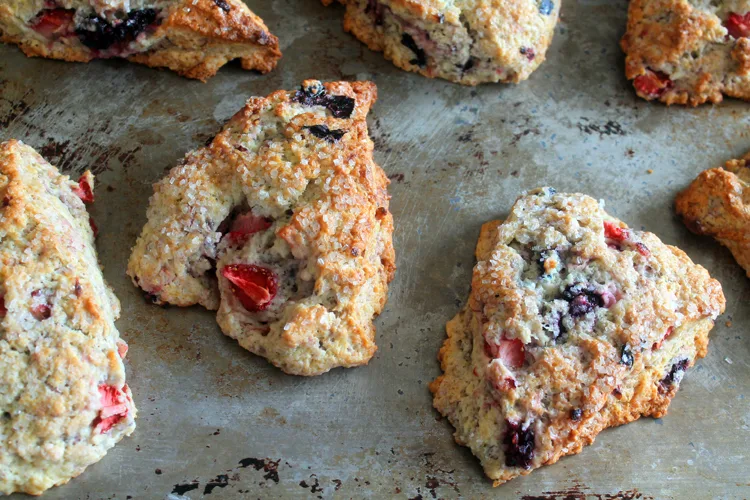 That's why I just had to serve them up today for my sweet friend Christina's virtual baby shower.
Christina and her hubby are expecting a darling little girl they'll call Camille. How could she be anything but lovely with a sweet name like that?
Evan and I cannot WAIT to meet Miss Camille, and hopefully someday give her a few kisses and cuddles too. In the meantime, we're celebrating her mama the way any good Texans would – with lots of good food and fun stories.
Christina, I know that you will be the most attentive, loving, generous mama.
You'll raise that baby right, with bacon and refried beans on occasion, and you'll make sure she's got at least a few pictures taken in Bluebonnet fields as she grows up. She is so lucky to have you and B as parents.