I'm so so SO very excited for today's post because I get to tell you all about my lovely friend, Jen from My Kitchen Addiction.
Jen is a generous, loving soul from sun up to sun down. Every week she's baking something new for her family, her church, or the neighbors down the road having a rough patch. She does this selflessly, and because it makes her happy to show her love through food.
Jen, there's a whole world of food bloggers that adore you to the ends of the earth. We're all posting today for a virtual baby shower, sharing a dish or a story like we would if we were all together, face-to-face.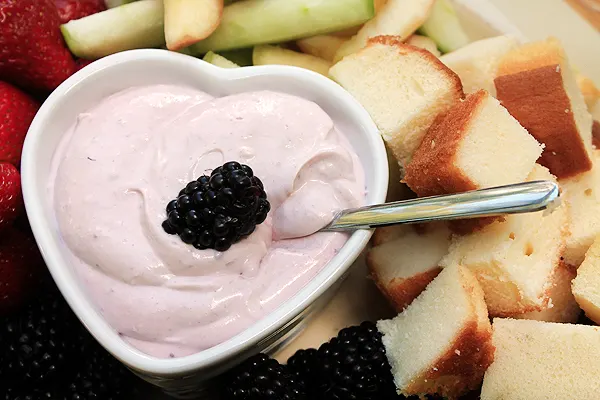 I made Raspberry Lemon Fruit Dip for our little party. It's light and fresh, and comes together super quickly. You can make it in advance, or you can make it in minutes before your guests arrive. I served my fruit dip with cubed pound cake and my favorite fresh fruits. I'm pretty sure even celery would be good on this plate.

An even bigger bonus, I'm pretty sure you have all the ingredients in your fridge right now, and if you end up with extra dip, you can totally freeze it into ice pops!
Delicious food and recipes brought Jen into my life over three years ago. I met her at The Big Summer Potluck in its first year, and since that fateful day, she has quite simply one of my favorite people on this Earth. Jen and her adorable husband Darron, along with their big ol' yellow lab, YellowDog, are expecting a precious bundle of joy into their family in just a couple more weeks.
A baby girl prayed and wished for, and so very very wanted.
Jen and Darron, today we celebrate you both, and the wonderful parents you will be. We celebrate the new baby girl joining our big foodie family.
And last, but not certainly not least, that YellowDog gets a new baby sister to slobber on!
Congratulations, dear friends. We can't wait to meet her!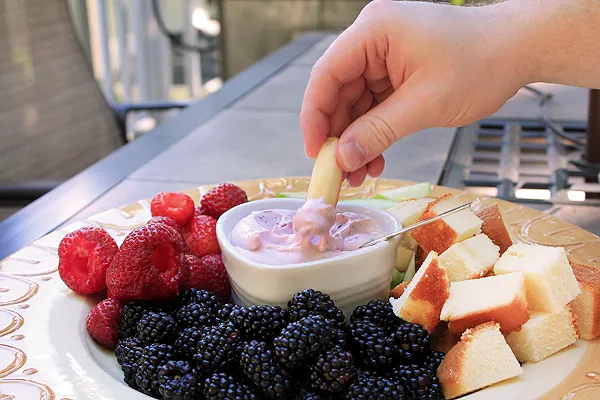 Raspberry Lemon Fruit Dip
makes roughly 2 1/2 cups
Ingredients
1 8 oz block of cream cheese, room temperature
1 6 oz container of Vanilla Greek yogurt
3 tablespoons raspberry jam
3 tablespoons lemon curd
3 tablespoons orange juice
Directions
Whip room temperature cream cheese and yogurt together with a hand mixer (or use a stand mixer) in a medium bowl until texture is smooth and creamy.
Add jam, lemon curd, and orange juice to the whipped mixture, then mix on high again.
Refrigerate until ready to serve.

Check out all Jen's friends around the web celebrating today!
[wpurp-searchable-recipe]Virtual Baby Shower: Raspberry Lemon Fruit Dip – – – [/wpurp-searchable-recipe]