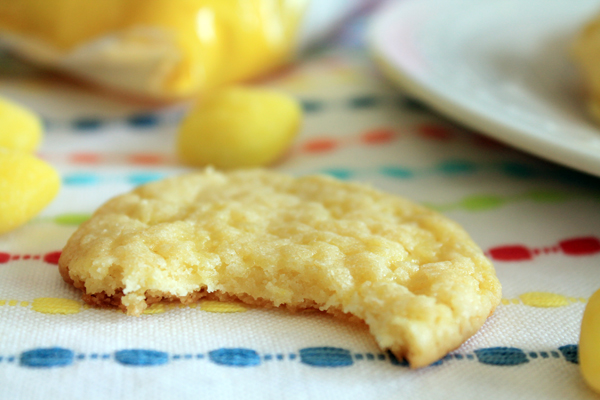 Do you ever look through old recipe books and find a recipe that truly surprises you? That's this recipe. Lemon Drop Cookies aren't a reference to the cocktail, not at all. They're named after that old-as-the-hills hard candy from Brachs that we all know and love.
When I was a kid, cough and throat drops made me sick to my stomach, so if I had a sore throat (and it was often – I perpetually had strep!), my mom would buy the sweet, tart Lemon Drops to soothe me. I still love them to this day, especially because they remind me of being cuddled up in my mom's bed with control of the TV remote.
So when I stumbled across the recipe for Lemon Drop Cookies in River Road Recipes, I knew I just had to make them. You know I'm no stranger to stuffing chocolate in cookies, but hard candy? This I had to try.
And, perfect timing, because my sweet friend Ashton from Something Swanky is getting a new house, and our mutual friend Roxana decided we should throw Miss Ashton a virtual housewarming party!
I have to tell you, these Lemon Drop cookies are exactly the thing to take to a housewarming party. Bright and crisp, buttery and chewy too, with bits of crunch that will have people guessing what went in them. They're just too good for words!
Ashton, there's nothing like owning your first home. Enjoy picking out paint and visiting Home Depot a thousand times in one weekend, and mowing your own lawn. Really, I mean it. There's just nothing like it!
Make sure you visit all of Ashton's party guests!



Julianne at Beyond Frosting – Pound cake with Champagne Glaze
Kate at Food Babbles – Raspberry Lemon Coffee Cake
Anna at Crunchy Creamy Sweet – Glazed Vanilla Donut Muffins
Loretta at A Finn in the Kitchen – Caramelized Almond Nougat Mousse Ice-cream
Joanne at Fifteen Spatulas – Cinnamon Crumb Coffee Cake
Ashley at Kitchen Meets Girl – Blueberry Muffins
Amber at Bluebonnets & Brownies – Lemon Drop Cookies
Dorothy at Crazy for Crust – Reese's Fudge
Joan at Chocolate Chocolate and more – Broccoli and Cheddar Cheese Quiche
Roxana at Roxana's Home Baking – Banana Sheet Cake
Julie at White Lights on Wednesday – Mocha Cupcake Milkshake
Hayley at The Domestic Rebel – Banana Split Poke Cake
Tanya at Lemons for Lulu – Lemon Muffins
Natasha at The Cake Merchant – Nutella Layer Cake
Jocelyn at Inside Brucrew Life – Butterscoth Banana Muffins
Lemon Drop Cookies
adapted from River Road Recipes
makes about 3 dozen
Ingredients
1 cup butter, softened
3/4 cup sugar
1 egg
1 tablespoon lemon juice
1 1/2 cups all purpose flour
1 teaspoon baking powder
1/4 teaspoon kosher salt
1/2 cup finely crushed Lemon Drop candies
Directions
Cream together butter and sugar on medium speed with a stand mixer or hand mixer. Add egg and mix again until fully encorporated, then lemon juice.
In a medium bowl, combine flour, baking powder, and kosher salt. Whisk together to combine and aerate.
Crush lemon drop candies. You can use a food processor, but I went for the old fashioned route – a ziploc bag and a hammer. It worked fine. Mix the crushed candies into the flour mixture and whisk again.
Add flour mixture to butter mixture in stages, mixing after each addition.
Refrigerate dough for at least 20 minutes. When dough is chilled, preheat the oven to 350°F and line a baking sheet with parchment paper.
Using a small cookie scoop, portion out dough balls, placing them about 2″ apart on the cookie sheet. Bake for exactly 10 minutes, or until the edges of the cookies are slightly golden.
Remove from the oven and allow to cool slightly before moving to a cooling rack.
Notes: I goofed on this recipe and added double the butter. The original recipe calls for 1/2 a cup. But, I loved the chewy, flat texture of the cookies, so I left it as is. Feel free to revert to the original amount if desired.

[wpurp-searchable-recipe]Lemon Drop Cookies for Ashton's Housewarming – – – [/wpurp-searchable-recipe]