Sometimes recipe development is just fun. One of the things I enjoy most? Creating a recipe for a contest.
I've come to learn about myself as I get older that I excel when I have a deadline and tight constraints on a project. Whether it's a work project or a blog post, I definitely love a challenge.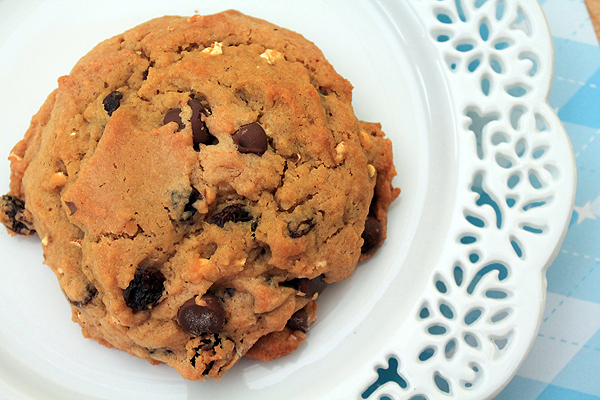 That's where these incredibly delicious cookies came from – a challenge from Smart Balance to create a recipe using at least one of their products. Ever the overachiever, I decided to use three!
Perfect for Oscar night, Emmy night, or your next movie night, these cookies are peanut buttery, with big chunks of semisweet chocolate and raisins, and the surprising crunch of buttery popcorn in nearly every bite.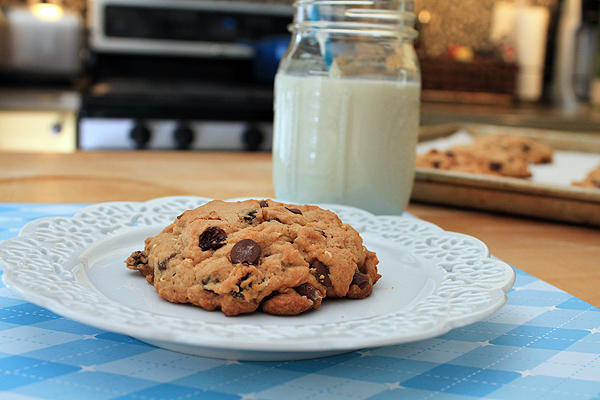 I'd love it if you'd be kind enough to like Smart Balance on Facebook and vote for my recipe. The winner of the recipe contest will get to give away a fabulous trip for two to Canyon Ranch Hotel and Spa on their blog. I would *love* to be able to offer that to you guys.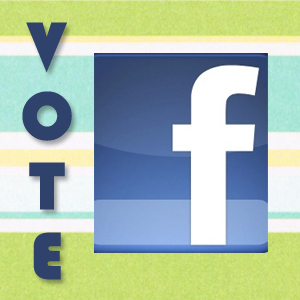 Click on the image to vote! Look for "Cinema Smart Cookies" after you like the page.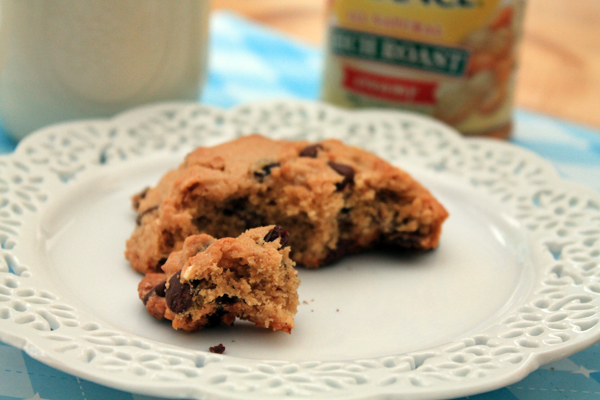 Cinema Smart Cookies
makes 14-18 saucer-sized cookies
Ingredients
2 1/2 cups All Purpose flour
2 teaspoons baking powder
1 tablespoon cornstarch
1/4 teaspoon nutmeg
1/2 cup Smart Balance Spread
1/2 cup Smart Balance peanut butter
3/4 cup granulated sugar
1 cup brown sugar
2 eggs
1 tablespoon vanilla extract
1 cup crushed Smart Balance popcorn (or more, as desired)
1 tablespoon honey
1 cup raisins
1 cup semisweet chocolate chips
Directions
1. Preheat the oven to 350F. Pop the Smart Balance microwave popcorn and set aside to cool.
2. In a medium bowl, combine all purpose flour, baking powder, corn starch and nutmeg. Use a whisk to combine and aerate the dry ingredients, stirring quickly for about 30-45 seconds.
3. In the bowl of a stand mixer, or using a hand mixer and a large bowl, beat together Smart Balance Spread and Smart Balance Peanut Butter until light and fluffy and well combined.
4. Add the granulated sugar and brown sugar, then beat again until light and fluffy.
5. Add the eggs one at a time, beating after each addition until the egg is completely incorporated. Add the vanilla extract and mix one last time until light and fluffy.
6. Add the dry ingredients to the wet mixture in increments, mixing on low speed until the ingredients are well combined. Scrape the sides of the bowl before each addition to make sure that the flour is well incorporated.
7. Measure out a cup (or two – as desired) of popcorn into a medium bowl, and crush it lightly in your hand to break the popped kernals into smaller pieces. Drizzle 1 tablespoon of honey on top of the crushed popcorn pieces and toss together.
8. Add honeyed popcorn, raisins, and semisweet chocolate chips to the cookie dough, mixing through gently by hand.
9. Line a baking sheet with parchment paper. Measure out 6 cookie dough balls using a large (3 tablespoon) cookie scoop, placing each dough ball about 2″ apart on the cookie sheet.
10. Bake the cookies for 22-25 minutes, until golden brown. If you prefer chewier cookies, make sure to remove them at around the 22 minute mark.
11. Cool the cookies on the baking sheet for a few minutes, then remove to a wire rack to finish cooling.
12. Serve with a large glass of milk and your favorite rainy day film – mine is Back to the Future!

This recipe was created for Smart Balance as part of their Blogger Recipe Challenge. I was provided with a coupon for 1 Smart Balance product to assist with the cost of recipe development. I have not been compensated for this post.[wpurp-searchable-recipe]Cinema Smart Cookies – – – [/wpurp-searchable-recipe]