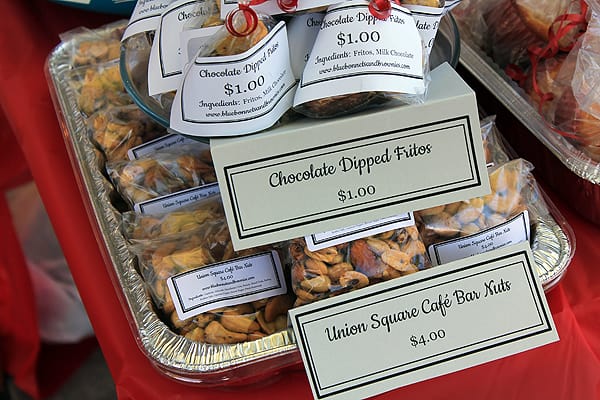 I first had these bar nuts pre-dinner outing at Pam's house several years ago. As we waited for one of the fellas to get home so we could all go nosh on pizza at some cool boutique-y little restaurant in Connecticut, it was clear that everyone was ravenous.
Ever the perfect hostess, Pam grabbed a Costco container out of the cupboard and poured a bowl full of these spicy, sweet, perfectly savory nuts for us and set them on the island. They were gone in mere moments.
Over the last six years, I've made these nuts for every party I've thrown, for every game night, and even for a wake. They're the exact snack you want whether you've got wine, beer, or whiskey in your hand. They smooth the rough edges in the same way a glass of wine does, giving you just enough satiety to power through until dinner is in front of you.

Sitting out front a wine store for our Great American Bake Sale, I figured these nuts would be a no-brainer. They go exceptionally well with a crisp fruity white, I'm happy to tell you.
Whether you make these as a starter for your Memorial Day barbecues or just to keep around the house as a pre-dinner snack, everyone's going to want the recipe, I promise.