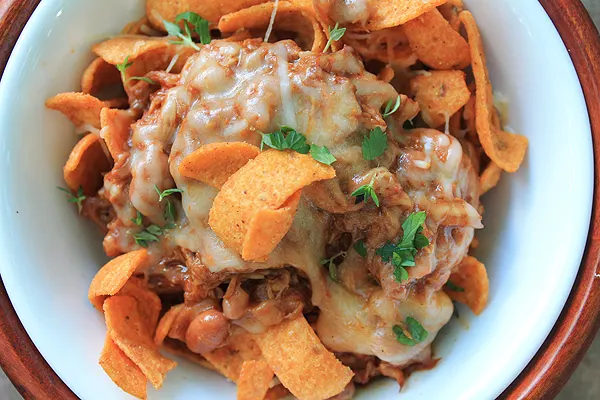 It's been way too long since we did a Fritos Friday, don't you think?
I can't imagine a better way to celebrate things slowly getting back to normal around here than a mound of Barbecue Fritos covered with pulled pork, chili beans, cheddar cheese, and a little parsley to brighten things up.
Hurricane Sandy may have taken a lot of things from a lot of people, but one thing you can be sure of: serving and sharing good food is one great way to bring people together.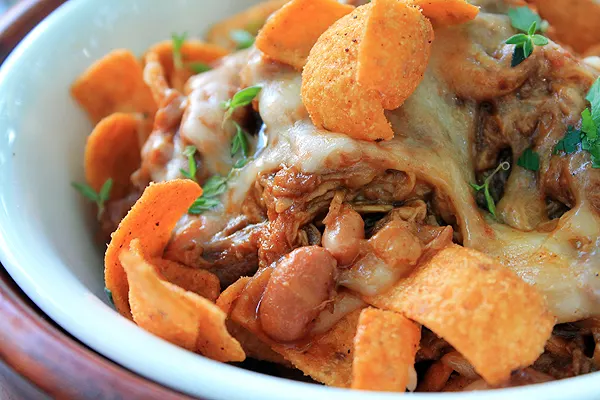 There are so many stories coming out of the abysmal aftermath; stories of neighbor helping neighbor, stories of whole families feeding as many people as they can, without the help or organization of bigger entities like the Red Cross.
Of course, the Red Cross, Salvation Army, and others have their place, and they warrant great esteem. But for me, the stories of individuals taking initiative all on their own to help others is even more inspiring.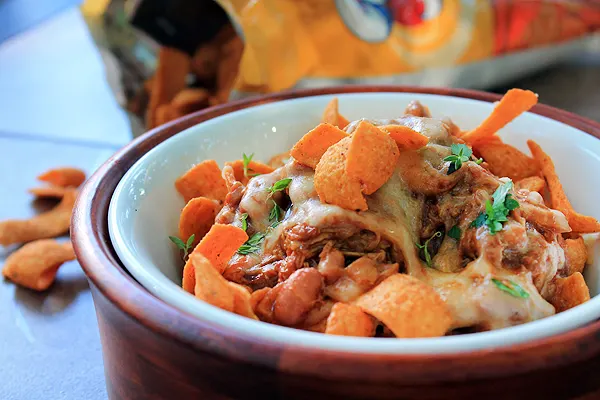 It's not just isolated to the local folks though. Barb and Jenn started a Food Blogger initiative to raise money across the world, and the response has been amazing. This little pocket of the Northeast thanks you for your valiant efforts, ladies!
Where I come from, Frito Pie is comfort food extraordinaire. We eat it at football games, under Friday Night Lights. Usually it's made with chili. The idea for this Frito Pie actually came from my pal Mary Jane over at King Arthur Flour.
We got to emailing one day, and Mary Jane was kind enough to share her husband's famous barbecue sauce recipe, and mentioned that they had recently had pulled pork Frito Pie. How could I not recreate this at home?!
We made this after making Pulled Pork Nachos the night before, using the leftover pulled pork from those. I simply added a can of Ranch Style Beans and we were good to go.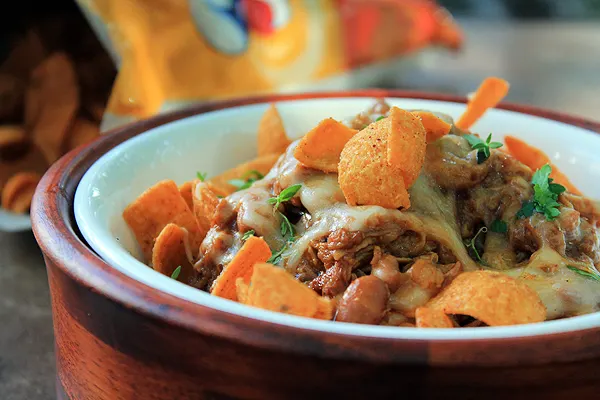 Enjoy Mary Jane's family recipe for Barbecue Sauce, and have Pulled Pork Frito Pie for dinner tonight!
Pulled Pork Frito Pie
For the Barbecue Sauce
Ingredients
1 64 ounce bottle Heinz Tomato Catsup (I used Simply Heinz)
1 cup brown sugar
1/4 cup of molasses
1/4 cup white vinegar
1/4 cup worcestershire sauce
2 tablespoons spicy mustard
2 tablespoons dried onion flakes
1/8 teaspoon hot sauce of your choice (I used Tobasco)
1 clove of garlic, minced
Directions for the Barbecue Sauce
Place all ingredients in a slow cooker. Whisk together until well combined. Simmer on low for three hours. Stir it every so often, as the high sugar content will cause it to burn if you don't.
For the Pulled Pork
Ingredients
2 lbs pork shoulder
kosher salt
fresh cracked black pepper
2 1/2 cups of Mary Jane's barbecue sauce (remove the rest from the slow cooker, it can be stored in the refrigerator for later use)
1 large Vidalia onion
3 cloves of garlic, minced
Directions
Heavily coat the pork shoulder with kosher salt and black pepper.
Slice a large Vidalia onion into slices, and mince three cloves of garlic. Set aside.
Remove barbecue sauce from the slow cooker and measure out 2 1/2 cups. Store the rest in the refrigerator for later use.
Place the pork shoulder in the slow cooker, then cover it with onion slices and garlic. Pour the barbecue sauce over all the ingredients.
Cook on high for 3-4 hours, then remove the pork and place it in the bowl of a stand mixer. Use the paddle attachment to mix on high, instantly pulling the pork without burning your fingers!
Place the pulled pork back in the barbecue sauce and mix well to coat evenly.
To Assemble Pulled Pork Frito Pies
makes 4-6 pies
1 bag Barbecue Fritos (not Twists)
Pulled Pork
1 15.5 oz can Ranch Style or Chili Beans
2 cups Sharp Cheddar cheese, shredded
Fresh Parsley for garnish (optional)
Directions
Place a few handfuls of Barbecue Fritos in each bowl. Mix pulled pork and chili beans together in a bowl. Spoon about 1/2 cup of pulled pork on top of Barbecue Fritos.
Cover with shredded Sharp Cheddar cheese. Melt the cheese in the microwave if desired.
Top with fresh chopped parsley.

Amazon links within this post are created from an affiliate program. Bluebonnets & Brownies receives a small commission on products that are purchased through these links.[wpurp-searchable-recipe]Pulled Pork Frito Pie – – – [/wpurp-searchable-recipe]