Are you ready for some football!?
The truth is, football for me is about two things: comforting background noise, and really great food. I can follow along well enough, I think, but I never learned the rules properly.
Despite all this, I love football because every Autumn Sunday of my childhood was filled with the sounds of football. My dad is the ultimate fan, and my mom quite regularly refers to herself as a football widow.
What I remember best though, is that while Dad watched football, we did other stuff around him. Coloring, craft projects, homework. Comfortable silence while the TV crowds roared. That is what family Sundays were all about for us.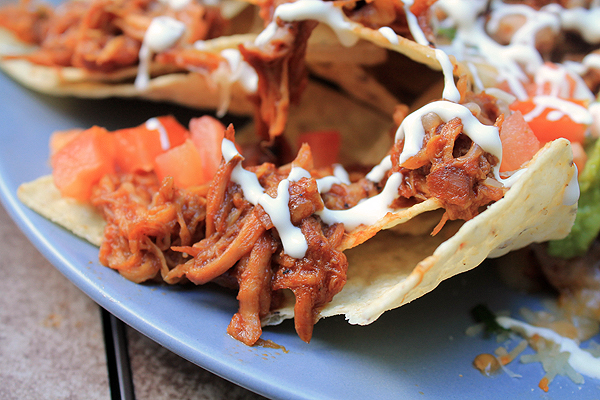 This past Sunday, while football played in the background, I went on a cooking and baking spree. No less than six different dishes later, James and I were exhausted and ravenous from several rounds of dishwashing in addition to all the cooking.
Windows open and letting in a deliciously cool breeze, we sat down in front of the Jets with a plate of these Pulled Pork Nachos. Within minutes, the entire plate was devoured, and we were both smiling. I know the Jets did well, but I remember the sweet moments we fought over the most loaded chip, and the murmurs of satisfaction at a snack well-deserved, all of it with football crowds cheering in the background.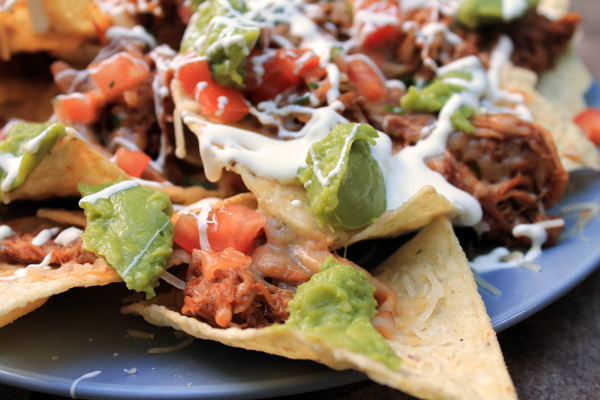 The idea for Pulled Pork Nachos came from Shelly. We had dinner together last month, and she mentioned eating them somewhere (I'm rubbish and can't remember where!)… and then we went to Nashville at the beginning of September, and I had them at a restaurant there. The restaurant nachos were okay, but I knew I could do better.
You can top your Pulled Pork Nachos with whatever you want. I went for pretty traditional stuff: diced tomatoes, cilantro, cheddar cheese, guacamole and sour cream. The pulled pork is cooked in barbecue sauce, so you don't really need additional salsa. These nachos are plenty flavorful on their own.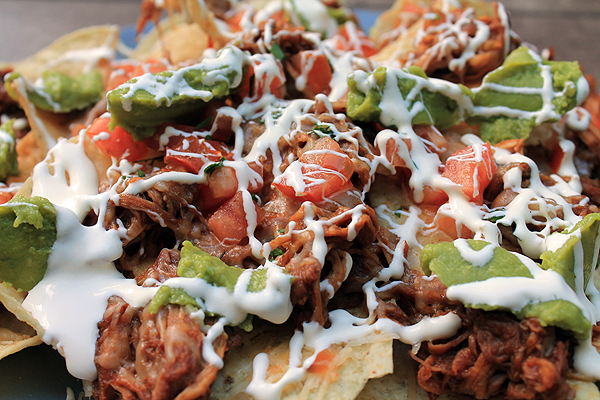 What are you cooking up for Game Day?
Share with me via Capture – a free app for the iPad and iPhone. Look for my "Game Day Grub" Request!
Pulled Pork Nachos
Makes several dinner size plates of nachos, perfect for your next party!
Ingredients
2 lbs pork shoulder
kosher salt
fresh cracked black pepper
1 bottle (18 ounces) of your favorite barbecue sauce (Try Stubbs Hickory Bourbon Barbecue Sauce!)
1 large Vidalia onion
3 cloves of garlic, minced
– chopped tomatoes
– guacamole
– shredded cheddar cheese (I used Sargento Authentic Mexican cheese blend)
– chopped fresh cilantro
– sour cream
– 1/2 teaspoon cumin
Directions
Place a roughly two pound pork shoulder roast in a slow cooker. Season liberally with kosher salt and freshly cracked black pepper. Cover the roast with the entire bottle of barbecue sauce.
Place sliced onions on top and around the roast, as well as minced garlic. Cook on high in the slow cooker for 3-4 hours, until the pork easily pulls apart when pierced with a fork.
To easily pull the pork, place it in the bowl of your stand mixer. Turn the mixer on medium speed – you'll have pulled pork in about 30 seconds!*
Add the meat back to its sauce and stir to make sure the pork is fully covered with sauce.
To Assemble the Nachos
Place tortilla chips on a microwave and oven safe plate. Drop spoonfuls of pulled pork over the tortilla chips, trying to get a fair helping on each chip.
Add cheddar cheese, then heat in the microwave, or for an authentic Tex-Mex restaurant experience, heat in the oven until cheese is melted and bubbly. Sprinkle the nachos lightly with cumin.
Add chopped tomatoes, guacamole, chopped fresh cilantro, and sour cream.
Serve immediately!
***I cannot take credit for this trick. Someone I follow on Instagram clued me into it. I just wish I could remember who it was!

Where links to Amazon are provided, they are affiliate links. This means that if you later purchase something from Amazon after getting there via the link I provided, I get a few cents from Amazon's profit on what you purchased.[wpurp-searchable-recipe]Pulled Pork Nachos – – – [/wpurp-searchable-recipe]