Years ago, my Nan started frequenting a nail salon near her house. She said it made her feel pretty to get her nails done every couple of weeks, and she always delighted in getting adorable little designs, especially when there was a holiday around the corner.
I vividly remember her glee at bright green nails with a glitter four leaf clover for St. Patrick's Day one year. She loved being a big kid in a lot of ways.
And it wasn't long before she was dragging Gaga along to the nail salon to get a pedicure. Sure enough, my burly, Army-Strong grandpa, he got a pedicure with my nan every couple of weeks because it made Nan happy.
Along the way, they became especially close with Dana, the owner of the salon, and her family. Eventually even sponsoring members of Dana's family to come to the U.S.
Dana and her family referred to my Nan as "Mama", and shared lots of wonderful things with her, including spring rolls.
When Nan passed away last year, Dana was as heartbroken as the rest of us. She and her family surrounded us with love, bringing food and staying to talk, and pampering us with spa treatments. They are true friends.
And as true friends do, Dana shared this recipe with my mom a while ago. Dana's recipe is for Vietnamese Spring Rolls, but since I couldn't find the smaller Spring Roll wrappers, I turned them into Egg Rolls. The filling is savory and slightly sweet, and delicious in all the ways an Egg Roll should be.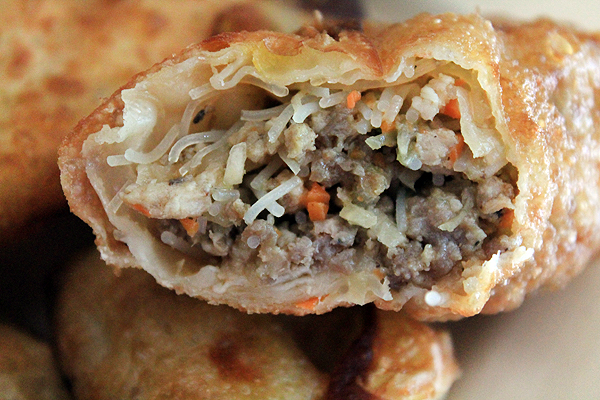 Serve them alongside some Sweet Thai Chili Sauce, and you've got one heck of a terrific party appetizer. Or have more than a few for a small dinner. That's what James and I did the other night, and I don't regret it for one minute!
If you're loathe to deep fry, these Egg Rolls can be baked. Simply brush a little olive or canola oil over them and bake in the oven at 350° for 10 minutes. They're delicious and still have some crunch.
My mom has also shallow fried them with success. But if you're looking for that Chinese take-away texture and flavor, go the extra mile and deep fry them.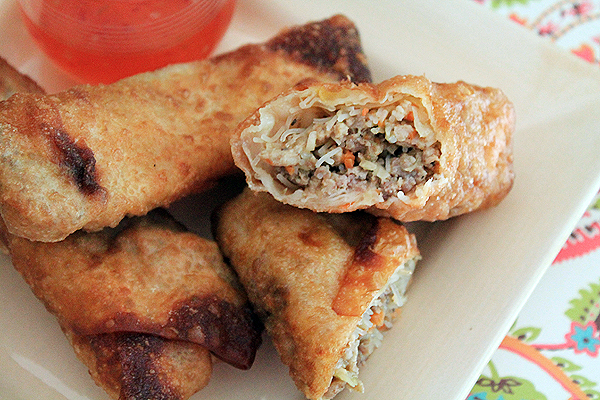 My extra special thanks to Mom and Dana for sharing this recipe with me, and allowing me to take poetic license with it.
Mama's Egg Rolls

Makes about 30 egg rolls
Ingredients
4 medium carrots, shredded very finely
1 small onion, minced
3 celery stalks, minced
1 lb. Coleslaw in a Bag ready-to-eat mix, divided
1 cup button or cremini mushrooms, diced finely
2 tablespoons olive oil, divided
1 lb. ground pork sausage (I used Jimmy Dean)
1 lb. ground chicken
1 tablespoon kosher salt
2 cloves of garlic, minced
1 teaspoon ground ginger
1/2 teaspoon onion powder
Black pepper to taste
2 tablespoons Sesame Garlic Stir Fry Sauce
1 cup Maifun noodles (2 bunches)
2 packages Egg Roll Wrappers
1 egg yolk
Directions
Prepare all of your vegetables for sauteing – Shred, chop, and mince each type until you have fine pieces. I did this with my Tupperware Chop N Prep, which chops foods extremely fine. If you don't have a tool like this, do your best to get the vegetables as small as possible for stuffing into the egg roll wrappers.
Divide the coleslaw package. I sauteed half of it and left the other half uncooked, but used the entire package.
When the vegetables are all chopped, divided, etc., mix all but the saved bit of raw cabbage together in a large bowl and set them aside.
Heat a large saute pan over medium-high heat. When the pan is fairly hot, add one tablespoon of olive oil to it. When the oil slides across the pan easily, add your mixed vegetables to the pan and saute them until they start to sweat. Season with salt and pepper. Return them to the large bowl they started out in.
Add the ground pork to the saute pan, stirring and smashing to create small chunks and to evenly brown. Salt and pepper the meat as it cooks. If your pan is big enough, add the ground chicken at the same time. If it isn't, once the pork is cooked, remove it to a bowl while you cook the chicken.
Add the second tablespoon of oil to the pan, and repeat the process with the ground chicken, again seasoning it with salt and pepper as you go. When the chicken is cooked, add the pork back to the pan and mix them thoroughly.
Add the minced garlic, ground ginger, Sesame Garlic Stir-Fry Sauce, Onion Powder, and freshly cracked black pepper to the meat, stirring well to evenly distribute the spices.
Remove the meat mixture to the same large bowl as the vegetables and stir well to evenly combine.
Place the bowl in the refrigerator for at last half an hour, until the filling has cooled enough to be handled.
When the filling has about 10 minutes left of cooling time, fill a medium bowl with very hot tap water. Add two bunches of Maifun (also called glass or cellophane) noodles to the water and allow to soak.
After 10 minutes, remove the noodles from the water and pat them dry on paper towel. Use a knife to chop them into smaller pieces.
Remove the filling from the refrigerator and add the Maifun noodles and reserved uncooked coleslaw mix to it, stirring well.
Line a jelly roll pan with parchment paper. Whisk the egg yolk in a small bowl and set near where you will prep the egg rolls.
Take one egg roll wrapper at a time. Fill it with a couple tablespoons of filling. Fold up the bottom of the egg roll wrapper over the filling, then fold in the sides. Roll the wrapper until you have just what looks like the top of an envelope left.
Using the tip of your finger, first dip it into the egg yolk, then rub your finger along the top fold of the egg roll. Roll the rest of the egg roll up. The egg yolk acts as glue to make a seal.
Place the egg roll on the jelly roll tray, then repeat the process until you have used all of the filling.
To Deep Fry: Fill a large saucepan or French oven with 3-4 inches of oil. Heat the oil to 375°F. Drop 1-3 egg rolls into the oil at a time and allow them to cook for approximately 60 seconds, until golden brown. Remove with a slotted metal spatula to a paper-towel lined plate or tray. Allow to cool slightly before eating.
To Bake: Preheat oven to 350°F. Brush egg rolls lightly with olive or canola oil. Bake on a parchment lined tray for approximately 10 minutes, until golden brown and crispy.
Notes
– While this recipe makes 30-36 egg rolls, you don't have to cook them all at once. Place them on a parchment lined jelly roll pan and freeze them. When they're frozen, remove them from the tray and place them in a freezer-safe ziptop bag. You've just made your own ready-to-cook egg rolls instead of buying them from the warehouse store.
– Cooking from frozen, either baked or fried, will require more time. Just watch for the golden brown color in both instances.

[wpurp-searchable-recipe]Mama's Egg Rolls – – – [/wpurp-searchable-recipe]