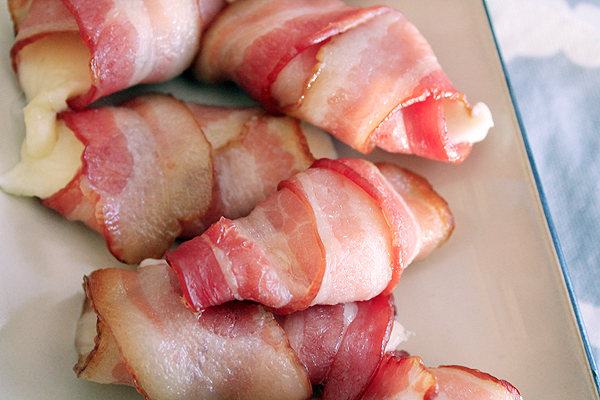 So here's the thing. The Brits get a lot of flack for 'tasteless' food. But after two years living there and nearly a decade in a relationship with an Englishman, I'm here to tell you that this is entirely a falsehood. From curries to roast dinners, British cuisine is some of the best in the world.
Case in point: can you imagine anything more decadent and tasty than melty sharp cheddar cheese wrapped in crispy bacon?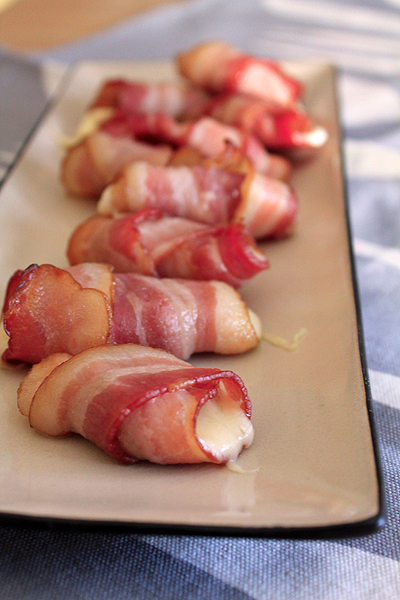 I first experienced British bacon rolls, made with what the Brits term as "streaky" bacon (us Americans just call it bacon) and super sharp cheddar, at the first Christmas I spent at James's parents house.
James's step-mum pulled out a fancy Marks & Spencer package (trust me, anything from M&S is super posh) and proceeded to bake them off. The smell alone was enough to have me salivating while I sat on the couch, but biting into a hot Bacon Roll for the first time was kinda life changing.
British Bacon Rolls are a perfectly indulgent way to send off 2012. Before we plan our new work out routines and healthy eating plans, one last hurrah to the beauty of the holiday season.
Whether you serve them as a party hors d'oeuvre or just for the family as a quiet ringing in for the new year, I think you're going to love every British bite.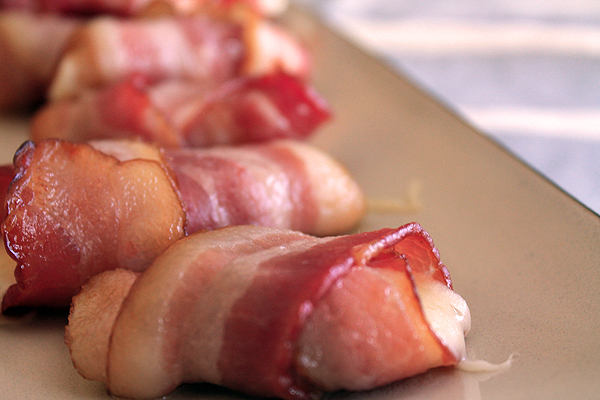 Happy New Year, from our house to yours!

British Bacon Rolls
makes 30-36
Ingredients
1 package center cut bacon (not extra thick)
2/3 lb. sharp Cheddar (I used Cheddar Gruyere Melange from Trader Joe's)
Directions
Slice cheese into chunks 1/2″ x 1 1/2″ and freeze in a ziploc bag for at least 2 hours.
When cheese is solidly frozen, preheat the oven to 375°F.
Fit a cooling rack into a baking sheet and set aside.
Open the package of bacon, then roll a chunk of cheese up in the bacon. I found that setting the cheese diagonally across the bacon allowed for easier rolling to completely cover the cheese. When the cheese is completely ensconced in a slice of bacon, place it on the cooling rack set into the baking sheet.
Place the rolls about an inch apart. Fill up the baking sheet until you're out of bacon. You may end up with extra cheese or bacon – just save them for another dish.
Bake the rolls for 15-18 minutes, until the bacon is as crisp as you like. You may have some cheese begin to melt, but hopefully not too much since you started with frozen cheese.
Place rolls on a paper-towel lined plate to remove some of the excess grease, then serve immediately.
I highly recommend serving dipping sauces of mustard and Tomato Jam.
Leftovers can be chopped up and tossed into scrambled eggs or an omelet.
Please keep in mind that the bacon will not be crazy crispy. It will be cooked, but not "out of the pan" crispy all the way around (some spots will get that way, others won't). If you'd prefer it to be crispy from start to finish, first lightly fry the bacon in a skillet, but not too long – only until it has *just* browned. Drain on a paper towel, let cool, then wrap the frozen cheese and bake as directed.

[wpurp-searchable-recipe]British Bacon Rolls – – – [/wpurp-searchable-recipe]