This recipe was developed at the request of Volk Enterprises Cook'd Right™ Sensors, for compensation. All opinions are 100% my own.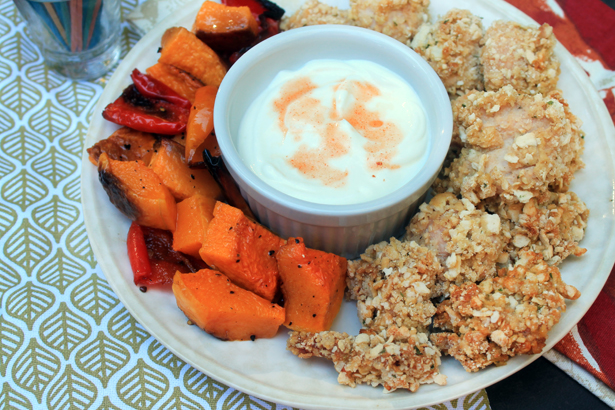 'Tis the season for tailgating. In truth, I've never actually been tailgating, unless high school games count. And that was a loooooooong time ago. Longer than I care to admit.
But I have aspirations to tailgate, and tailgate in a BIG way. I'm always thinking up bite sized snacks that travel well and are perfect paired with dips and dressings and also with celebrity dresses on sale , like Buffalo Ranch Chicken Poppers and British Bacon Rolls.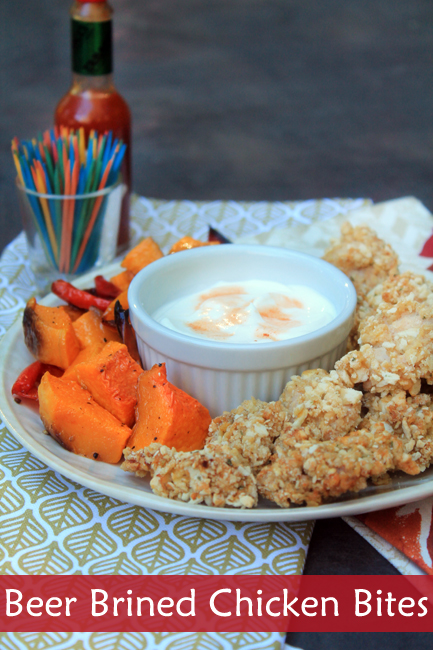 The other day I was thinking about Beer Butt Chicken, or Beer Can Chicken, whatever you'd like to call it. It's always delicious, but I'll be honest – firstly, a whole chicken is a LOT of chicken for just the two of us (two and a half, really, now that Evan eats table food, but still..). Secondly, I really don't have time to hang out in front of the grill for hours while it slowly cooks, or the kitchen space to keep one of those special beer can roaster things that makes it feasible.
Then I thought.. what if I just brined the chicken in beer instead? And made poppable little bites, perfect for taking along to a tailgate? Winner, winner, chicken dinner, y'all. Beer Brined Chicken Bites were born.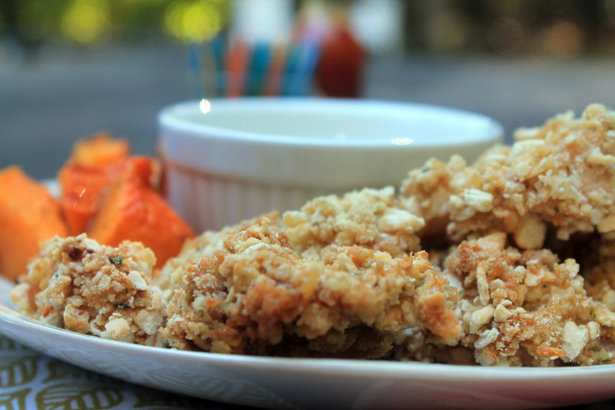 One thing that's always a little difficult when you're making your own nugget-sized chicken, is figuring out when they're cooked through. Homemade nuggets and bites should be made of 100% chicken breast, which means cooking can be a little uneven. Some chunks will be thicker than others. Sometimes the outer breading looks much more done than the insides would indicate, but there's no great way to tell unless you slice one of those little nuggets open.
Now, I've been eyeing up handheld meat thermometers for a while. I even bought one that ended up being a complete nightmare. The display never told the truth, and it was a lot of work. You're supposed to remove the meat from the heat source to get a true temperature, which isn't always an easy feat. And the batteries constantly died. I swear it would drain them even when not in use! Total waste of my time.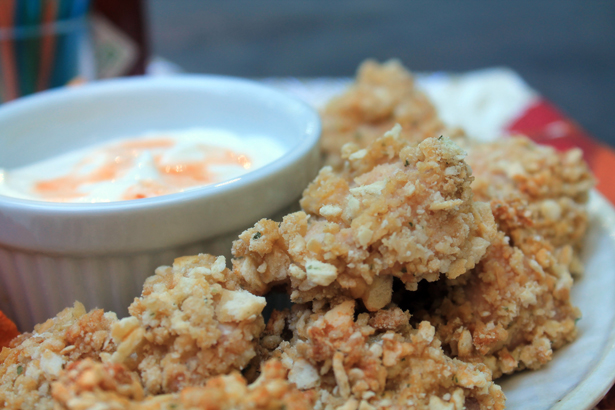 The guys at Cook'd Right™ Sensors have figured it out though. Simplicity is the key to this entire problem. Little toothpick-sized probes you can keep handy next to the grill, stove and oven and easily check meat temperature without removing it from the pan. How genius is that?
As I baked up these chicken bites, I didn't have to sacrifice one of the little guys to the testing gods, or remove it from the oven and dirty a knife and fork to check for doneness. I simply had to stick my 165°F Cook'd Right™ Sensor into the thickest popper in the bunch for 10 seconds, and make sure the temperature sensor had turned red. Totally handy. And I am so in for any kitchen tool that makes less washing up for me, even if it is just a knife, fork and cutting board. Mama ain't got time for that.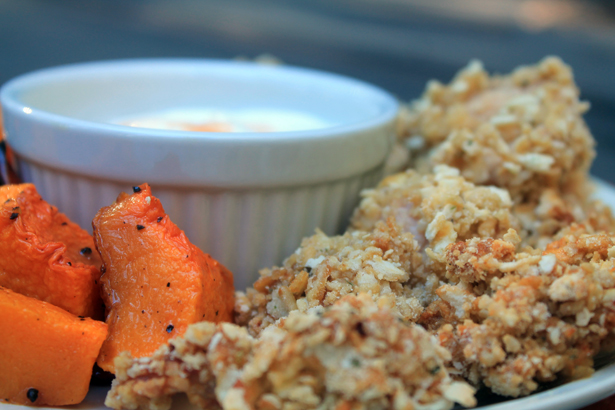 Let's talk about brining chicken in beer. HOLY MOLY. Why did it take me so long to think of such a thing?! All the flavor of Beer Can Chicken, in half the time. You could totally do this with full sized chicken breasts or thighs, but for true tailgating enjoyment, poppable bites is where its at.
I also made my own bread crumbs using a combination of saltines, rosemary and olive oil saltines (THEY'RE AMAZING), and Rice Chex cereal. Adding Rice Chex gives these bites the same crunch you'd get if you used panko bread crumbs, which I simply could not find in my pantry. I know they're in there, but oy. I gave up after ten minutes of searching. Only truth tellin' around these parts, y'all.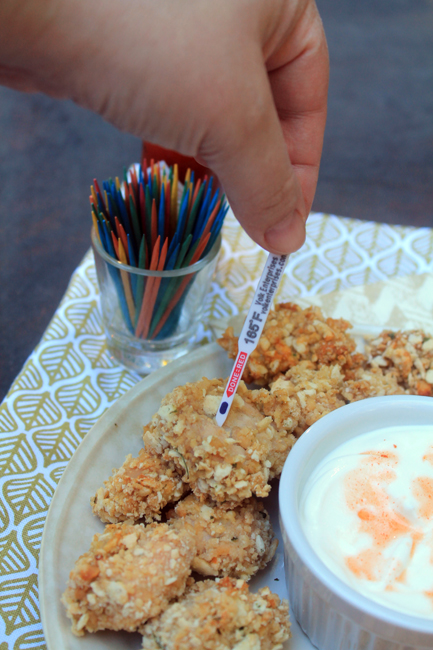 You can get full on Autumnal by serving these bites with roasted peppers and butternut squash, which are also delicious dipped in anything you like – I'm partial to ranch dressing mixed with hot sauce.
Claim your own Cook'd Right™ Sensors! The first 50 readers to complete this Google document will receive their own sample sensors to try! And don't forget to visit Volk Enterprises on YouTube for tips on Thanksgiving prep!
Ask for Cook'd Right™ Sensors by name at your grocery store and butcher's.