These may be my new favorite wine o'clock snack. For serious. Can anything make you feel more adult and grown up than a glass of crisp delicious wine and a few homemade nibbles to go with it?
I found this recipe for Cheese Herb Crisps on Sargento's website and immediately knew I'd be making it just because. No special occasion, party or get-together. Just simply because when it comes to seven p.m. around here, I need a glass of Riesling and a few bites to hold me over until the mister walks through the door.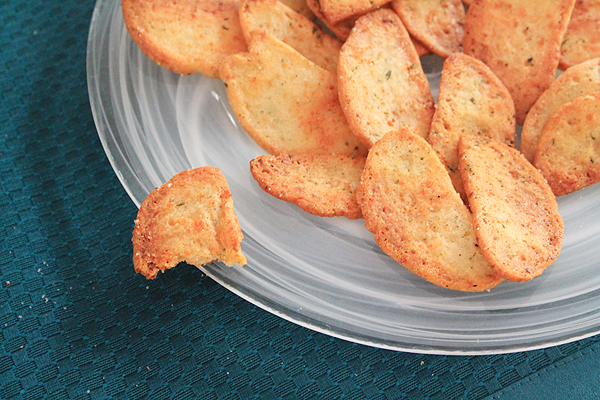 These crisps fit the bill perfectly. Originally I was going to make them exactly as Sargento does – with oregano, basil, and sun-dried tomatoes. I mean, who doesn't love a sun-dried tomato?
But as I went to make the dough, I looked out onto the deck and noticed just how happy my rosemary plant seemed. It's one of the few plants that refuses to die or wilt on me, despite my best efforts. I'm quite thankful for that, because rosemary is probably my favorite herb. I use it constantly on chicken and pasta, even shortbread.
Rosemary is a natural partner to that other kitchen darling; garlic. These crisps almost take on a Pita Chip persona (oh my – just ask Casey about my addiction to those!) with the addition of garlic salt and black pepper to the discs of dough just before they bake.
The crisp golden texture belies the nutty flavor of the dough brought through by the baked Parmesan. There's just a little creaminess too, from the mozzarella.
Like I said at the start – exactly the sort of nibble you want to nosh during cocktail hour.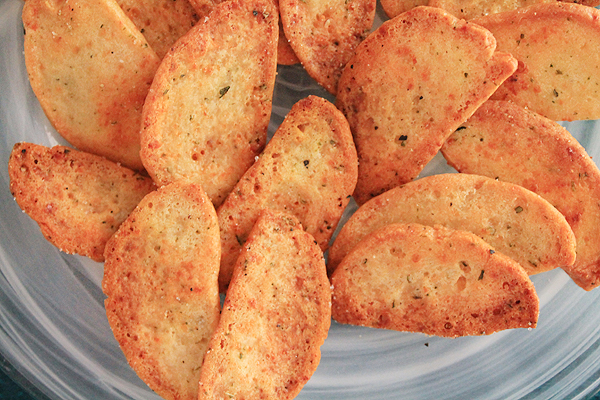 What's your favorite snack to have with an adult beverage?

Garlic Rosemary Cheese Crisps
adapted from Sargento
Ingredients
1 1/2 cups all-purpose flour
1/2 cup butter, room temperature
1/2 teaspoon kosher salt
2 cups (8 oz.) Sargento® Fancy Shredded Mozzarella Cheese
1/4 cup (1 oz.) Sargento® Artisan Blends® Shredded Parmesan Cheese
3 tablespoons fresh rosemary (about 4 full sprigs)
1/2 teaspoon freshly ground black pepper
3 tablespoons half and half or milk
Garlic Salt and more freshly ground black pepper for garnish (optional)
Directions
Make sure your butter is room temperature – the dough will not easily come together if it isn't.
In the bowl of a food processor, pulse the flour, butter, and kosher salt until they come together in a shaggy dough.
Add mozzarella and parmesan, fresh rosemary, black pepper, and milk. Pulse again until you have a smooth dough – about 2 minutes.
Remove dough to a large sheet of wax or parchment paper and roll into a long tube-shape. Refrigerate for at least 2 hours (I left it overnight).
When the dough has been chilled for long enough, preheat the oven to 350°F.
Remove the dough from the refrigerator and unwrap it from the wax paper. With a sharp knife, cut the dough into very thin slices – no more than 1/8″. Any thicker and the biscuits will not crisp up when baked.
Line a baking sheet with parchment paper or silpat, then place the dough slices in even rows. No need to space them out much, they barely puff up, if at all.
Once the baking sheet is filled, sprinkle the dough with garlic salt and grind fresh black pepper over it all – to your tastes. Neither is required, and the crisps taste okay without them if you want to leave them out.
Bake for 6 minutes, then flip over each crisp. Bake for at least another 6 minutes on the 2nd side. I found that my oven took about 9 minutes on the second side to get to a golden brown.
Your mileage may vary. Just watch for that golden brown color, and start with your timer set to 6 minutes on each side.
Allow to cool on a wire rack, then place in an airtight container or ziploc for storage.

Disclaimer: This is a sponsored post written for Sargento. I chose the recipe I wanted to make, and all opinions about Sargento products and the recipe shared are my own. I was compensated for this post.[wpurp-searchable-recipe]Garlic Rosemary Cheese Crisps – – – [/wpurp-searchable-recipe]