Shortbread is one of those things I'm sort of a traditionalist about. I hesitate to even add vanilla extract, because I feel adding extra liquids to the perfect balance of flour, powdered sugar, salt, and butter would upset the natural order of things.
So when it comes to adding flavor, I tend to look towards dry ingredients: Vanilla bean paste, or ground tea – yes, tea. For the cookie swap we had in New York City a couple weekends ago, I made "Autumn Tea Shortbread" using a black tea-pumpkin spice blend I had on hand.
But we're straight up into Christmas season now. I'm ready for cinnamon and clove and buttery shortbread to combine into something magical. Twinings makes a Christmas Tea that, when combined with traditional shortbread ingredients, makes for a spectacular treat.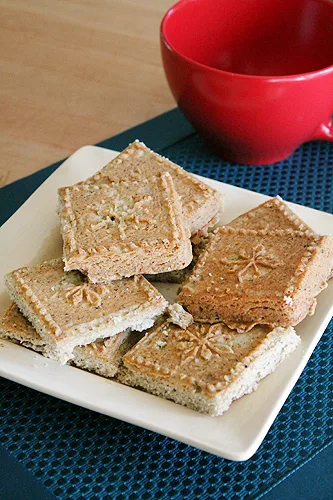 If you have a coffee grinder, you can grind the tea up even finer, but I don't find it entirely necessary. If the idea of chunks of black tea leaves in your shortbread freaks you out a little, that's okay. Just grind them up in the coffee grinder or food processor and be on your way.
You can use any kind of tea you like, even herbal tea. I've also made it in the past with Earl Grey.
Because this shortbread comes together so quickly, and with a wintery shortbread mold makes for the perfect pair up with a hot chocolate and a hug, I plan to give it out to all my neighbors this Christmas.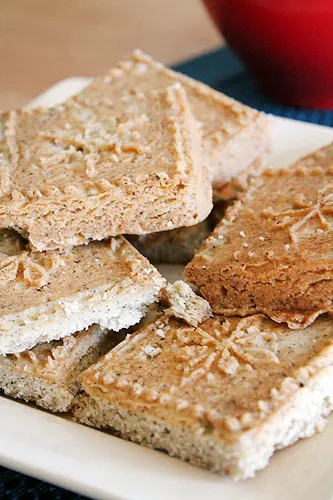 King Arthur Flour provided me with this beautiful NordicWare shortbread pan for review. I can't say enough about it. The pan is solidly constructed of heavy cast aluminum, but is very light. It browns perfectly, and I've even thrown it in the dishwasher with no ill effects. If you want to add the perfect snowflake detail to your Winter shortbread, this is the pan for you.
Christmas Tea Shortbread
Adapted from my Really Perfect Shortbread
Fills a 9×9 shortbread pan. King Arthur Flour was kind enough to provide me with this 100% American Made Snowflake Shortbread Pan by NordicWare free of charge. However, they are currently out of stock. You can also find it on Amazon.com
Ingredients
1 1/2 cups all purpose flour
1/3 cup powdered (icing) sugar
1/4 teaspoon kosher salt
2 tea bags Twinings Christmas Tea, finely ground (grinding is optional)
3/4 cup butter (1 1/2 sticks)
Directions
Combine flour, powdered sugar, and kosher salt in the bowl of a food processor. Pulse 2-3 times to evenly distribute and aerate the ingredients.
Slice open the two teabags with scissors. Pour into a coffee grinder and grind for a few seconds, or pour directly into the food processor. Pulse again 2-3 times to distribute the tea.
Make sure the butter is fairly cold when you make this dough. Refrigerating or freezing for an hour beforehand is preferable. Cut butter into 1″ cubes.
With the food processor running, add a handful of butter cubes at a time, sealing up the plastic feed tube after each addition (or you will cover yourself in flour – I speak from experience!). When butter is all added, continue running for about a minute. The dough should come together into a ball fairly easily.
Spray a 9×9 square pan with cooking spray. Dump the dough from the food processor directly into the pan or shortbread mold, and press down into the pan and crevices until you have an evenly distributed layer of dough across the pan. The dough should be pressed into corners and seem fairly level from one side to the other.
Using a small fork, prick holes across the dough, about 2 inches apart. If the dough has become too warm, the fork may pull the dough up from the pan. If this happens, press the dough back down and stop pricking holes.
Cover the pan with plastic wrap and place it in the refrigerator for at least 20 minutes. If required, finish pricking holes once the dough has cooled down.
Preheat the oven to 325F. Place the pan in the oven and bake for 30-35 minutes, until the dough is golden brown. Allow to cool for 10 minutes, then flip the cookie onto a flat surface like a wooden cutting board or baking tray.
Immediately slice the dough into desired size. You may find a pizza cutter easier and more uniform for this than a knife.
For the snowflake pan, there are defined breaking points. Simply slide the pizza cutter along these lines, and the shortbread should break into perfect squares.
Allow to finish cooling, and store in an airtight container. Shortbread keeps for ages and also will freeze well, so can be made weeks or months ahead of time.

[wpurp-searchable-recipe]Christmas Tea Shortbread – – – [/wpurp-searchable-recipe]