Mexican Chocolate Chewies have got to be the easiest cookie I've ever made. They were also one of those cookies that, once the batter was done, I kind of worried I'd done it wrong. Would this soupy mixture really come together into a chewy cookie?
I put my trust and faith in Lisa Fain, and she did not let me down. The resulting cookies are crisp at first, but give way to a chewiness that rivals any caramel I've eaten.
With just a slight bit of heat from the cayenne, you'll have friends saying "Oooh, what is that?"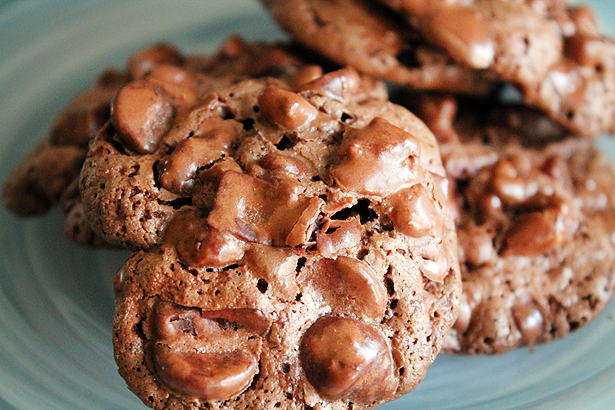 The other thing to love about Mexican Chocolate Chewies is that they're naturally gluten free without the addition of flours you may not keep on hand. I took them to the Food Bloggers' Cookie Swap we had here in New York City, as did Justin from Just Cook NYC. Great minds think alike, right? Or maybe we're just both completely in love with the Homesick Texan Cookbook!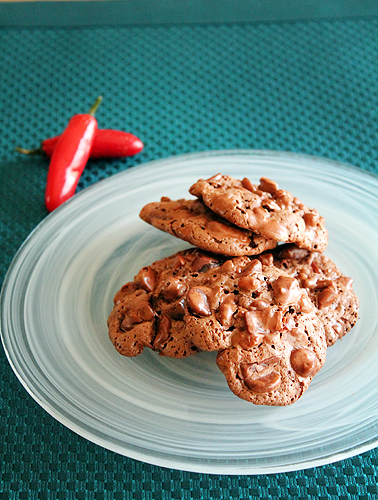 If you're looking for a last minute cookie to take to a holiday party, this is it. You'll impress everyone with the chocolate-y deliciousness, and it's such a unique cookie, it won't be forgotten anytime soon.
Maybe I'm just partial because it stars all my favorite Tex-Mex flavors: pecans, cinnamon, chipotle, and chocolate. But then, what's not to love about that combination?
Mexican Chocolate Chewies
Slightly adapted from the Homesick Texan Cookbook
Ingredients
2 cups candied pecans, roughly chopped (I found mine at Trader Joe's)
2 1/2 cups powdered sugar
1/2 cup unsweetened cocoa powder
1/2 teaspoon ground cinnamon
1/8 teaspoon chipotle chile powder
1/4 teaspoon kosher salt
3 large egg whites
1 teaspoon vanilla extract
1 cup semisweet chocolate chips
1 cup milk chocolate chips
Directions
Preheat the oven to 350F. Line a couple of baking sheets with parchment paper.
Roughly chop the candied pecans. Lisa recommends toasting the pecans, but since I used already toasted and candied pecans, I skipped this step.
In a large bowl, mix pecans, powdered sugar, cocoa powder, cinnamon, chile powder, and salt. Stir in the egg whites with a stand or hand mixer on low until the batter is well mixed. Stir in the vanilla extract and chocolate chips by hand.
I used a tablespoon sized measuring spoon to drop portions of the batter onto the baking trays, about an inch apart. If you have large jelly-roll sized pans like me, you can get about 12 on a tray.
Bake for 15 minutes, or until the cookies are cracking on the surface.
Remove the baking sheet from the oven, and immediately lift the parchment paper off the tray. Allow the cookies to cool ON the parchment paper on top of a cooling rack for at least 20 minutes.
When the cookies are completely cool, peel the parchment paper away from the bottom of the cookies.
Can be stored in an airtight container for 3-5 days, in my experience. I believe these cookies would also be fine stored in the freezer for one to two months.

[wpurp-searchable-recipe]Mexican Chocolate Chewy Cookies – – – [/wpurp-searchable-recipe]