This is it, y'all. Crunch time. Normally I count myself in the few that has Christmas shopping done by October. This year? Not so much.
In fact, I'll fully admit that not four hours ago, I purchased the last of the gifts we'll give this Christmas, and I really hope it reaches my brother-in-law in time. But, since we sent him a bottle of booze, I'm pretty sure he'll appreciate it, even if it arrives late.
I may have just spoiled the surprise, but something tells me my 21-year-old car-obsessed baby bro-in-law doesn't read this blog too often.
So today and Friday, I'm going to give you guys some quick and easy recipes that you can make an hour or two before the guests arrive, and still look like a superstar cooking diva that's kicking backside and taking names.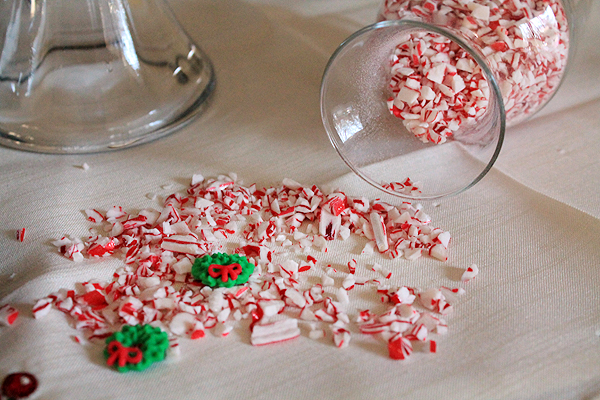 These Chocolate Candy Cane Cupcakes are made with items I keep on hand all year long. That may sound weird, but I never use up all the Christmas stuff I buy the year before, and I *always* pick up extra goodies in the clearance aisle after the holiday.
I'm pretty sure any one of you has got candy canes hanging out somewhere (maybe the Christmas tree? That's normally where I keep 'em), and some butter, a chocolate cake mix, maybe a box of chocolate pudding. Add some peppermint extract to the mix, and we, my friends, have got a party.
Some of you may be gasping at my use of a box mix. I am a tried and true baker. 99% of the time, I really prefer to make it homemade. But the last two weeks have been an absolute flurry of activity preparing for a 29 hour drive to Texas.
I desperately wanted to send some festive cupcakes to James's co-workers this week, like I always have in past years. With time running short, I reached for the Duncan Hines and doctored it up like there's no tomorrow.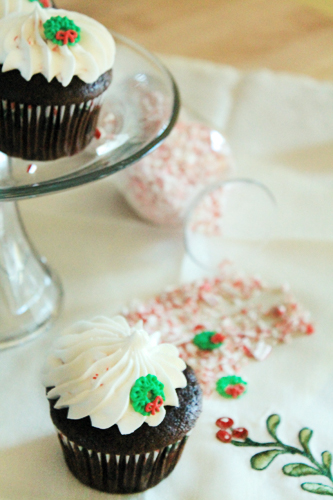 Guess what? I still got emails thanking me for delicious peppermint chocolate cupcakes, and I'm a little less likely to lose it when I forget where my keys are to put something in the overly-packed car for the 200th time.
Give yourself a break this holiday. Make some cupcakes. Eat some cupcakes. And leave the guilt at the door. They're still cupcakes, after all. 🙂
Chocolate Candy Cane Cupcakes
Makes 24-26 cupcakes. Candy wreath decorations and peppermint crunch mix-ins provided by King Arthur Flour.
Ingredients
For the Cake
1 18.25 ozDuncan Hines Dark Chocolate Fudge Cake Mix box
1 5 oz Chocolate Pudding Mix box
1 1/3 Cups Water
1/2 Cup Vegetable Oil
3 Large Eggs
1 teaspoon peppermint extract
For the Frosting
2 16 oz containers Classic Vanilla Frosting
(Or make your favorite Buttercream Frosting recipe)
1 teaspoon peppermint extract
Peppermint Crunch Mix-ins or broken and crushed candy canes, as much as desired
Royal Icing Wreath Decorations if desired
Directions
Combine cake mix, pudding mix, water, vegetable oil, and eggs in a large bowl. Mix to combine until the mixture is relatively lump-free. Add in peppermint extract and stir to combine and distribute.
Line muffin pans with cupcake liners and fill each well approximately 2/3 of the way full. Bake for approximately 22-24 minutes, until the center cupcake looks done, and when pierced with a toothpick, the toothpick removes cleanly.
Allow to cool completely before frosting.
In a large bowl, whip the frosting of your choice to make it light and airy. Add the teaspoon of peppermint extract and as many crushed peppermint candy pieces as desired.
Fill a piping bag and frost each cupcake as desired. Top with a royal icing wreath for decoration.

[wpurp-searchable-recipe]Chocolate Candy Cane Cupcakes – – – [/wpurp-searchable-recipe]