Kahlua Pie has been a family favorite at my house for decades. Make it mini or make it full-sized. Just make it!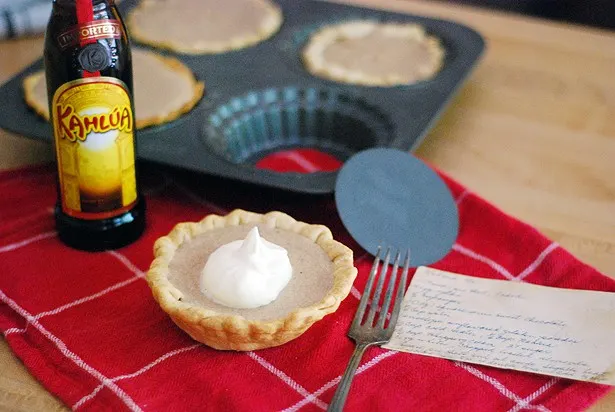 Kahlua Pie has always been a big deal in our family. Nanny made it a lot, especially at Christmas time, when my Uncle Charlie would request it as his "birthday pie" – he was born on Christmas Eve.
One thing I'm grateful for is that my family recognizes the special bond Nan and I had over cooking, and they have allowed me to be family keeper of all recipes and cookbooks that once belonged to her.
As I poured through the hundreds of cookbooks (gee, I guess that cookbook addiction is genetic!) in the library of her house, it was like taking a trip through my childhood.
What I loved finding most were the handwritten recipe cards and notes in the margins of some of her most used books. I don't know..
I feel this way about seeing either of my grandparents' handwriting – it's like there's a piece of them still here, calling out to me. Reminding me of who they were, and who they were to me.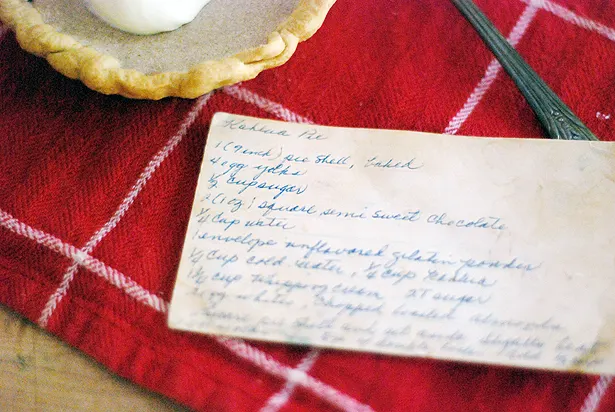 So finding this Kahlua Pie recipe stuck in the pages of an old VFW cookbook might have made me tear up a little. It was like Nan was reaching out saying, "Here, Am, make this.".
Of course, Nan always made this as one giant 9 inch pie, and you can do that. But I had this really cool Cup Pie Set from Chicago Metallics, so I thought, why not give it a go?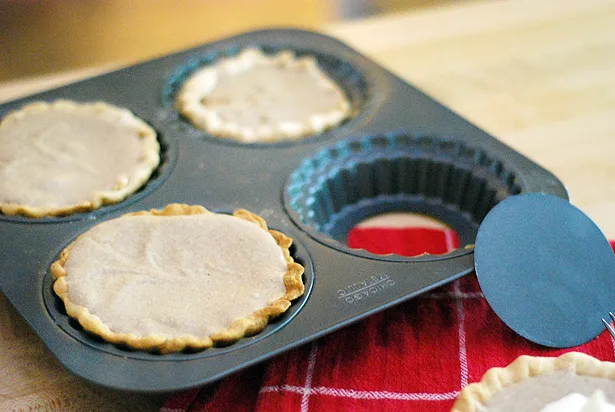 When I was talking with friends about this recipe, they were surprised to hear it uses a regular pastry crust, rather than a cookie crust.
I have to tell you, I don't think this pie would be quite right without the pastry crust. It's just savory and buttery enough to cut some of the sweetness of the pie, and to me, the texture is perfect.
Besides, this is the way Nanny always made it. And so to me, it's perfect. I'd love to hear your results if you did try it with a cookie or graham cracker crust.
The individual pies were quite a treat. The original recipe makes about a cup too much extra filling for the individual size, but you can either make 2 more pies, or stick the filling in the freezer and eat it like ice cream.
I hope you love Nanny's Kahlua Pie as much as I do.