It's no secret that I love fruit butters.
So this summer, when my cute-as-a-button friend, Jen from My Kitchen Addiction posted her recipe for Peach Butter Bundt Cake, I was all over that. Except I didn't have any peach butter. And a distinct lack of will to make peach butter that week.
Luckily, Jen's pretty generous and also likes to can. So when we were together at the Big Summer Potluck, she brought me a spare jar of her own just so I could make that beautiful cake.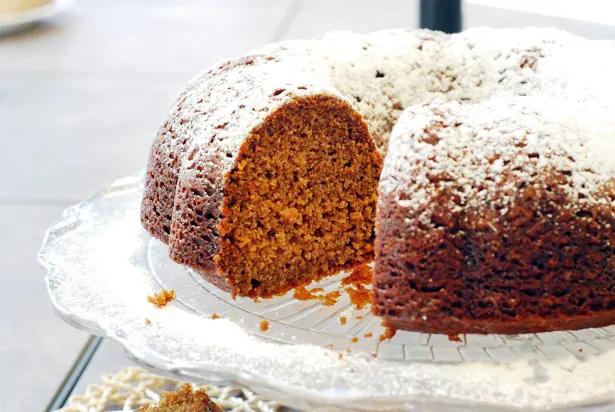 But it's turning to fall now, and the base recipe of that bundt cake is so versatile – pretty much any fruit butter would work. You can use my recipe for Spiced Apple & Pear Butter or even Jen's Spiced Cranberry Apple Butter, or you can pick up a jar of regular apple butter in the super market, found near the jams and jellies.
Whatever fruit butter catches your fancy, you can make this bundt cake with it. Excellent to take to any social gathering.. or your dentist's office for an early morning appointment. I swear the hygenist was more gentle on me because of it!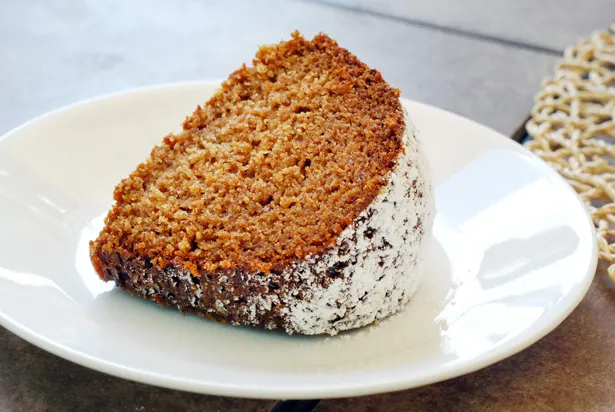 Apple Butter Bundt Cake
Adapted from My Kitchen Addiction
Ingredients
2 1/2 cups All Purpose Flour
1 cup White Sugar
2 teaspoons baking soda
1 teaspoon Salt
1 teaspoon Apple Pie Spice
1/4 teaspoon Cardamom
2 cups Apple Butter
1/2 cup Vegetable Oil
1/2 cup of Butter, melted (1 stick)
2 Eggs
1 tablespoon Vanilla Extract
Powdered Sugar (optional)
Directions
Preheat oven to 350F.
Combine flour, sugar, baking soda, salt, apple pie spice, and cardamom in a medium bowl.
In a large mixing bowl, add apple butter, oil, melted butter, eggs, and vanilla together until well combined. Add dry ingredients by hand, stirring until just combined.
Pour batter into a greased bundt pan and bake for 1 hour.
Allow to cool in the pan for 15-20 minutes, then finish cooling on a wire rack. When cake is completely cool, dust with powdered sugar for garnish.
Serve with coffee and good gossip!

[wpurp-searchable-recipe]Apple Butter Bundt Cake – – – [/wpurp-searchable-recipe]