Gift giving is probably my favorite part of any holiday – birthdays, Christmas, Easter, Kwanzaa… if I can find a reason to buy someone a gift that makes them smile, I'm a happy girl.
This particular holiday season, I think it's important to have some in-the-clutch ideas for the foodie in your life. Food blogs are the fastest growing blog genre, the Food Network is enjoying unprecedented popularity, and we're all starting to think a little bit more about what we eat, where it comes from, and my favorite thing to talk about of all – how it's cooked.
With that in mind, I've put together a sweet little gift guide for you. You may only need one of these gifts under the tree to wow the foodie in your life (even if it's you!), but I'm actually giving away ALL FOUR.

The Pizza Ingredient Gift Set from King Arthur Flour is a great gift for anyone that loves pizza (is there anybody that doesn't?). This awesome crate – which can be used to decorate the kitchen once emptied – holds fabulous sauce made right there in Vermont, a pizza dough mix, pizza dough flavoring and pizza seasoning mix.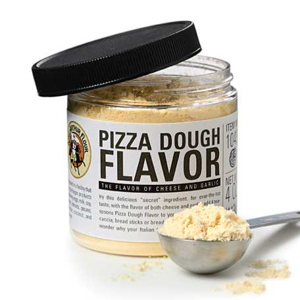 Now, you may not know that I worked in pizza restaurants throughout high school and college, but let me tell you – adding that pizza dough flavoring? Turns any pizza coming out of your oven into the real deal. Every time I open the jar, I'm transported back to being 15 and flipping pies for extra cash after school.
The Swissmar Slate Board and Cheese Knife Set is really cool. Each slate board is handcrafted, and you can easily write on it with chalk to denote the cheeses on the board (and it just looks tres cool). The cheese knife is perfectly sized, and slices through hard and soft cheeses with ease.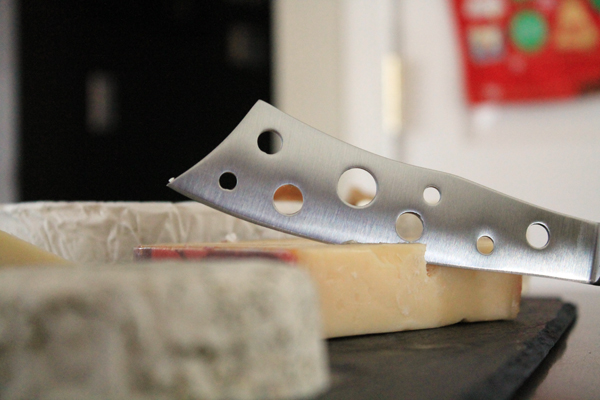 It's no secret that I find my Le Creuset French Oven indispensable in the kitchen. She never even leaves my stovetop – it is her home. Rather than shove that beautiful piece of cookery into a cupboard, I display her like a piece of art. And I'm always halfway to dinner because the pot's already on the stove!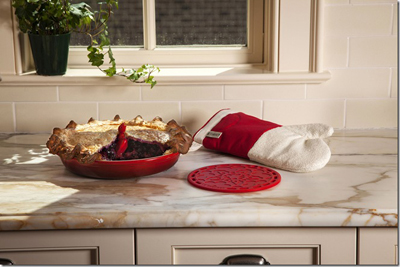 Cast iron cookware is something you should have in your life, and I know that my personal brand of choice is Le Creuset. Nearly 90 years of experience counts for a lot, in my book. In addition to cast iron, Le Creuset makes an entire suite of stoneware – safe for the oven, and beautiful for displaying on your table. You'll be the talk of the Christmas table when your French oven matches the beautiful Le Creuset 10″ pie dish, pie bird, trivet and oven mitt too!
From our house to yours, have a Merry Christmas and a wonderful New Year!
-This giveaway is open to USA residents only and will run until Saturday, December 22, 2012 at 11:59 pm EST.
-Winner(s) will be generated via a random number generator software program. Winner will be notified via the contact email provided on the comment contact form.
-Winner(s) will have until 12/23/12 to claim their Gift Guide for the Ultimate Foodie giftpack or we will choose another winner.
-Winner will receive (1) Swissmar Slate Board and Cheese Knife Set, (1) Le Creuset Pie Set including pie plate, pie bird, oven mitt and trivet, (1) Le Creuset 5.5 Qt Round French Oven in Cherry, (1) King Arthur Flour Pizza Ingredient Gift Set {$432.94 AVP}. Products will be shipped by Swissmar, Le Creuset, and King Arthur Flour.
-This giveaway is in no way sponsored, endorsed or administered by, or associated with Facebook.
[wpurp-searchable-recipe]Giveaway: Gift Guide for the Ultimate Foodie – – – [/wpurp-searchable-recipe]