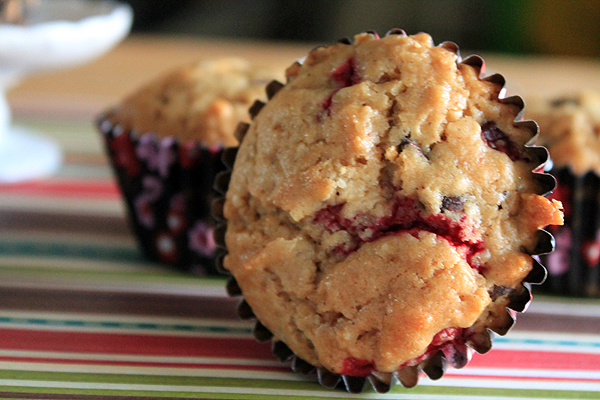 We're getting down to the wire now, folks. Less than 7 days before Christmas! I've been thinking we need a solidly delicious muffin recipe for Christmas morning. How about some Fair Trade Chocolate and Cranberry muffins?
I decided to pop in with this great recipe for Christmas morning that uses lots of delicious Fair Trade Certified ingredients because when you can buy Fair Trade, it helps everyone! Consider making the commitment to buy Fair Trade gifts this year.
It's no secret that I love a cranberry muffin. It is pretty much my favorite kind of muffin to make, and I currently have over 9 pounds of cranberries hanging out in my freezer so I can make them all year round. These cranberry muffins, however, are extra special because they're made with Fair Trade Moscobado Sugar, Fair Trade Chocolate, and a whole lotta fresh nutmeg.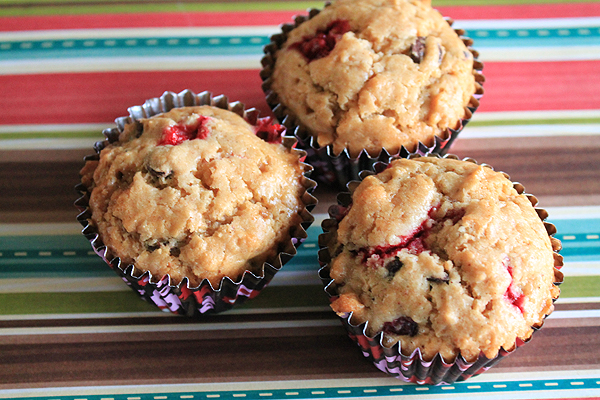 I think you'll really like how the deep notes in the sugar pair with bittersweet chocolate and bright cranberries, and I bet you'll like it even more if you can sip a cup of Green Mountain Fair Trade Spicy Eggnog Coffee while you do it.
Fair Trade Chocolate & Cranberry Muffins
makes 24 muffins
Ingredients
3 cups self rising flour
2 teaspoons ground nutmeg
1/2 cup (1 stick) room temperature butter
1 cup Organic Mascobado Cane Sugar
3 eggs (room temperature)
1/2 cup 1% milk (You can use whatever you have on hand)
1/2 cup fresh cranberries
1/2 cup Guittard Fair Trade Certified Akoma Extra Semisweet Chocolate Chips
Directions
Preheat the oven to 325°F.
In a small bowl, combine self rising flour and ground nutmeg. Whisk to combine and aerate. Set aside.
Combine butter and Mascobado cane sugar in a large mixing bowl and cream on high until well combined.
Add eggs, one at a time, mixing after each addition, until completely incorporated.
Add milk and mix on low.
Add flour-nutmeg mixture to the wet ingredients and mix by hand until just combined. Do not overmix.
Add cranberries and chocolate chips, folding through until just combined.
Line a muffin tin with paper liners. Lightly spray the liners and the pan with cooking spray (this allows the liners to peel away easily from the muffins).
Fill each cup 3/4 of the way full. Bake for 25-30 minutes until golden brown. When poked with a toothpick, the centermost muffins should come away clean.
Allow to cool for 10-15 minutes. Store at room temperature in an airtight container for up to 4 days.
[wpurp-searchable-recipe]Fair Trade Chocolate and Cranberry Muffins – – – [/wpurp-searchable-recipe]