Kahlua Pie has been a family favorite at my house for decades. Make it mini or make it full-sized. Just make it!
Kahlua Pie has always been a big deal in our family. Nanny made it a lot, especially at Christmas time, when my Uncle Charlie would request it as his "birthday pie" – he was born on Christmas Eve.
One thing I'm grateful for is that my family recognizes the special bond Nan and I had over cooking, and they have allowed me to be family keeper of all recipes and cookbooks that once belonged to her. As I poured through the hundreds of cookbooks (gee, I guess that cookbook addiction is genetic!) in the library of her house, it was like taking a trip through my childhood.
What I loved finding most were the handwritten recipe cards and notes in the margins of some of her most used books. I don't know.. I feel this way about seeing either of my grandparents' handwriting – it's like there's a piece of them still here, calling out to me. Reminding me of who they were, and who they were to me.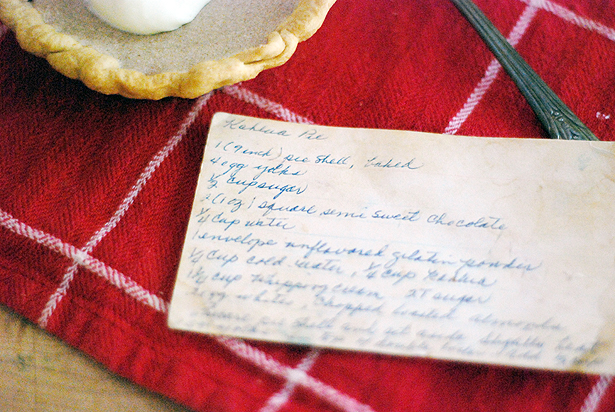 So finding this Kahlua Pie recipe stuck in the pages of an old VFW cookbook might have made me tear up a little. It was like Nan was reaching out saying, "Here, Am, make this.".
Of course, Nan always made this as one giant 9 inch pie, and you can do that. But I had this really cool Cup Pie Set from Chicago Metallics, so I thought, why not give it a go?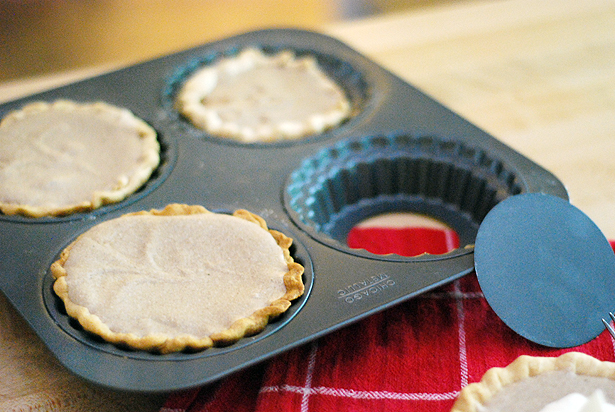 When I was talking with friends about this recipe, they were surprised to hear it uses a regular pastry crust, rather than a cookie crust. I have to tell you, I don't think this pie would be quite right without the pastry crust. It's just savory and buttery enough to cut some of the sweetness of the pie, and to me, the texture is perfect.
Besides, this is the way Nanny always made it. And so to me, it's perfect. I'd love to hear your results if you did try it with a cookie or graham cracker crust.
The individual pies were quite a treat. The original recipe makes about a cup too much extra filling for the individual size, but you can either make 2 more pies, or stick the filling in the freezer and eat it like ice cream.
I hope you love Nanny's Kahlua Pie as much as I do.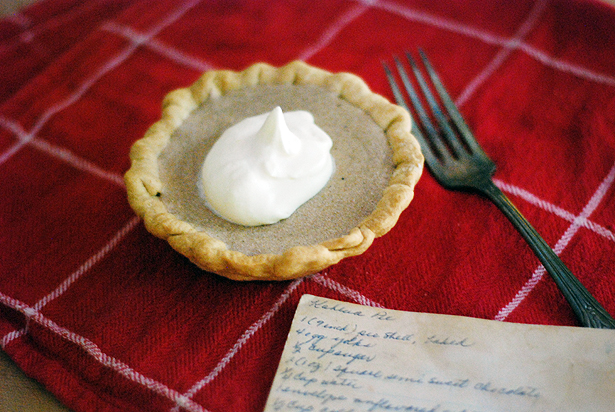 Nanny's Kahlua Pie
Ingredients
Pie crust(s), blind baked
4 Egg Yolks
1/2 cup Sugar
2 1 oz. squares of Semi Sweet Baking Chocolate
1/4 cup Water
1 envelope Unflavored Gelatin Powder
1/4 cup cold Water
1/4 cup Kahlua
1 1/4 cup Whipping Cream
2 tablespoons Sugar
2 Egg Whites
Chopped Toasted Almonds (optional)
Instructions
Preheat oven to 350°F, and prepare your favorite pie crust. I used some that Casey brought over for me, but you can also use store bought or your own grandma's recipe. Blind bake pie shell or shells if using mini pan. Remember to use pie weights or beans to weigh down the pie crust as it bakes so it holds form and shape.
Mini pie crusts took about 20 minutes to turn golden brown, and that's when you should remove either size pie crusts from the oven - when they are golden brown. Set the pastry aside to cool, and begin making your filling.
Prepare a large bowl with ice cubes. Make sure that the bowl you'll use for your double boiler will fit inside of the larger bowl.
Prepare a double boiler (a pot of boiling water with a metal bowl that sits on top of it), and add whisked egg yolks to it. Add 1/2 cup of sugar, and stir with whisk until sugar is dissolved completely. (This will take a few minutes.)
Add chocolate squares and 1/4 cup of water, cooking and stirring until chocolate melts and mixture starts to thicken.
In a measuring jug, soften gelatin powder with 1/4 cup cold water and add it to the thickened chocolate mixture.
Stir well and remove from heat. Add kahlua and whisk together to combine. Place the bowl inside the prepared ice bowl to chill.
Prepare the whipped cream topping. In a medium bowl or stand mixer bowl, beat heavy whipping cream with 2 tablespoons of sugar until stiff and fluffy.
Fold 1/2 the whipped cream mixture into the chocolate-kahlua mixture.
Beat egg whites until they form stiff peaks, then turn them into the pie mixture as well. Pour chocolate mixture into pie shell(s).
Chill for 1 to 2 hours. Use remaining cream for topping, and garnish with toasted slivered almonds.
Notes
Recipe ingredients written exactly as Nanny did