Peanut Butter S'Mores Cookies are all about making your Monday morning a beautiful place. Just imagine the marshmallow bits giving way to a delectable peanut butter center, with chewy cookie adding texture to every bite.
I might be in the minority, but I geek out about new baking ingredients the way someone else might geek out about a new electronic gadget or makeup. Tell me I'm not alone?
A few months ago, I ordered graham flour for the first time – also known as whole wheat pastry flour. As you can probably tell from the name, this is the flour you'd use to make graham crackers. And while I haven't done that yet, I have been having fun experimenting with graham flour in cookies.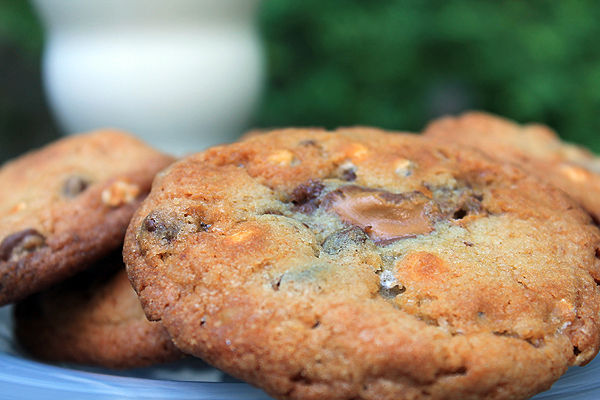 Graham flour adds an extra undertone of flavor, and a slightly firmer texture to baked goods. I absolutely love this, because it means my cookies are a bit firmer on the outside, but give way to that chewy texture we all chase.
When I started playing with the flour, the idea of graham crackers was not lost on me. I'd been looking for a reason to use those Jet Puffed Marshmallow Bits for a while, so using them in a graham flour based cookies is a no-brainer.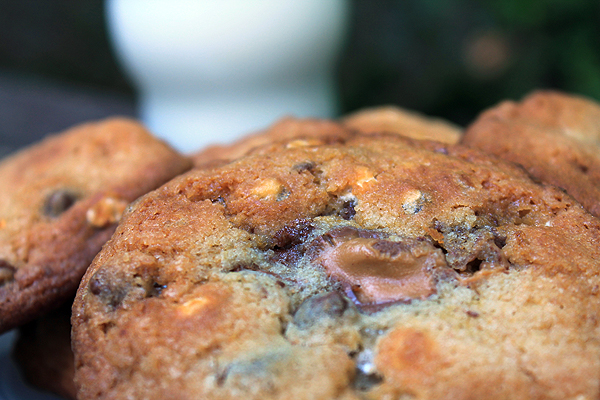 Call me crazy – but what's the ONE thing that makes a S'Mores better? That's right. Peanut Butter. So do me a favor and stuff this cookie with a Dove Peanut Butter Promise. Biting into the peanut butter middle of a Peanut Butter S'Mores cookie will just make your day better.
It will. I promise.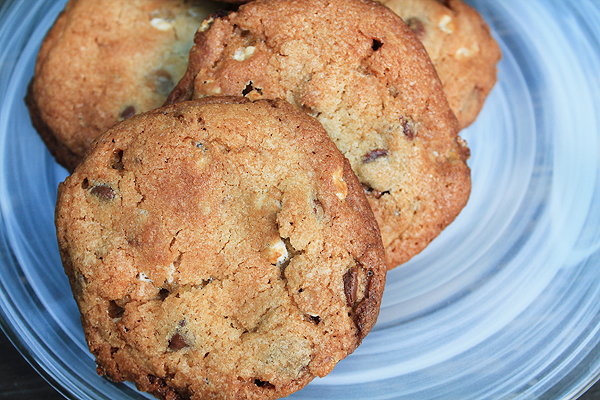 Peanut Butter S'Mores Cookies
makes 26 medium-large cookies
Ingredients
26 Peanut Butter Milk Chocolate Dove Promises, frozen for at least 2 hours
1 1/2 cups butter; softened
1 cup granulated sugar
1 cup packed brown sugar
1 tablespoon vanilla
2 eggs
3 cups all-purpose flour
3/4 cup whole wheat pastry flour
2 teaspoons baking soda
1 teaspoon kosher salt
2 cups semisweet chocolate chips
1 whole container of Jet Puffed Vanilla Marshmallow Bits
Directions
Preheat oven to 375°F. Unwrap candy from wrappers and put them back in the freezer.
Combine all purpose flour, whole wheat pastry flour, baking soda, and salt in a medium bowl and whisk together to combine and aerate.
In a large mixing bowl, combine softened butter and both sugars until light and fluffy using a stand or hand mixer on medium-high speed. Add in vanilla and eggs and beat again until light and fluffy.
Add in flour mixture and mix on low speed, stopping to scrape the sides of the bowl often until flour mix is completely incorporated.
Mix in chocolate chips and marshmallows by hand.
Remove the candies from the freezer. Line a baking sheet with parchment paper and set up an assembly line: candy, cookie dough, baking tray.
Scoop out large tablespoons of dough using a cookie scoop or regular spoon. Roll the dough into a ball using your hands, and then press a frozen candy into the center of the dough and roll it again until the chocolate piece is completely covered by the dough. Place the dough ball on the baking tray.
Once all dough has been rolled into balls and placed on the tray, place the tray back in the freezer for at least 20 minutes.
At this point, you can bake up the entire batch (6 cookies at a time – they're big!) or bake a few and package the rest into a gallon sized freezer top bag to bake at will.
6 cookies takes approximately 17 minutes in a 375°F oven. Cookies should be golden brown and puffy. Remove from the oven, allow to cool slightly on the pan, and then remove to a cooling rack.

Amazon links within this post are created from an affiliate program. Bluebonnets & Brownies receives a small commission on products that are purchased through these links. [wpurp-searchable-recipe]Peanut Butter S'Mores Cookies – – – [/wpurp-searchable-recipe]