Taken in Key West last year when we vacationed there.
When you first start blogging, it can feel like you're alone on an island. You write things, pour your heart into them and press publish. And for a while, you have no idea who might be reading.
Then, suddenly, people do. They comment! They like you on Facebook! And then, all of a sudden, maybe you get an email from a public relations representative.
I think we can all agree that blogging is a relatively new, but certainly powerful platform. When I started Bluebonnets & Brownies back in 2008, I never considered that I might have influence about products that I love.
Then, out of pure love, I struck up a friendship with someone that works at Green Mountain Coffee. And from there, a sponsored relationship followed. But that original friendship is still there, at the core of the work I do for Green Mountain Coffee.
If you've followed Bluebonnets & Brownies for any length of time, you know that I occasionally write posts for BlogFrog, an influencer marketing platform that pairs bloggers with brands that they love and use in their daily lives, and helps them to become part of a compensated relationship for word-of-mouth marketing.
BlogFrog asked several of their partners to write a post about "What makes you want to work with a brand?" For me, this comes down to a few simple questions: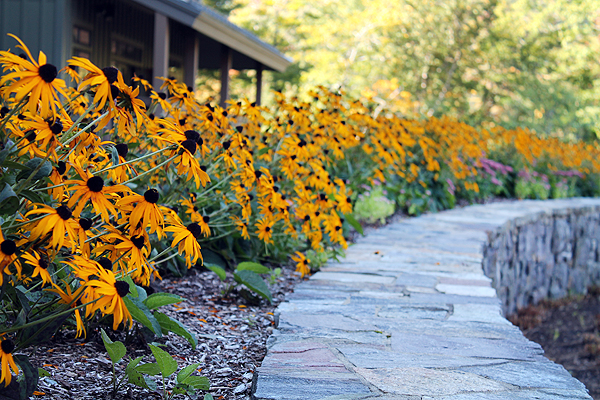 Taken on a recent sponsored trip to Vermont.
Some people think that sponsored blog posts, getting paid to blog, is controversial. That we, as bloggers, shouldn't offer our voice to products if there is compensation involved.
I personally consider writing a paid blog post a lot like the advertising space on my blog. Blogs are not free to operate, which is why I run ads down my sidebar. However, integrity is the most important thing to me. I only work with ad networks I trust (including one that is run by my cousin, who is more like a brother to me).
And I only write sponsored blog posts about brands that I personally use and enjoy, and would write about even if I weren't compensated. That's really it.
The relationships you see talked about most often here are on Bluebonnets & Brownies are Green Mountain Coffee, King Arthur Flour, Kerrygold and International Delight.
Some of those are paid relationships, and some of them aren't. The bottom line is that I would tout those products whether I were compensated or not. I purchase their products on a regular basis, even though I occasionally receive review products for free.
It can be really easy, as a new blogger, to get caught up in brands offering you free things in exchange for a post. Most of us have fallen into the trap of agreeing to write a post or do a giveaway that wasn't necessarily beneficial to our own brand.
This is one of the reasons I really like BlogFrog. They act as a middle man, a bloggers' agent – making sure that we get appropriate compensation for the work we're doing, and that the brand works with bloggers that fit their personalities too.
The next time you get an email from a PR person, stop and take a moment to ask yourself – is the email addressed to ME? Did they take the time to read anything on my blog? If I write a blog post or host a giveaway for this brand, is it worth my time, my effort, my voice? If the answer to any of these questions is no, it might be better to simply say "Thanks, but no thanks".
Nanny always said, "Value yourself, and the people around you will do the same." Push back on brands to make sure they're valuing your voice. Or work with a company like BlogFrog, who are willing to do all that negotiation for you.
As a part of the BlogFrog Influencer Circle, I have the chance to create meaningful, authentic content for brands I love. If you're a blogger interested in new opportunities, join BlogFrog's Influencer Circle and check out some of the top brands already working with BlogFrog.
If you're a brand looking to work with online influencers, learn more about BlogFrog's Brand Solutions here. Now, I'm curious. What do you love most about blogs and blogging?
This is a sponsored conversation written by me on behalf of BlogFrog. The opinions and text are all mine.