Vermont Country Blend Cranberry Maple Bread is completely irresistible for breakfast. Bet you can't stop with one slice!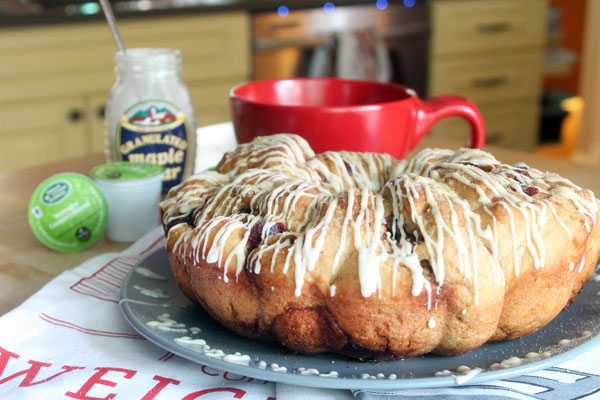 Aren't you so glad it's fall? I love diving straight into all the flavors we associate with fall – pumpkin, maple, ginger. Warm and toasty flavors that make you feel cozy and comforted when the weather turns crisp. That's one of the reasons I love Vermont so much – Fall is basically the season that Vermont OWNS.
I mean, sure, people will argue with you that it's winter, what with skiing. I have to wholeheartedly disagree. Nothing is more vibrant than Vermont in Autumn. The whole place sparkles with varying reds and yellows, while the air is perfectly crisp and magical.
That's why I'm so excited to share this season's Green Mountain Coffee Recipe with you. Vermont Country Blend Cranberry Maple Bread embodies everything I love about Vermont. The flavors of fall. The wonderful food that comes from Vermont can't be beat.
From Green Mountain Coffee to Cabot Cheddar, local farms with pure maple syrup, and even Cold Hollow Cider's Cider mill, just down the road from GMC's headquarters – you really can't go wrong with making a meal, especially breakfast, out of the flavors you find there.
Vermont Country Blend Cranberry Maple Bread
makes one Bundt pan sized loaf, about 16 slices
Ingredients
For the Dough:
1 1/4 cups (10 oz) room temperature Vermont Country Blend Coffee (brew a 12 oz cup, as you will need a bit more for the filling)
2 teaspoons instant yeast
2 tablespoons butter, softened
2 tablespoons maple sugar (granulated sugar or brown sugar can be substituted if necessary)
1 large egg, room temperature
1 1/4 teaspoon kosher salt
1/4 cup nonfat dry milk
1/4 cup cornstarch
3 cups all purpose flour
1/2 cup whole wheat pastry flour
For the Filling:
1/4 cup granulated sugar
1/4 cup maple sugar
2 tablespoons room temperature Vermont Country Blend Coffee
1 tablespoon cinnamon
1 tablespoon soft butter
2 tablespoons room temperature Vermont Country Blend Coffee (from the dough ingredients)
1 cup dried or 3/4 cup chopped fresh cranberries

For the Glaze:

1/2 cup powdered sugar
1 teaspoon pure vanilla extract
3 tablespoons heavy cream or 2 tablespoons regular milk
Maple Sugar for garnish

Directions
Beat butter and sugar together on medium-high speed in a stand mixer with a paddle attachment until light and fluffy (or use a hand mixer to accomplish the same). Add coffee, yeast, egg, vanilla extract and salt to the bowl and beat again until well combined.
In a separate bowl, combine nonfat dry milk, cornstarch, all purpose flour and whole wheat pastry flour. Whisk together to combine and aerate, then add to the wet ingredients in the stand mixer bowl.
Using a dough hook, combine the ingredients on the lowest setting, letting mix until well combined. You will have a very sticky dough. Do not add more flour.
Place the dough in a large bowl sprayed with cooking spray, and cover with plastic wrap. Allow to rise until almost double in size. If you have the time, allow it to rise in the refrigerator overnight. The flavors that develop are much deeper.
After the first rise, spread and pat the dough out onto a flat, greased surface (if you have a silpat or bread kneading mat, use it here. If not, spray a large cookie sheet with cooking spray and spread on that). Once flat, make the filling ingredients.
Combine the filling ingredients except cranberries together in a bowl, stirring until you have a crumbly mixture. Spread the filling over the dough, then sprinkle with cranberries.
Starting with the shorter side of the dough, roll slowly into a log, and pinch the seam together.
Spray a Bundt pan with cooking spray, then cut the log into 10 or 12 equal pieces, arranging them around the Bundt pan so that they touch and overlap a bit.
Cover the pan with an overturned bowl, and allow the dough to rise for 15 to 30 minutes, until puffy.
Preheat the oven to 350°F. When the dough is ready, remove the overturned bowl and bake for 30-40 minutes, until golden brown.
Allow the bread to cool in the pan for at least 10 minutes, then overturn onto a cooling rack or plate to finish cooling.
Just before serving, make your glaze by combining the ingredients in a small bowl with a whisk. When you have a nice paste, you can pour the glaze into a squeeze bottle or even a small ziptop bag with the corner snipped off. Squeeze the glaze back and forth over the bread to make a pretty design. Sprinkle more maple sugar on top of the glaze if desired.
Serve immediately with large cups of Vermont Country Blend coffee!
[wpurp-searchable-recipe]Vermont Country Blend Cranberry Maple Bread – – – [/wpurp-searchable-recipe]