Vermont Country Blend Cranberry Maple Bread is completely irresistible for breakfast. Bet you can't stop with one slice!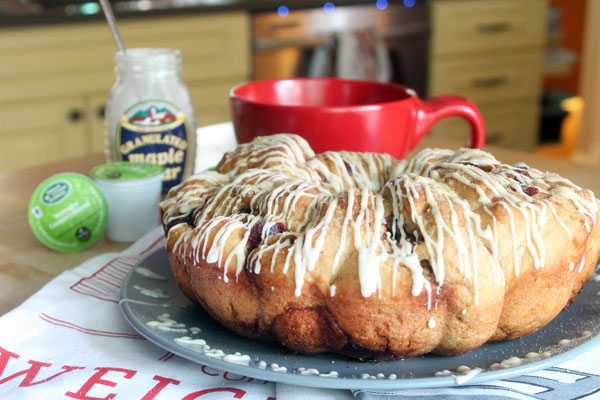 Aren't you so glad it's fall? I love diving straight into all the flavors we associate with fall – pumpkin, maple, ginger.
Warm and toasty flavors that make you feel cozy and comforted when the weather turns crisp.
That's one of the reasons I love Vermont so much – Fall is basically the season that Vermont OWNS.
I mean, sure, people will argue with you that it's winter, what with skiing. I have to wholeheartedly disagree.
Nothing is more vibrant than Vermont in Autumn. The whole place sparkles with varying reds and yellows, while the air is perfectly crisp and magical.
That's why I'm so excited to share this season's Green Mountain Coffee Recipe with you. Vermont Country Blend Cranberry Maple Bread embodies everything I love about Vermont.
The flavors of fall. The wonderful food that comes from Vermont can't be beat.
From Green Mountain Coffee to Cabot Cheddar, local farms with pure maple syrup, and even Cold Hollow Cider's Cider mill, just down the road from GMC's headquarters – you really can't go wrong with making a meal, especially breakfast, out of the flavors you find there.