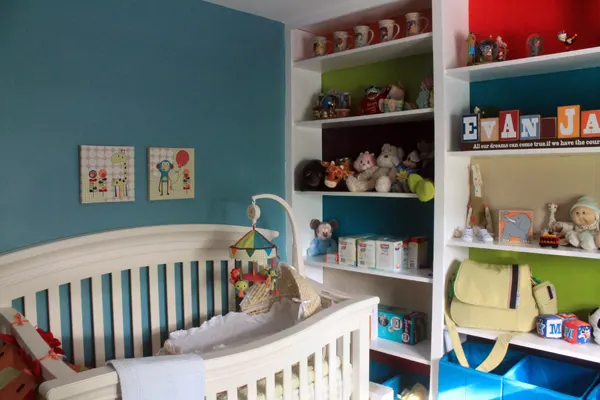 If you follow me on Instagram or Facebook, you may have seen updates of our nursery as we put it together.
If you're doing the math, yes, that's right – we're done with the nursery a solid 2 months before the little man is due to arrive. Stay with me – there's a method to my madness. For one, I'm a planner. I don't always call myself Type-A, because I can be pretty flexible if things don't go to plan. But, if I can make a plan work, I'm a happy bunny.
I've alluded before to how difficult it was to have this baby. The Brit and I have struggled with infertility for years. It's not an easy thing to talk about, but I feel it's important to bring up, because I need you to know, if you're struggling with the difficulty of infertility, I understand. The millions of doctor visits, the crazy medicines, the feelings that somehow your body is simply failing you – we've been there.
So the act of putting together our nursery, it's been both cathartic and gratifying. We weren't sure if we'd ever get to do this. Every swipe of paint, every nail in the wall, every stuffed animal artfully placed on a shelf. It hasn't been about spoiling this kid that is to come.. it's been about celebrating that he's coming at all. I fully admit this nursery is more for us than it is for the baby.
I've been getting a lot of messages on facebook asking about paint colors and nursery sets, so I thought I'd wrap it all up here in a nice bow. Plus, maybe one day soon my kid will read this post and think, "Hey, Mom and Dad put a lot of work into that, for me!". Here's hoping!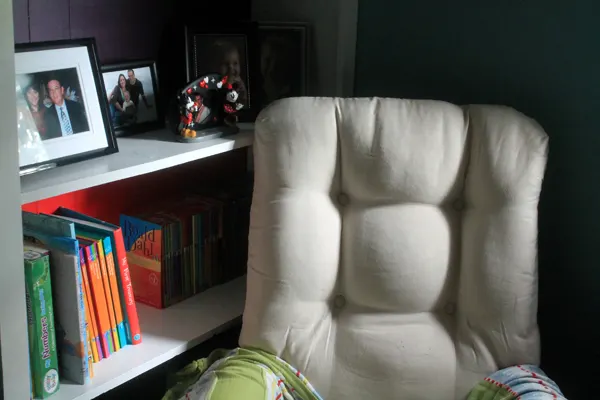 Our goals for the nursery were pretty simple:
Gender neutral, so that we can use everything again if we're lucky enough to
Bright, fun, and visually stimulating for us too
A crib that converts to a toddler and big-kid bed
A functional closet
A reading nook – reading is very important to both of us, and we want to read to the baby from the moment he comes home.
Our nursery set, believe it or not, was found on clearance at Babies "R" Us. I had searched for hours and hours online and in stores for something I loved, and nothing was fitting the bill. Then, James and I went to pick out a crib, and wandered around the store while we waited for a staff member. Suddenly, I spotted the Jamboree set by Mamas & Papas – a British company, no less – in the clearance section. I immediately fell head over heels for this bright set with undertones of cream and tan. With lions, elephants and monkeys, it is adorable, and appropriate for a girl or a boy's room.
The smallest bedroom in our house was referred to as the "baby room" by the previous owners. Because of built-in shelves that were added somewhere along the way, the room measures 10′ x 10′ exactly. For the first few years we lived here, this room was my office. When I painted it, I chose a bright, fun blue that I felt would be good no matter what baby we might bring home. It was a color I adored for my office, but I wanted it to be able able to do double duty as a nursery, without me having to repaint. The good news is, it works beautiful with everything we've brought into the room, without being specifically part of the bedding set or anything else. The bad news is, this is the one paint color I can't tell you the name of!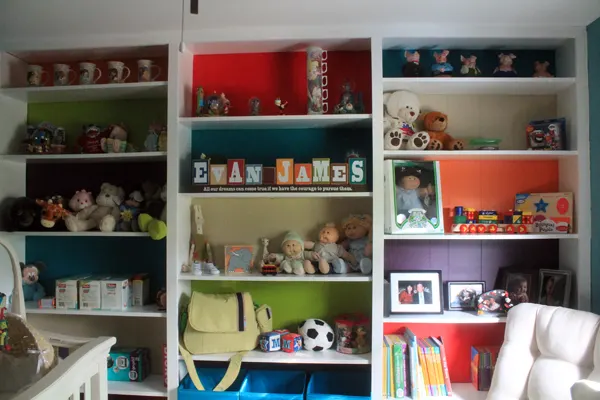 I started just wanting to paint the shelves with a nice shiny coat of white, because it was clear they hadn't been painted in years. But after we found the Jamboree set, years of obsessive Trading Spaces watching came to mind. I remembered several of the designers painting the back wall of shelves to bring a feature affect to them. And so, off to Home Depot I went, with the bunting (it fit easily into my purse) to match paint colors.
One key thing you'll notice about these shelves – I made a point to include tan as one of the accent colors. I can't recommend this enough. It's in the set, and clearly does a nice job of offsetting what would otherwise be garish colors. At first, I got pints of only the bright colors you see here. 5 of them – purple, blue, red, orange, and green. But then I counted the shelves (18) and realized that if I did one more color, I could do one of each color, in each column of shelving. Hooray for math!
I studied the Jamboree set again, and noticed the amount of tan running through it. In hindsight, I believe that if we hadn't added tan to the mix, these colors would have been overwhelming in the room. So if you're considering bright colors, consider pairing them with a neutral color. It doesn't dull them, it only enhances them, while mellowing out the whole room.
The Colors
Orange – Behr "Solar Flare"
Purple – Behr "Interlude"
Red – Behr "California Poppy
Blue – Behr "Tropical Waters"
Green – Behr "Rolling Hills"
Tan – Behr "Gobi Desert"
It has to be said that we primed the shelves with oil based primer – 2 coats – knowing they hadn't been painted in probably 15 years. I purchased Behr eggshell finish paint. Even with 2 coats of primer, each back wall required 3 coats of the color. If I had it to do over again, I would purchase the Behr Paint + Primer.
We used this paint on the closet, in the same "Gobi Desert" color, without oil based primer first. The closet had never been painted before. It only required 2 coats of paint. So, the paint + primer is a bit more spendy, but I think totally worth it in terms of manual labor.
The white paint is simple glossy "trim" paint – the kind that's meant for baseboards, chair railing, etc. I believe we used Behr there too.
You'll notice lots of toys and Disney paraphernalia on the finished shelves. It should be known that James and I are big kids. I'm the biggest kid of all – and a huge Disneyphile, having worked there in college. Almost all the items on the shelves were already in the room before we started the remodel. They just happen to fit happily into my little boy's room! See those Cabbage Patch Kids? Two of them are from my own childhood. I could never part with Harold and Linus! The girl is a Cabbage Patch James bought me in England, and the one in the box is from the 25th anniversary.
I may have had a thing for CPKs as a kid – and I'm definitely of the mind that my little guy should be just as comfortable playing with dolls as he is trucks and trains.
The Furniture