When your CSA gives you copious amounts of peaches, what do you do? You make pie. Peach Raspberry pie, to be specific.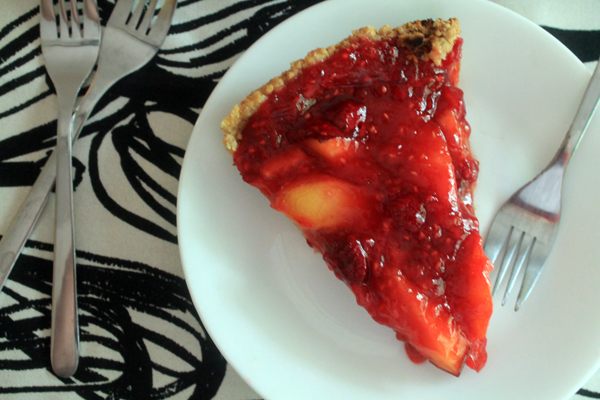 A lot of people think peaches and immediately think Georgia, but I'm here to tell you that Texan peaches can easily give the Georgians a run for their money. Saying I miss them come springtime could be the understatement of the century.
I've learned that Jersey peaches are nothing to sneeze at, though I do find them different than Texan or Georgian peaches in sweetness. They're more tart, a little more citrus-y. But, that only makes them more perfect for pairing with fresh raspberries.
When I spotted the fresh strawberry pie on Food Fanatic, I was instantly smitten. What really did it for me? The pecan infused shortbread crust. I am such a sucker for pecans!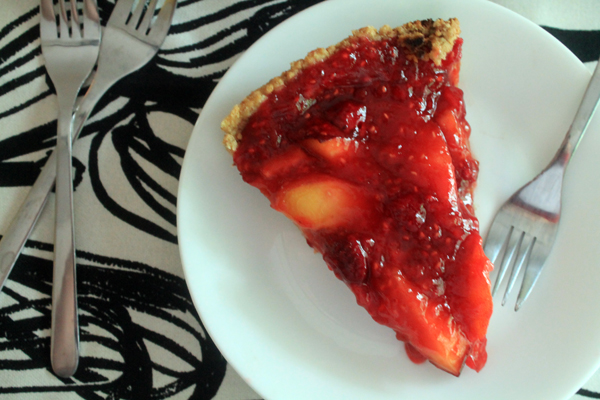 Like any good Texan, I knew immediately that I'd pair that pecan crust with peaches instead of strawberries. Not that I don't think strawberries are fabulous, and I know for certain that Stephie's strawberry pie must be wonderful – but where I come from, there's no more natural pairing than peaches and pecans.
It should be known that I added the raspberries simply because I underestimated the amount of peaches I had on hand. To bulk up the puree and extend the amount of fruit in my 9″ pie, combining this classic combination seemed like a no-brainer. But, if you'd like to have a purely peach pie, simply follow the quantities with only peaches. Easy peasy, lemon squeezy!
You'll also notice that I've used Truvia Baking Blend in the puree and white whole wheat flour in the crust. The reasons for this are two fold – firstly, I'm lazy, and both of these ingredients were already on my work island from making whole wheat banana muffins. Secondly, I seem to have lost 5 pounds of sugar somewhere in my pantry! Feel free to follow the same quantities with regular all purpose flour and granulated sugar. Just keepin' it real, y'all.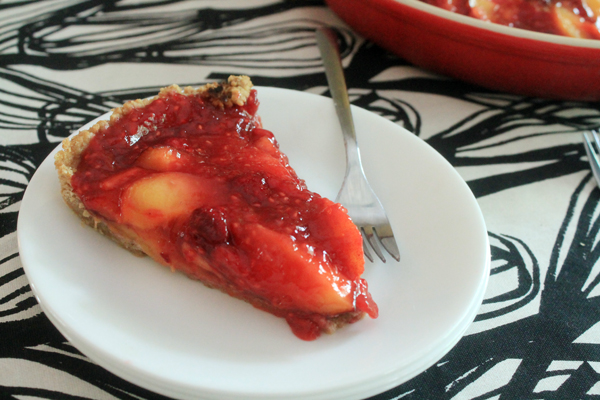 Peach Raspberry Pie
makes one 9″ pie
adapted from Stephie Swope's Strawberry Pie Recipe on Food Fanatic
Ingredients
For the Crust
1/2 cup rolled oats
1/2 cup halved pecans
3/4 cup white whole wheat flour
2 tablespoons brown sugar
1/2 cup salted butter, melted
For the Filling
8 fresh peaches, sliced and divided
1 cup fresh or frozen raspberries, divided
3/4 cup Truvia Baking Blend
2 tablespoons King Arthur Flour Pie Filling Enhancer or cornstarch
1/3 cup water
1 teaspoon Mexican vanilla extract
Directions
For the Crust
Preheat oven to 400°F.
In the bowl of a food processor, combine rolled oats and halved pecans. Pulse 3-4 times, until pecans are well chopped, but the oats still have some larger grains too.
Add whole wheat flour and brown sugar to the food processor, and pulse once again.
Melt butter in the microwave for about one minute. If there are still some solid pieces, stir with spoon until completely melted. Turn the food processor on and add butter via the feed tube. Allow to run just until all butter is added and a crackermeal type dough forms. If there is still some butter in the bottom of the bowl, that's okay. Remove the processor blades, and use a spoon to stir the crust until all butter is absorbed.
Spray a 9″ pie plate with non-stick cooking spray or butter. Dump the crust dough into the pan and press with your fingers or the back of a spoon until you have a fairly flat and well-covered pie pan.
Bake for 12 minutes, or until golden brown. Set aside to cool.
For the Filling
Wash and slice peaches. I left the skins on, but you can peel them if you desire. Divide out approximately 1 cup of sliced peaches, and 1/2 cup raspberries.
In a food processor or blender, puree the fruit. Combine puree, Truvia Baking Blend, Pie Filling Enhancer (or cornstarch), water and vanilla. Whisk continually over medium heat until puree is thickened and bubbling. Remove from heat and allow to cool for 5 minutes.
Once cooled, spoon 1/4 to 1/2 cup of puree onto pie crust and spread using the back of a spoon or spatula. Begin lining the sliced peaches on top of the puree in the pan. Once peaches are all distributed in the pie, sprinkle the remaining whole raspberries on top.
Cover with the remaining puree, spreading evenly with a spatula.
Refrigerate for at least 2 hours, or overnight. Best served within one day, though still good up to three days later.

[wpurp-searchable-recipe]Peach Raspberry Pie – – – [/wpurp-searchable-recipe]