When your CSA gives you copious amounts of peaches, what do you do? You make pie. Peach Raspberry pie, to be specific.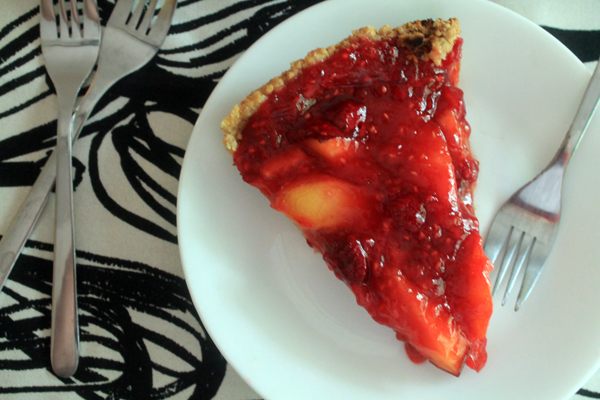 A lot of people think peaches and immediately think Georgia, but I'm here to tell you that Texan peaches can easily give the Georgians a run for their money.
Saying I miss them come springtime could be the understatement of the century.
I've learned that Jersey peaches are nothing to sneeze at, though I do find them different than Texan or Georgian peaches in sweetness.
They're more tart, a little more citrus-y. But, that only makes them more perfect for pairing with fresh raspberries.
When I spotted the fresh strawberry pie on Food Fanatic, I was instantly smitten.
What really did it for me? The pecan infused shortbread crust. I am such a sucker for pecans!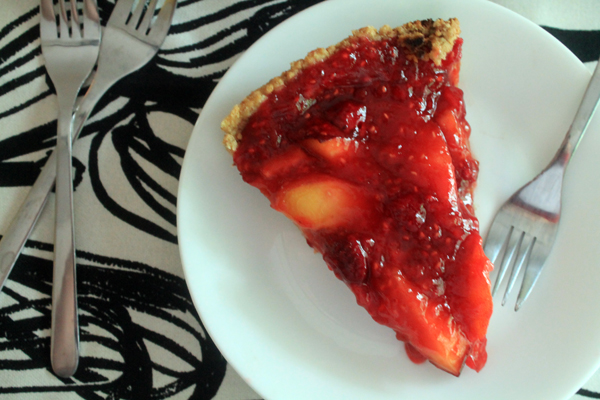 Like any good Texan, I knew immediately that I'd pair that pecan crust with peaches instead of strawberries.
Not that I don't think strawberries are fabulous, and I know for certain that Stephie's strawberry pie must be wonderful – but where I come from, there's no more natural pairing than peaches and pecans.
It should be known that I added the raspberries simply because I underestimated the amount of peaches I had on hand.
To bulk up the puree and extend the amount of fruit in my 9″ pie, combining this classic combination seemed like a no-brainer.
But, if you'd like to have a purely peach pie, simply follow the quantities with only peaches. Easy peasy, lemon squeezy!
You'll also notice that I've used Truvia Baking Blend in the puree and white whole wheat flour in the crust.
The reasons for this are two fold – firstly, I'm lazy, and both of these ingredients were already on my work island from making whole wheat banana muffins.
Secondly, I seem to have lost five pounds of sugar somewhere in my pantry!
Feel free to follow the same quantities with regular all purpose flour and granulated sugar.
Just keepin' it real, y'all.