I'm not much one for pressuring other people in the grocery store about what to buy. Over the years, I've become more informed about where my food comes from, and that leads me to make choices that may be different from mainstream America.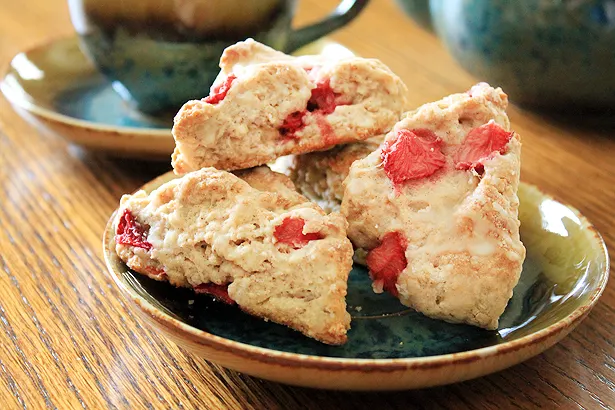 Occasionally, I've been accused by my midwestern brother-in-law for being a food snob, choosing to buy organic over non-organic, whether it be produce or a cookie. I'm okay with that. Especially when it comes to produce.
I know organic produce doesn't mean I'm safe from things like salmonella. I still wash the heck out of it. But in my own experience, and just this past week, in my sister's, sometimes, organic food just does taste better.
Case in point: Strawberries. Strawberries are just coming into season here in San Antonio, thanks to Poteet, our own little strawberry haven of South Texas.
However, you actually have to go to Poteet to get those strawberries, so at the grocery store, we're still finding the California imports.
Two weeks in a row, my sister bought run-of-the-mill, $4.99 quarts of strawberries. They smelled wonderful. But they had no taste.
No pop, no wow, and certainly no juicy texture. If I could tell a strawberry, "I'm just not that into you," – it would be these strawberries.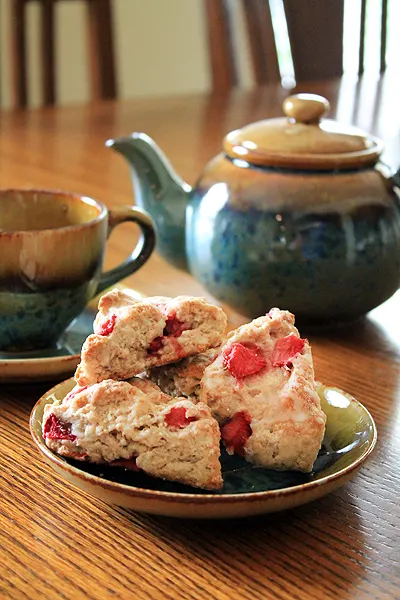 I hadn't seen an organic stash of them at the nearby H-E-B, but then suddenly, this past Monday, there they were. I smelled their heady fragrance two aisles away.
Ava and I were grocery shopping together, and I waved the box in front of her nose. "Oooooh!" she said. "Those smell SO good, Auntie!" (She's taken to calling me Auntie, and I have no idea why.)
We grabbed the box and headed for home. That night, after dinner, the kids were clamoring for dessert. I grabbed the box of strawberries from the fridge, and waved them under Chellee's nose too. She let out an appreciative "mmmmm!" and then I got to washing and de-stemming.
My first bite of these strawberries – ecstasy. This is what strawberries taste like. The kids ate fresh strawberries for their dessert, no sugar or whipped cream required.
I chopped the rest of the strawberries finely, with a plan for these scones already in hand. Their destination? David's school's teacher break room.
I've made a point, while I'm here, of baking for all the "places" in my family's life.
I don't ever get to do that from New Jersey, so it's been a joy to provide Ava's preschool with fresh blueberry muffins, Chellee's fellow nurses with much needed cupcakes, and Jeremy's fire squad with macaroons and banana nut muffins.
Adding just the right touch of sweetness, I created an orange juice glaze that plays perfectly off the strawberries. The tart sweet glaze adds a slight crunch to the outside of the scones, and requires only two ingredients: orange juice (I even used low sugar Trop 50) and powdered sugar.
Once glazed, these strawberry scones look like something straight out of a Starbuck's bakery case. You'll be the talk of the office, let me tell you.
Scones couldn't be easier. I say that over and over again. For these scones, I decided to grab a bottle of Green Valley Organics Plain Kefir we had in the fridge and go to town.
If you haven't heard of Green Valley Organics, get on it. Their yogurts, kefirs, and sour cream are phenomenal.
I love that not only do they use organic farming practices, but there are no growth hormones – ever – and all of their products are lactose free. (In addition to this being great for me, someone who is slightly lactose intolerant, lactose free dairy products last f-o-r-e-v-e-r before going bad. Bonus!)
In addition to being incredibly creamy and perfect for breakfast, they're perfect for baked goods too. I could easily have swapped in a cup of their Honey Yogurt for the Plain Kefir.
You really can use whatever you have on hand, but I recommend using the best quality ingredients you can.
I will say that the verdict from David's Kindergarten teacher, Mrs. Pittman, (Hi, Mrs. P! Thanks for being awesome!) is that the teachers were saying they'd never had a scone before that wasn't dry and crumbly.
These scones are definitely not that. They're moist, slightly sweet, and incredible with an afternoon cup of tea or coffee.