There are few soups more comforting to me than savory, flavorful Baked Onion Soup. I think the first time I had it I was 5 or 6, and it was at this restaurant-bar-club spot called Gallagher's. The special crock of bubbling, molten hot soup wafting its way towards me in the restaurant.. I can still picture it today.
Gallagher's played a big part in my childhood. My dad's band had a standing gig there every Friday and Saturday night for about five years. I think we ate pretty much everything on the menu in that time. But I always went back to that soup.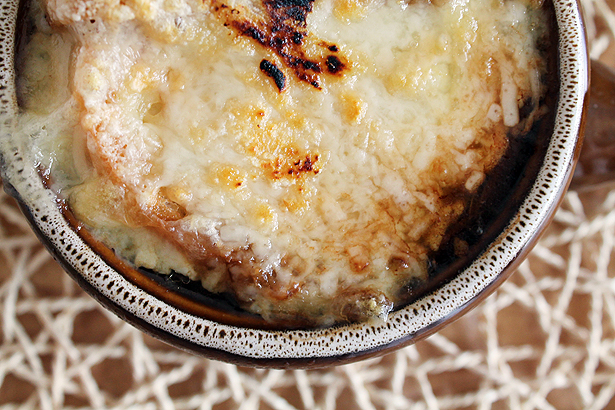 The restaurant is long gone now, replaced by a Marie Callendar's. Where the bar and stage were is now their private party room. It makes me a little sad, but mostly nostalgic. When I made this Baked Onion Soup from Sargento's website the other night, I was taken right back to Gallagher's.
When smoking was still allowed in restaurants, and the sound of my dad singing Top 40 hits soothed me through my dinner, and to sleep hours later on chairs pushed together in a dark corner.
It wasn't a typical childhood, but it sure was fun.

I was a little shocked at myself that I've never made this soup before. It seriously could not be easier. The hardest thing I did was chop onions. (And come on, that's not really so hard, especially with big, yellow, sweet ones.)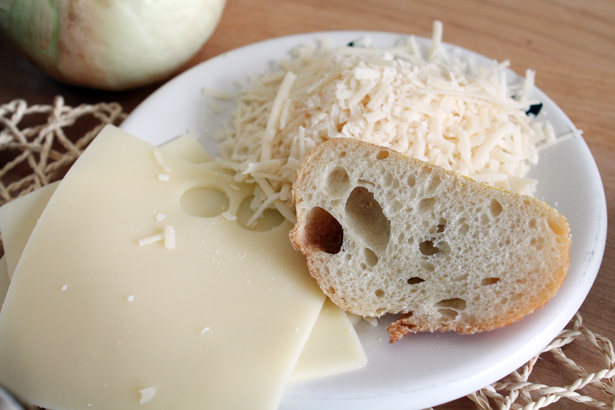 In no time at all I had a hearty, robust Baked Onion Soup covered in swiss cheese and parmesan. Dipping your spoon in, getting all that melty cheese and soppy baguette.. it's what dreams are made of, I tell you.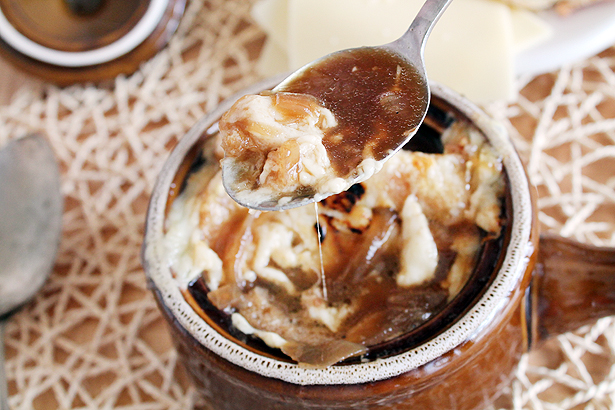 Baked Onion Soup
adapted from Sargento
Serves 4-6 depending on bowl size
Ingredients
1/4 cup (1/2 stick) unsalted butter
2 pounds (about 3 large) yellow or sweet onions, thinly sliced
2 cloves of garlic, minced
Salt and Pepper to taste
4 cups organic beef stock
1 cup dry white wine or water
1 teaspoon Worcestershire sauce
12 slices Sargento Deli Style Sliced Swiss Cheese
6-12 slices French bread, toasted (depending on the size of the loaf and your bowl)
1/2 cup Sargento Artisan Blends Shredded Parmesan Cheese
Directions
In a French oven or large stock pan, melt butter until it is bubbling, but not brown. Add onions and garlic. Cook for at least 30 minutes on medium-low heat, stirring every so often. Season the onions with salt and pepper to your liking.
When the onions are very tender and somewhat brown, add beef broth, wine (or water), and Worcestershire sauce to the pan. Stir well to combine, then increase heat slightly to medium high and allow to come to a boil. Once you reach a bubbling boil, reduce heat and simmer for 10 to 20 more minutes. Make sure to taste the broth of the soup and add more salt or pepper as needed before removing from the heat.
Preheat the broiler of your oven.
Ladle the soup into ovenproof bowls. Lay one slice of Swiss on top of the soup, then place the toasted baguette on top of the cheese. Sprinkle some Parmesan on top of the toasted baguette, then cover with another slice of Swiss. Sprinkle with more Parmesan.
Place the bowls on a jelly roll or cookie sheet pan. Place under the preheated broiler 5 inches from the heat. Broil for 2-4 minutes, or until the cheese is melted, golden, and bubbly.
Serve alongside a charcuterie plate or a green leafy salad for a delicious dinner.

Disclaimer: This is a sponsored post written for Sargento. I chose the recipe I wanted to make, and all memories mentioned are my own, as well as my opinions about the cheese used in the recipe. I was compensated for this post.[wpurp-searchable-recipe]Baked Onion Soup – – – [/wpurp-searchable-recipe]