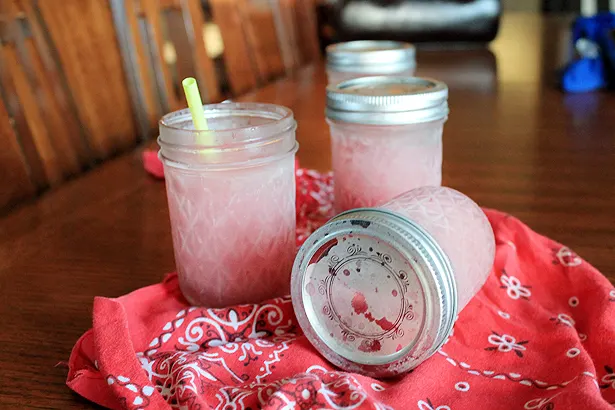 One of my fondest memories from last year's Big Summer Potluck was standing in the kitchen, surveying the chaos of the Friday night party, when Colleen from Souffle Bombay flew by me with a big smile on her face and a little frozen jar of brilliance that she thrust into my hands as she walked past.
I can't remember if we called them Jargaritas that night, or if it's something James came up with later, so you'll have to forgive me if it was Colleen or someone at BSP that came up with that name and I'm not giving them credit.
As soon as all the girls (Aimee, Shaina, Tracy, and Jeanne) and I got home, we regaled James with stories of those Jargaritas, and how amazing they were.
Well, all of us except Aimee, who was newly pregnant. I think she's hoping the Jargaritas make an appearance at this year's conference too!
James was intrigued, and insisted we make them ourselves at the first available opportunity. Now, they are a staple at our house. Perfect for sipping while we sit in the hot tub of an evening. Even more perfect en-mass for parties and barbecues.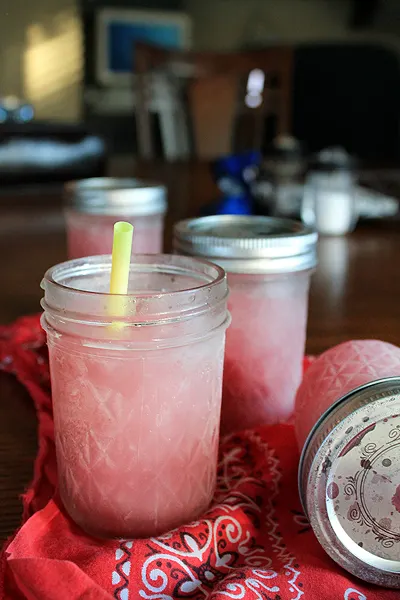 Here's why Jargaritas are so brilliant: It takes just moments to mix the concoction and distribute it among 12 Mason jars. Place the jars (in their box, for easy transport) in the freezer, and then leave them there.
Whenever you fancy a little slushy libation, just mosey on over to the freezer, grab a jar, shake it, unscrew the lid, and pop a straw in.
Perfectly textured frozen margaritas without any blenders, mess, or mixes filled with high fructose corn syrup.
(Though if you use frozen canned limeade concentrate, most versions do have HFCS in them. See my link in the comments below for an HFCS free recipe.)
Because of the alcohol content, Jargaritas never completely freeze.
If you have a barbecue coming up, you can make these drinks weeks in advance, so long as you have the freezer room, and it's one less thing to do the day of your party.
Colleen, I really must thank you for this recipe. It's become such a staple in our house!
Feel free to play around with the recipe to suit your taste buds. Colleen's recipe calls for Chambord, which is incredibly delicious. But once we've burned through our current stash, I'm going to switch in Limoncello for the Chambord and see how we do.