I'm not going to lie. I first envisioned these cupcakes for myself, for my birthday at the beginning of February. Ever since Amanda made her rose cake with vertical stripes around our birthdays last year, I've kind of been obsessed with the idea of pink and white striped cupcakes.
Lots of people are now making "ombre" cakes, with varying degrees of pink to white in layers of one big cake, and I truly think that is pretty, but it's not exactly what my brain kept going back to.
Right around my birthday this year, I was just starting to bake again, and I wanted strawberry and vanilla striped cupcakes, come hell or high water.
But guess what? Both hell and high water came, and what came out of my sister's oven that Super Bowl Sunday was a disaster of epic proportions, one that I cursed a blue streak at as I spent nearly an hour cleaning out the cupcake pan.
Twice more I've attempted my idea, first carefully layering pink and white batter in ever so slightly greased cupcake wells, hoping they'd stay in the beautifully perfect horizontal stripes they were poured in.
I'm so happy to say that third time's the charm, just in time to celebrate the newest little princess in Food Blogger-land. Today we're throwing Aimee a surprise virtual baby shower!
I remember reading Aimee's post on Under the High Chair – the pure shock, surprise, and delight at having a little girl after two boys.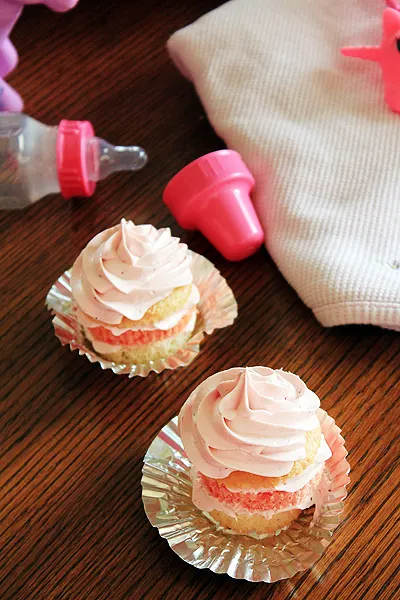 It reminded me of my own sister's reaction when she found out she was pregnant with Ava. I think, like Aimee, she had accepted her "fate" as a boy mommy, never to brush long hair into pig tails or "play" Barbies at an angelic little voice's request.
These days, Ava refuses to let her mother do more than offer a side braid on the day's hairstyle, and more often than not, I'm pretty sure Chellee rolls her eyes and sighs a little internally at those Barbie-playing requests. But she also cherishes the Momma-Daughter moments (like painting each others fingernails) and I am SO excited for Aimee to have all those little moments in her life too.
When I first found Aimee's two blogs, SimpleBites and Under the High Chair, I was struck by her pure joy and matter-of-factness approach to life. After meeting her in person last year, I can tell you for sure that what you read is what you get.
Aimee is the type of mom I hope to be some day. Infinitely fun, but firm too – and always feisty. Her boys know where she stands, but they also clearly know that Momma means fun. In the kitchen, in the garden, it doesn't matter. I only hope that when I have kids, they see me the way her kids see her.
Congratulations, Aimee and Danny, on your darling baby girl!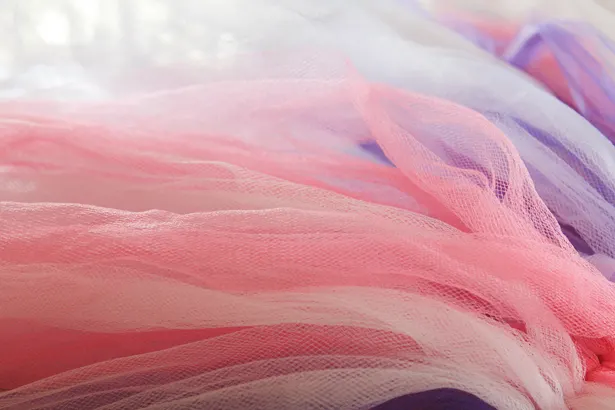 My sister suggested I warn you to be ready for lots of pink, purple, and tulle.
Strawberry & Vanilla Cupcakes
with Strawberry Jam Buttercream
makes enough frosting for 18 cupcakes
Ingredients
Your favorite Vanilla Cupcake Recipe or box mix
Your favorite Strawberry Cupcake Recipe or box mix
4 sticks unsalted butter, room temperature
2 pounds powdered sugar
pinch of salt
1 teaspoon vanilla extract
2 tablespoons seeded strawberry jam
heavy cream or half and half as needed
Directions
Bake cupcakes as directed via recipe or box mix. (For this, I used two box mixes – hoping Aimee would forgive me as I'm still recovering from surgery.) Allow the cupcakes to cool completely.
When the cupcakes are cool, use a sharp knife to cut each cupcake into 3 layers, each about 1/2″ thick. Cut one vanilla cupcake and one strawberry cupcake at a time, and then assemble the opposing colors together. You should be able to do the same number of strawberry-vanilla-strawberry cupcakes as you do vanilla-strawberry-vanilla cupcakes. By assembling them two at a time, you'll keep things organized.
Assemble the frosting – in a large mixing bowl, beat the butter until it is light and fluffy. Slowly add the powdered sugar a little at a time until the entire 2 lb. bag is incorporated. Add the pinch of salt and vanilla extract and beat again.
Add the strawberry jam and beat again. This made for a very fluffy and soft frosting. If you want the frosting firmer, you may want to add more powdered sugar, 1/2 a cup at a time until you reach the desired consistency.
If, alternatively, you feel the frosting is too stiff, add heavy cream or half and half, one tablespoon at a time (and then mix), until you reach the consistency you want.
Strangely, the strawberry jam lightened the color of my frosting, which I did not expect. If you want a deeper color, add a little gel food coloring.
Disassemble your stacked cupcakes, one at a time. Pipe frosting onto the first layer, then press the second layer down firmly on to it. A little will peek out the sides, but if you don't firmly press the middle layer down, the cupcake will be very unstable when finished.
Pipe more frosting onto the middle layer, and press the crown of the cupcake down firmly onto this. Frost the top of the cupcake as you would normally. I used a Wilton 1M tip to achieve this ribbon look.
Refrigerate until ready to serve. I wouldn't recommend making these more than a day in advance.

Please visit the rest of Aimee's baby shower guests and see what they cooked up!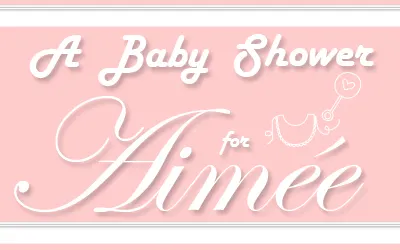 Strawberry Pretzel Dessert by My Baking Addiction
California Veggie Wraps from My Kitchen Addiction
Waffle Cone Fruit Cups by Dine & Dish
Mini Berry Pies on a Stick and Kettle Corn at Food for My Family
Strawberry Rhubarb Jam by Gluten Free by Nature
Perfectly Pink Pomegranate Smoothies from Food Your Way
Grapefruit Avocado Couscous by Stetted
Quiche Lorraine from GoodLife{Eats}[wpurp-searchable-recipe]Strawberry and Vanilla Cupcakes for Aimee – – – [/wpurp-searchable-recipe]