It's been a long time since I've had the ability to do a Secret Recipe Club post, so I'm really excited to be healed enough and organized enough to be able to participate.
This month I was assigned Mrs. Happy Homemaker, a new-to-me blog by Crystal. When Crystal says she's a happy homemaker, she means it! In addition to three kids and a husband, she currently has 23 pets of the dog, cat, rabbit and chicken variety. Crystal, I'd like to know how you do it. Just reading that on your about-me page made me tired!
I browsed Mrs. Happy Homemaker for a good long while – and let me tell you, there's a lot to choose from. First I thought I might make Crystal's Twice Baked Stuffed Sweet Potatoes, then I thought maybe I'd make Meatball Lasagna, but all bets were off when I clocked Crystal's Bite-Size Apple Pies with just 5 ingredients!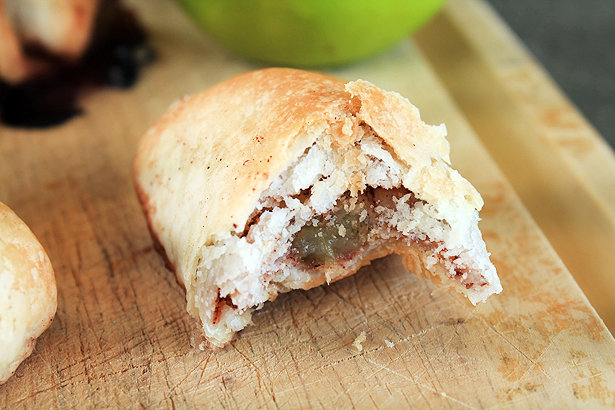 First of all, these little bites of win are perfect for any time you're craving apple pie. They come together so quickly and easily, my sister was like, "Wait, that's IT?!"
They're good hot. They're good cold. They're good reheated in the microwave with a dollop of vanilla bean ice cream on top. Crystal is pretty darn genius.
The only thing that I did differently to Crystal is to use apple pie spice instead of straight cinnamon. We just happened to have some lying around, and they really brought out that homey, comforting flavor you expect from apple pie. Feel free to use homemade pie crust, and straight cinnamon.
When I was making them, I also couldn't help but think how Nanny would have tucked a small slice of sharp cheddar cheese in each pastry roll. She loved cheddar cheese on her apple pie, and I know she would have loved this recipe.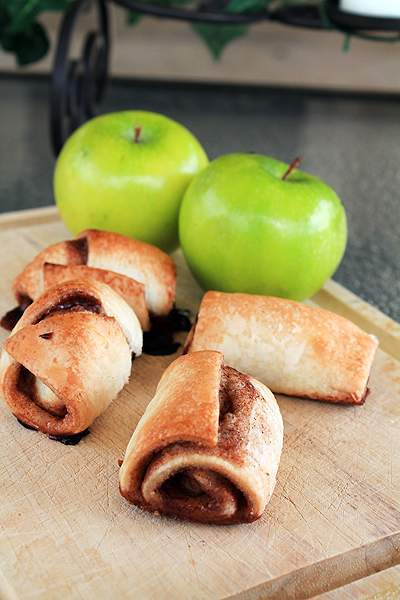 Apple Pie Bites
Adapted from Mrs Happy Homemaker
Ingredients
3 Organic Granny Smith Apples
2 refrigerated pie crusts
4 tablespoons of butter, melted (1/2 stick)
1/2 cup granulated sugar
2 tablespoons apple pie spice
Directions
Bring a package of refrigerated pie crust to room temperature. Preheat the oven to 425F. Line a baking sheet with parchment paper.
Wash, peel, core and slice apples into chunky wedges. I washed and peeled them and then used an apple corer/slicer combo. Set aside.
Roll out the pie crusts. Melt butter in a small bowl. In a separate small bowl, mix together the granulated sugar and apple pie spice.
Using a pastry brush or rubber spatula, spread half the melted butter on each pie crust. Sprinkle each pie crust with the sugar-apple pie spice mixture.
Using a pizza cutter, slice each round into 5-6 strips, then cut down the middle to make 10-12 smaller strips.
Wrap each apple wedge in pastry, rolling it like croissant around the apple.
Place all the wedges on the baking sheet. They should all fit, you don't need much space between each.
If desired, brush milk on the pastry and sprinkle with sparkling sugar. (This is completely optional, but would add a nice touch.)
Bake for 12-15 minutes or until each bite is golden brown and bubbly.
Allow to cool for 5 to 10 minutes, then inhale!

Make sure to visit all the Secret Recipe Club posts!
[wpurp-searchable-recipe]Secret Recipe Club: Apple Pie Bites – – – [/wpurp-searchable-recipe]