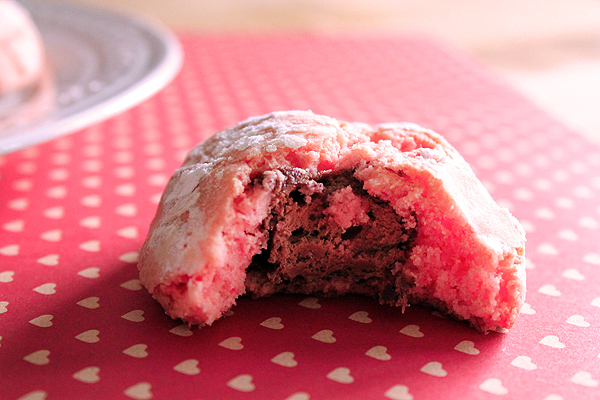 Somewhere along the way, chocolate dipped strawberries became synonymous with Valentine's Day. I'm not sure when it happened, but they 100% equal romance.
Just ask us – our groom's cake at our wedding featured a sheet cake decorated to look like a tuxedo, surrounded by two dozen smartly dressed matching tuxedo'ed strawberries around the edge. And we DID have one romantic wedding. (Ask me about the chocolate fountain sometime – epic!)
When I got to thinking about yummy things to make you for Valentine's day, I got to thinking about chocolate covered strawberries, and then I thought, what if I reversed it? What if I covered a chocolate in strawberry?
That, my friends, is when the idea of stuffing a strawberry crinkle cookie with a fun-size "Hot Cocoa and Marshmallows" Three Musketeers came into being. Yeah, I did that.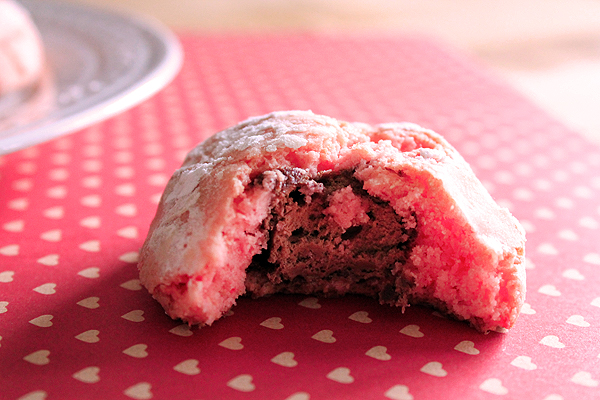 I mean, we all love crinkle cookies, right? Whether they're made with cake mix or the old fashioned way, crinkle cookies are where it's AT. Now stuff 'em with chocolate. Like whoa.
This recipe does have a little shortcut in a strawberry cake mix. There ARE organic ones out there, so if that floats your boat, go for it. You could also make Chocolate Crinkle Cookies from scratch and stuff them with the new Strawberry Dark Chocolate Three Musketeers Candies.
I'm all for spreading the Valentine's day cheer, y'all, because I LOVE pink, strawberry, and happiness. Whether you're your own valentine, your best girl friend's valentine, or your heart belongs to your stinky husband – enjoy these cookies with a tall glass of milk and a smile.
And don't forget that the flavor of these cookies is entirely up to you. If you like lemon and white chocolate together, why not stuff these Lemon Crinkle Cookies with a Hershey's White Chocolate Bliss bite?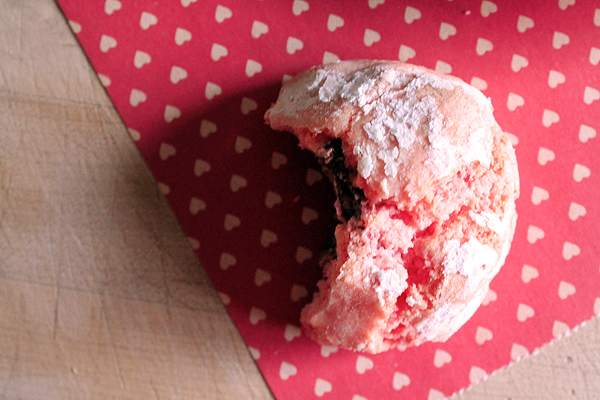 And don't forget there's still time to enter the Dairy Farm giveaway!
Strawberry Crinkle Cookies Stuffed

with Chocolate
Makes 18 cookies
Ingredients
1 box Pillsbury "Pudding in the Mix" Strawberry Cake Mix
2 large eggs
1/3 cup vegetable oil
1 teaspoon pure vanilla extract
1/3 cup powdered sugar
18 "fun-size" Three Musketeers Candies, frozen
Directions
Freeze a bag of "fun-size" Three Musketeers Candies for at least 2 hours.
Preheat the oven to 375°F and line a baking sheet with parchment paper.
In a large bowl, combine the cake mix, eggs, oil, and vanilla extract. Stir vigorously with a spatula until will blended.
Place the powdered sugar into a separate small bowl, then unwrap 18 frozen Three Musketeers.
Using a medium cookie scoop or tablespoon, shape a dough ball, and then drop it into your hand. Press a frozen chocolate into the ball of dough and then roll it in your hands until the chocolate is completely enrobed in cookie dough. The dough will be sticky, just fair warning. Wear kitchen gloves if you prefer.
Drop balls of dough into the powdered sugar sugar and roll to coat heavily.
Place the balls of dough on the parchment lined baking tray 2 inches apart. Bake for 9-11 minutes.
The middles of the cookies may look slightly undercooked when removed from the oven. That is okay. They will continue to cook as they cool. Allow to cool for 5 minutes in the pan, then remove to a cooling rack to finish cooling completely.

[wpurp-searchable-recipe]Strawberry Crinkle Cookies Stuffed with Chocolate – – – [/wpurp-searchable-recipe]