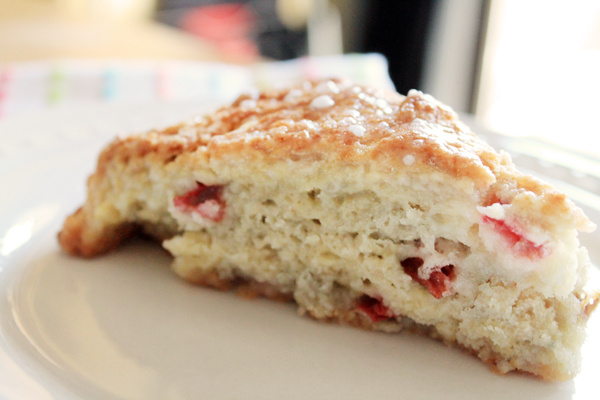 There's nothing quite like a sweet breakfast with your sweetheart on Valentine's Day. I knew that I wanted to make something special for James, something that called to summer and love, and to his British homeland. Lucky for me, Casey and I went sour cherry picking last summer, and I have an entire 8 pounds worth still in my freezer.
Sour cherries are hard to find, and so an extra special treat when ensconced in sweet, tender scone dough. Topped with a sweet vanilla glaze, there's really not much more you could ask for in a breakfast.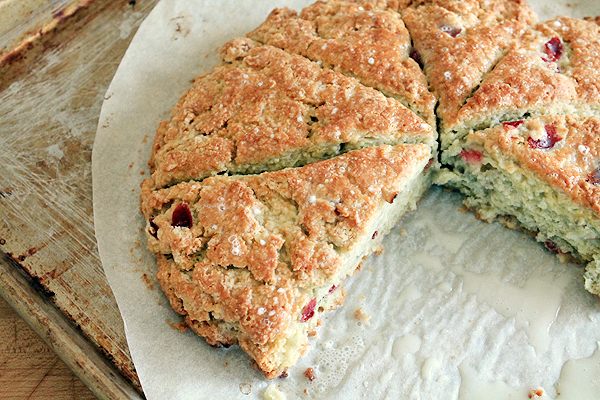 Now, if you don't happen to have a secret stash of luscious sour cherries, you can use pretty much any type of cherry you can get your hands on, fresh or frozen.
However, if you have the opportunity to use sour cherries, please do. They pair so brilliantly with the sweet vanilla provided by International Delight's French Vanilla Creamer, which makes an appearance in both the scones and the glaze on top.
Happy Valentine's Day!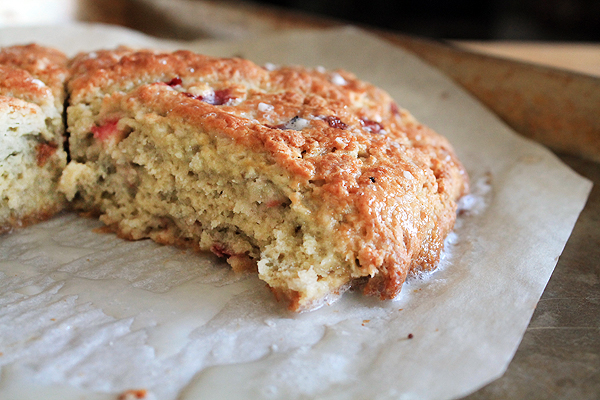 Sour Cherry Vanilla Scones
featuring International Delight Coffee Creamer
Ingredients
1/2 cup plus 3 tablespoons, divided International Delight French Vanilla Coffee Creamer
1 large egg
2 1/2 cups All Purpose Flour
1/3 cup sugar
1 teaspoon baking powder
1/2 teaspoon baking soda
1/2 teaspoon kosher salt
8 tablespoons (1 stick) unsalted butter, frozen
3/4 cup sour cherries, pitted and chopped
3-5 tablespoons powdered sugar
Directions
First, freeze the butter for at least an hour.
When butter is ready, preheat oven to 350°F.
In a medium bowl, combine flour, sugar, baking powder, baking soda, and salt. Whisk together to thoroughly aerate and combine.
In a separate small bowl, whisk together egg and International Delights French Vanilla Coffee Creamer so that egg is broken and liquids are thoroughly mixed together.
Using a cheese grater, grate frozen butter directly into flour mixture. When all butter has been grated into flour mixture, mix with a fork or whisk so that butter is fully incorporated. Add in the chopped sour cherries and mix again.
Add egg-creamer mixture and stir until dough comes together in a shaggy mass.
Remove dough to a flour covered surface and shape into an 8″ round, roughly 1 1/2″ thick. Using a knife dipped in flour, cut round into 8 triangles and separate.
For softer scones, leave the scones together. For a crisper texture, place each scone at least an inch from each other on a parchment lined baking tray.
Bake 18-20 minutes if in a circle, or 15-17 minutes if separated, until scones are golden brown. Allow to cool before glazing.
To make the glaze, combine sifted powdered sugar and 3 tablespoons International Delight French Vanilla Creamer in a bowl. Whisk together until a slightly thick glaze forms. Brush to your desired sweetness over the cooled scones.
Enjoy with a strong and milky cup of coffee or tea. These scones are so flavorful and moist, they don't even need butter or jam.

This Valentine's Day, share the love with recipes and homemade gift ideas! Don't miss the International Delight Valentine's Day Twitter Giveaway. Enter by following International Delight on Twitter and by tweeting your favorite ID flavor with the hashtag #IDLove. Winners will be contacted on February 15th and will receive ID Valentine's Day Sampler Packages!
This is a sponsored conversation written by me on behalf of International Delight. The opinions and text are all mine.
[wpurp-searchable-recipe]Sour Cherry Vanilla Scones for Valentine's Day – – – [/wpurp-searchable-recipe]