I'd like you to know that I'm a huge fan of dairy. Most nights, I can be completely content with good cheese and butter on French bread alongside some fruit and call it dinner. I refuse to drink coffee without half and half – I'd rather just abstain. This is why it was such a thrill to be invited by the American Dairy Association and Dairy Council to visit an active family dairy late last year.
In October, Tracy and I had the opportunity to meet up and hang out with some pretty awesome cows. My husband will tell you, I am a sucker for baby cows.
The NY Farm to Table event was really all about excellent food: from nutty, creamy cheese to succulent and sultry beef steaks, we were treated to a showcase of everything edible there is to offer from the dairy world.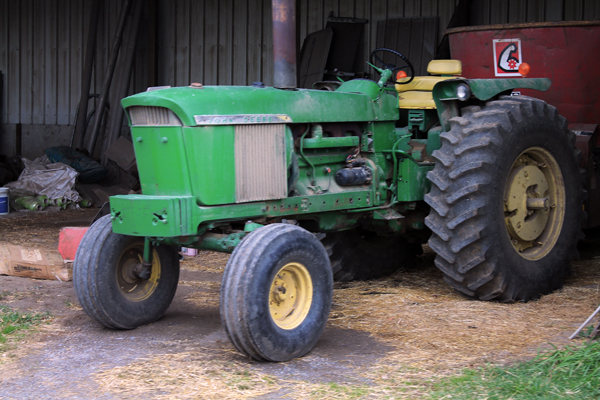 If you're Texan, you know John Deere. And love 'em too.

Traveling around Noblehurst Farms, a seven generation family co-op, we learned about how they keep their 1,800 cows happy and healthy and providing delicious milk, cream, and eventually, cheese and beef.
The Noblehurst cows live on a diet of silage in Winter. This is a combination of hay, corn, alfalfa, cotton seed, and more that is placed in giant piles and covered in great big sheets of plastic to ferment in the sun. Cows love it because it is sweet, and they eat nearly 100 lbs each, every day. That's a lot of cud!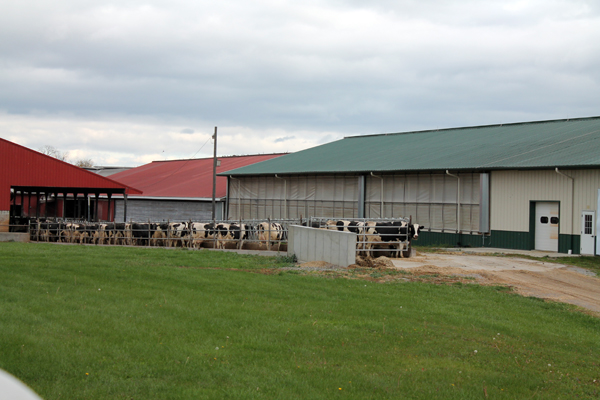 In the Summer, Noblehurst's cows get plenty of pasture time, but during the winter, it's healthier to keep them close together and inside, where they can keep the temperature in the balmy 50s, a cow's favorite temperature. We visited the ladies getting a little outdoor time before moving indoors to see their high-tech merry-go-round, the milker!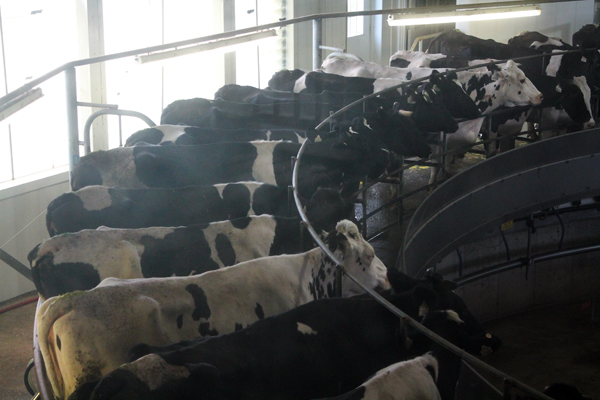 The milker is seriously cool. The ladies go for a spin a couple of times a day, providing up to 10 gallons of milk each. There are workers to put the milkers on and make sure that everyone is healthy and happy as they go in. It seriously looked like the ladies were sharing the daily gossip as they spun round.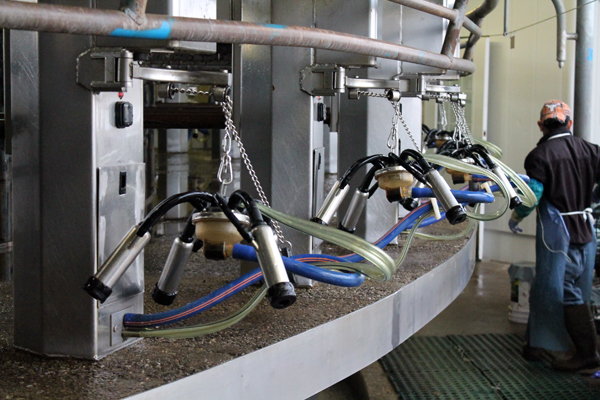 Those are some serious milking devices!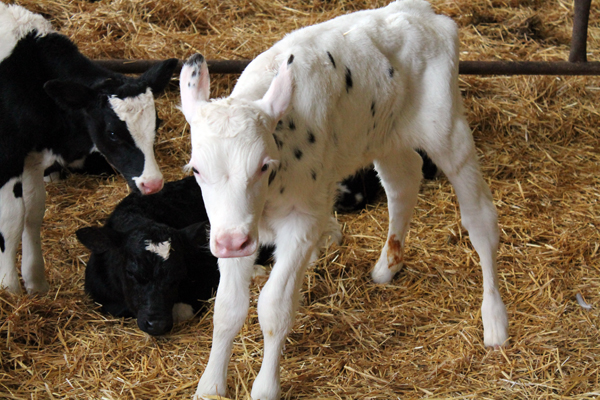 Then it was off to see BABY COWS! (Yes, I know a baby cow is a calf, but it's much more fun to say BABY COW!) These little guys were the males born that day. They'll move on to greener pastures, while the girls stay with their mamas.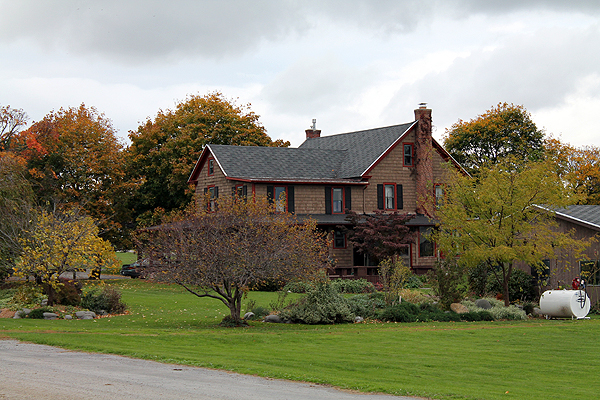 This last photo here is to remind us what Dairy farming is all about – families. This is "Grandma's House", and it's over 100 years old. The current grandmother of the family lives in the original family homestead today, and all the family is within a half a mile, or so it seems.
After our day on the farm, we spent the evening at the New York Wine & Culinary Center, whom, let me assure you, know how to cook a perfect steak, and also the exactly right wine to pair with it.
The farm we visited that chilly October day might not have been organic, but it was clear the family truly cares for their cows. We were supposed to meet an organic farmer from Twin Oaks Dairy as well, but due to the busy time of year, they were unable to make it. I'd love if you'd visit Tracy's blog to read what we learned in an after-trip interview with the wife of the husband-and-wife team that run that farm.
The bottom line is, dairy is an integral part of any diet. To be happy and healthy, include it in yours. Know where it comes from – hard working families with a dream to provide the best quality product they can to as many people as they can. Get yo' cheese on!

And now for the fun part!
The American Dairy Association and Dairy Council have put together a sweet prize pack for one dairy loving B&B reader to enjoy.
Disclaimer: I was invited on this trip by the American Dairy Association and Dairy Council. They provided lodging, some meals, a gift bag that matches the giveaway, and a gift card to cover the cost of travel to the event. The opinions stated above are my own.[wpurp-searchable-recipe]Bluebonnet Adventures: Visiting a Dairy Farm – – – [/wpurp-searchable-recipe]