Remember when I made those delicious pork egg rolls? Well, as James and I rolled them out, we realized we'd have a few extra egg roll wrappers hanging around after we worked through the pork filling.
My mind immediately flew back to one of the most incredible desserts I've ever had: the Banana and Sea Salt Caramel Egg Rolls with spicy peanuts at Max Brenner: Chocolate by the Bald Man. It's one of my favorite NYC restaurants because, quite frankly, Max Brenner is a (self-proclaimed) real life Willy Wonka.
We didn't have any bananas on hand. But we did have an entire flat of strawberries from a Saturday of picking. It didn't take long to decide that our dinner of egg rolls would be followed by a dessert of egg rolls.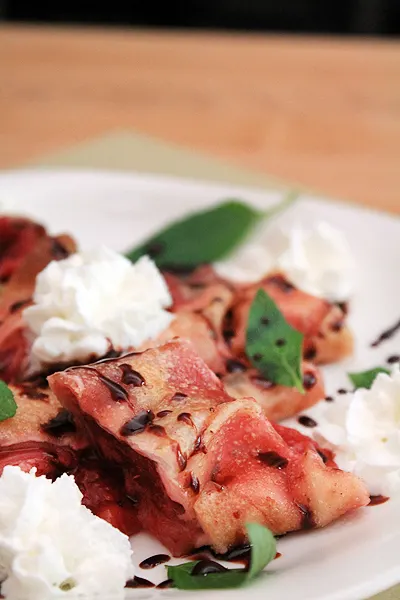 I sliced them up into bite size pieces for the photo shoot because, let's face it – egg rolls aren't so photogenic on day 2. However, I can tell you that they certainly tasted fabulous on day 2.
Drizzle them or dip them in chocolate sauce (I used the simple organic chocolate syrup we get at Trader Joe's) and you've got a dessert that will wow just about anyone.
If you don't have fresh strawberries, I'm sure strawberry preserves would work just as well here. I used honey nut cream cheese, but if you can't find that (I can only find it at Target), simply mix some honey into plain cream cheese to your desired sweetness before you spread it onto the egg roll wrappers.
What's below is more a method than a recipe, because we really did this on the fly. But man, did it taste good.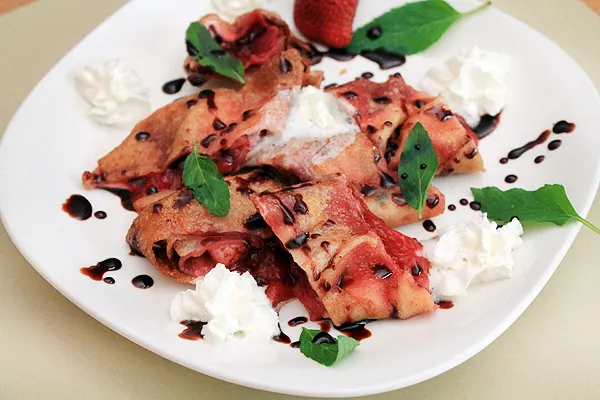 Strawberry Cream Cheese Egg Rolls
Ingredients
Egg Roll Wrappers
1 pint of fresh strawberries, washed and de-stemmed
1/2 cup granular sugar
1 tablespoon pure vanilla extract
1 tablespoon lemon juice
2 tablespoons cornstarch
2 tablespoons water
Honey Nut Cream Cheese
1 egg
Fresh mint for garnish (optional)
Chocolate syrup for garnish (optional)
Directions
Wash and de-stem a pint of strawberries. Chop them into smaller chunks (but they don't have to be tiny).
In a medium sauce pan, combine strawberries, sugar, vanilla extract, and lemon juice. Cook over medium heat, stirring often. When the sugar has dissolved, make the cornstarch slurry.
Place 2 tablespoons of cornstarch in a coffee mug. Add two tablespoons of water and mix thoroughly with a spoon until all the powder is dissolved into a paste.
Add the slurry to the strawberries and stir, raising the heat on the pan. Bring the strawberries to a boil and allow to thicken, stirring constantly. Once the strawberry mixture is thickened into a spoonable consistency, remove it from the heat.
Spread an egg roll wrapper with honey nut cream cheese, leaving about 1/2″ around the edges clear.
Spoon some of the strawberry mixture on top of the cream cheese, taking care to drain as much juice off the spoon as you can. (You can always use the leftover juices as a sauce for dipping or drizzling.)
Break the egg into a small bowl and whisk with a fork.
Carefully fold the egg roll: Fold each of the sides over the strawberry-cream cheese mixture, then fold the bottom half over, covering the two side pieces and tucking it in under the strawberry mixture.
Dip your finger into the broken egg and paint a small strip along the top corner of pastry, then fold it over the top of the egg roll and press lightly to seal. (The egg acts as glue to seal the egg roll.)
Heat 2-3 inches of vegetable oil in a French oven or large soup pan. Allow it to come to 375°F, and then drop one egg roll at a time into the fryer. Allow it to cook for about 30 seconds on each side, until they are golden brown.
Remove with a metal slotted spoon or spatula onto a paper towel lined plate. Allow the egg rolls to cool slightly, and then enjoy!

[wpurp-searchable-recipe]Strawberry Cream Cheese Egg Rolls – – – [/wpurp-searchable-recipe]