Last year, I got to visit King Arthur Flour's Baking Education Center with a slew of other bloggers. I'd never met any of them before, but there's something about baking together that will make a group of folks instantly feel like family.
Fiona from A Boston Food Diary is one of the bloggers I got to know at Blog & Bake. It's been a little more than a year since we've seen each other, but this is what I can tell you about Fiona: She's sweet, and welcoming to people who may be more socially awkward than they'd like (read: me). She likes to laugh, and she's passionate about food.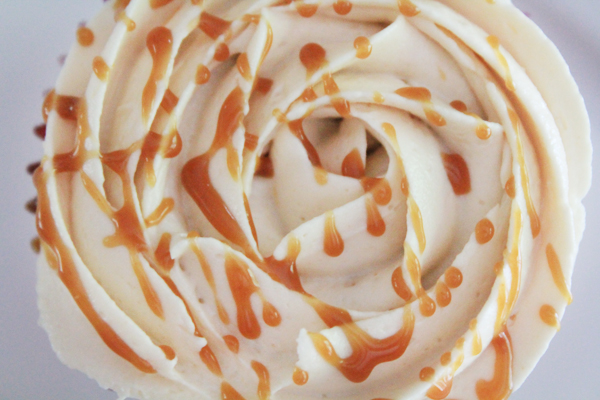 Today is Fiona's birthday. Fiona's friend, Jen from Beantown Baker, has organized a virtual birthday party so that we can all celebrate the gorgeous foodie that is Fiona.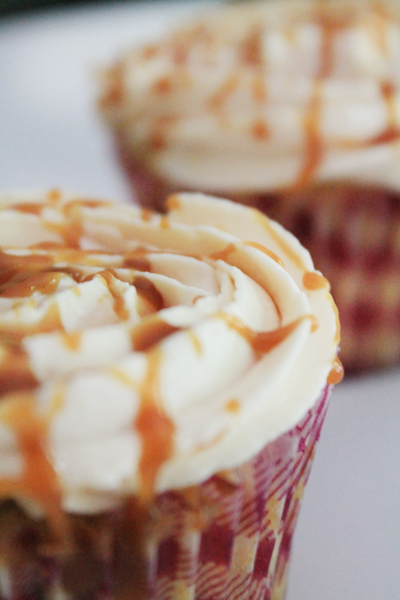 Fiona, I hope you don't mind, but I made you pretty much the most delicious cupcakes ever. You're going to be ruined for all other cupcakes. Between the rich fleur de sel caramel in the frosting and bright cinnamon notes in the cake, they're simply perfect. They're named after the Sunday Night Cake recipe in Baked Explorations.
Happy Birthday, Fiona!
I hope that it is your best yet.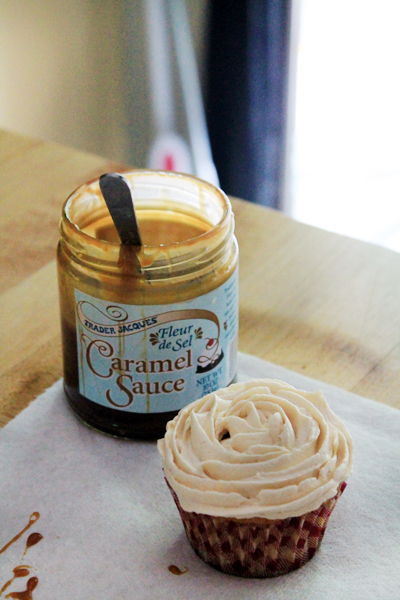 Sunday Cupcakes with Fleur de Sel

Caramel Frosting
adapted from Sunday Night Cake in Baked Explorations.
Makes 24 Cupcakes
Ingredients
For the Cakes
1 3/4 cups King Arthur Self Rising Flour
1/2 teaspoon cinnamon
10 tablespoons unsalted butter, room temperature
3/4 cup granulated sugar
1/2 cup packed light brown sugar
3 eggs
1 cup sour cream
1/2 cup Cinnamon Flav-R-Bites
For the Frosting
1/2 cup (1 stick) butter
1 cup vegetable shorting (1 stick)
2 1/2 cups powdered sugar
1 teaspoon vanilla extract
4 heaping tablespoons salted caramel sauce (I used Trader Joe's, but have linked to Williams Sonoma as they are more readily available nationwide.)
Directions
For the Cupcakes
Preheat the oven to 350°F. Line a muffin tin with cupcake liners, then lightly spray the liners and the pan with cooking spray.
In a small bowl, combine the flour and cinnamon. Whisk to evenly distribute the cinnamon, then set aside.
In the bowl of a stand mixer or a large bowl with a hand mixer, beat room temperature butter together with both sugars until light and fluffy.
Add the eggs one at a time and beat on medium speed, scraping down the sides of the bowl before each new addition.
Add the sour cream and mix again.
Add the Cinnamon Flav-R-Bites to the wet mixture and allow the batter to rest for about 5 minutes.
Add the flour mixture in 3 increments, mixing on low after each addition. Scrape down the sides of the bowl often.
All the batter to rest again, for another 5 minutes. This softens the Flav-R-Bites so that they maintain their intense pops of flavor, but they won't be crunchy when you bite into a cupcake.
There is exactly enough batter to fill 24 cupcake wells with batter 2/3 of the way full. If you find yourself short of batter, delicately spoon teaspoons from your most-filled wells into the empty wells. (I had to do this with my 24th cupcake well.)
Bake for 22-24 minutes, or until a toothpick comes out clean.
Allow the cupcakes to cool slightly in the pan, then remove them to a wire rack. They must be completely cooled before you attempt to frost them.
For the Frosting
In a large bowl, beat together butter and shortening on high speed until light and fluffy.
Add powdered sugar and beat on low until incorporated enough that you won't end up with a giant powdered sugar dust cloud, then move to a higher speed.
Add the vanilla extract and beat again, then add the caramel sauce and mix thoroughly.
If the frosting seems too tight, add milk or half and half one tablespoon at a time and mix until you reach your desired consistency.
To create the strands of caramel sauce, dip a small fork into the sauce and allow strands to drip down onto the frosting while swinging the fork back and forth. You can also put the sauce in a decorating squeeze bottle and decorate that way.
If not serving immediately, refrigerate the cupcakes until you are.
Note: If you don't have cinnamon Flav-R-Bites, you can substitute in more cinnamon (to your liking) or not. They provide a pop of flavor, but they aren't integral to the cake. They just make it taste mighty fine.

Check out all the other bloggers celebrating Fiona's birthday!
Aimee from The Apron Archives made Carrot Raisin Scones.
Erica from In and Oround Town posted Ocean Views at Legal Harborside's First Floor.
Jen from Beantown Baker made a Happy Birthday Cocktail.[wpurp-searchable-recipe]Sunday Night Cupcakes for Fiona – – – [/wpurp-searchable-recipe]