Overnight Bananas Foster French Toast is perfect for Father's Day breakfast. Sweet, caramelized bananas with a hint of rum turn this overnight french toast from comforting to OH WOW!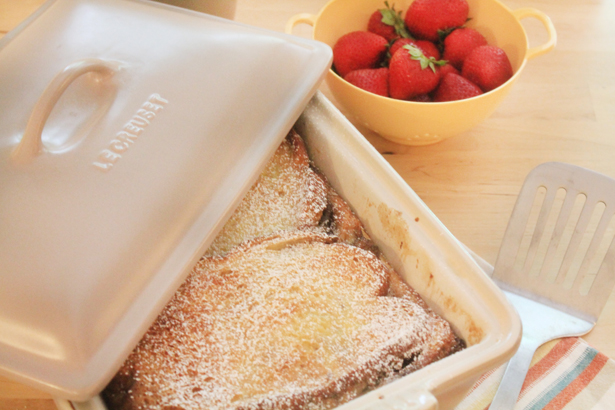 Father's Day this year is pretty special around here. It's James's first, just like Mother's Day was mine, and I want to make it extra special. He does so much to make Evan's and my life special and easier every single day. Watching him play with Evan, their two faces so very much alike – oh man, it does funny things to my insides.
I wanted to make something special. Something worthy of my sweet husband who does so much each day. From his commute to diaper changes, bedtime routines to spoon-feeding the kid happily, even when it's his least favorite baby-related chore to do.
And then I received this Le Creuset covered casserole dish from their new Matte collection, and inspiration struck. Overnight French toast. Is there anything easier, or more decadent on a Sunday morning? Turns out, yes. The answer to that question is Bananas Foster overnight French toast.
James and I have both long been fans of Bananas Foster sauce (originally created at Brennan's in New Orleans). It features rum and banana liqueur, brown sugar and bananas. It couldn't be more simple to make, but once combined and caramelized into an ooey gooey sauce, it's darn near impossible to resist. We first had it at Disney World's 'Ohana, atop their 'Ohana Breakfast Bread bread pudding.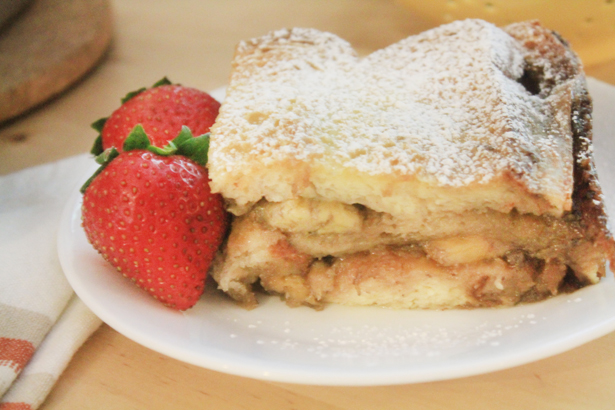 Now, some of you may be concerned whether this is an appropriate dish for Father's Day breakfast because Bananas Foster is made with alcohol. Part of the cooking process is to flambé the sauce. What does that mean? You light it on fire. But don't be scared! This was my first time flambéing anything in my life, and it was the easiest thing ever.
I used a long-tipped lighter, and kept a pot lid nearby, but it wasn't needed. What happens in the flambé process? The actual alcohol cooks off, leaving behind only the flavor. There is no actual alcoholic content in the final product.
Memories of that bread pudding inspired me. So I took that ooey gooey sauce, and I layered it between day old artisan bread. Then I covered the whole thing in French toast batter, and stuck it in my fridge for a nice long sleep overnight, snug in my Le Creuset covered casserole.
I triple heart love that it comes with a lid! Most days, my refrigerator is packed. Covering this with just saran wrap would have meant a lot of lost space above the casserole. But with a beautiful stoneware lid, I could pop my washed strawberries on top, and a ziptop bag full of lettuce too.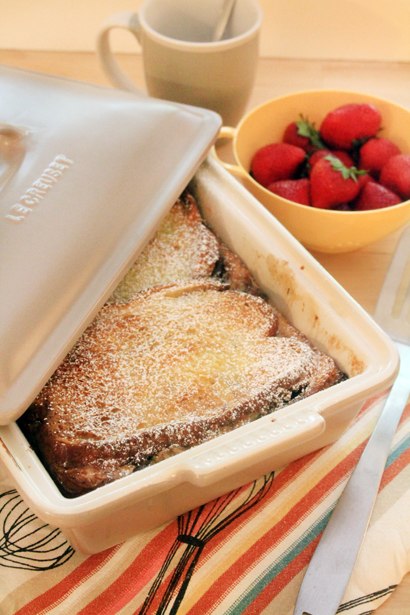 Baking this up, my whole house filled with a buttery, beautiful scent. Guys. GUYS. I dare you not to get giddy with expectation while this Overnight Bananas Foster French Toast bakes.
Brought to table straight from the oven, it makes an impressive display. The stoneware lid also keeps that French toast nice and warm if you're busy cooking up bacon or feeding the baby. If we had family nearby, I'd be taking this along to a potluck. This stoneware casserole dish is perfect for on-the-go food transportation, and makes a beautiful presentation once you get where you're going. And you can reheat the goods without having to transfer food into a new container.
In fact, I served this again at our town's cooking club, and it was a huge hit as dessert too. WIN Win win!
Can we talk for a minute about how pretty this new collection is? I'm such a sucker for rustic things and modern things, and this beautiful Sisal stoneware casserole is both at the same time. If you've ever been to my home, you know that I decorate with colors pulled from nature. Every room has brought the outside in, none so much as my kitchen. I even have river rock as the backsplash. All three of the Le Creuset Matte collection colors; Mineral Blue, Cotton, and Sisal, could be pulled from my river rock back splash. The possibility that I wouldn't fall head over heels for the Matte collection is pretty much nil.
James is also pretty stoked that the size of our covered casserole dish (a generous four quarts) is big enough for marinating large cuts of meat too. We've already marinated fajitas in it, and I'm pretty sure brined fried chicken is in our future too.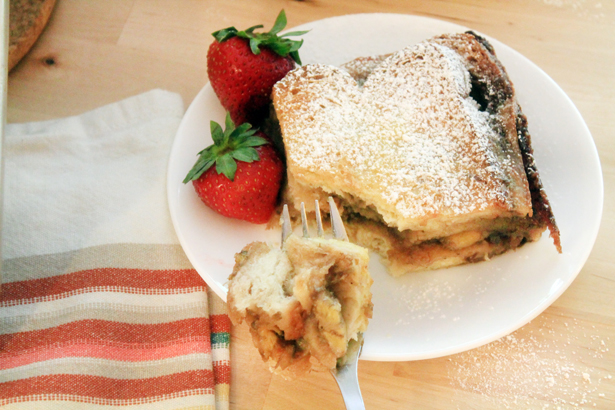 I'm so very sorry – due to a bad plugin, the recipe in this post was lost. I am working to replace it, but this requires finding the recipe notebook I wrote it down in.. which has thus far proven impossible. I will update the post when I can.