You can count this as really cool or really crappy. I am going to count it in the really cool category: this year, the entire country will be throwing parties for my birthday. Well, I should probably rephrase that. They'll be throwing parties on my birthday. This year, my birthday lands on Super Bowl Sunday.
James really kinda likes American Football, as he calls it, but doesn't follow it religiously. I'm much more a basketball girl. (Go Spurs Go!) Growing up in a town where there's only one major sports league team, those colors (black and silver) run deep. To this day, my favorite athlete is David Robinson (known as The Admiral to San Antonio Spurs fans), and he's been retired for over ten years. So it didn't even occur to us when the Super Bowl would be, where the Super Bowl would be, or why we would even need to know. And that's how we came to book a vacation to Dallas-Fort Worth, the same weekend that the Super Bowl is being held there. Oops.
So not only will I not be hosting a Super Bowl Party this year (sucks, I love the excuse to eat dips, chips, and finger foods), but I will be fighting the crowds of DFW without even the pay off of experiencing the game live. The good news is we're only there for a few days before we move on to Austin and San Antonio in a Texas-themed road trip. Other places we'll visit? Round Rock Donuts, where they make "Texas-sized" donuts that are bigger than your head, Kerbey Lane with their Paris Texas Platter, and Jim's Restaurant, where I can have a chicken fried steak at 3 o'clock in the morning, if that's what takes my fancy. Not that I've ever done that… you believe me, right? Right?! Okay, so it happened. Once, okay twice. In my 20s. But I'm in my 30s now, and eating like that is no longer allowed.
While I'm super excited to be spending my birthday week in Texas with my husband and my family, I'm also a little sad that we're not having a Super Bowl party. I really look forward to that every year, just because it's a great excuse to hang out with good friends, good food, and have a really good time.
I started to imagine, what would I serve at my party this year? Given it's both my birthday and the biggest sporting event of the year? Below you have my wishlist for party food nirvana from my favorite food blogs around the web. I hope that it helps you in your own Super Bowl party planning. Have a blast!
Perfect Dips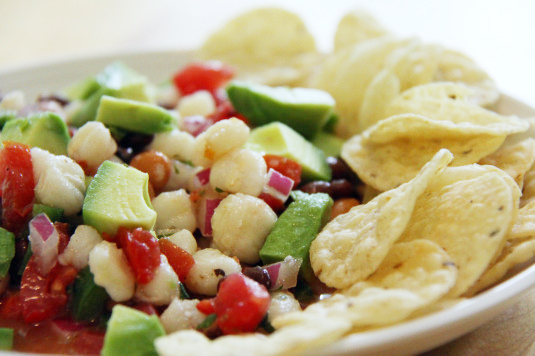 photo by Shaina from Food For My Family

Texas Caviar from Food for My Family
Tomato Basil Dip from I Am Baker
Game Day Guacamole from My Kitchen Addiction
Beer Cheese Dip from TidyMom
Garden Dip from Whats Cooking With Kids
and a perfect trio of Salsas
Indian Black Bean Summer Salsa by Wenderly
Tomatillo Salsa from my friend Cerys
Nacho Mama's Salsa because it's my mama's salsa!
Finger Foods
Baked Sweet Potato Fries by Dine & Dish

photo by Nancy at The Sensitive Pantry
Super savory Kale Chips from The Sensitive Pantry
Oooey Gooey Chili Cheese Nachos over at Confessions of a Cookbook Queen
Adorable Bite Size Tacos by My Baking Addiction
Hushpuppies from Sugarcrafter
Elegant Mini Brie Bites over at She Wears Many Hats
To die for Southern Ham Biscuits from Add A Pinch
Spicy, succulent potato samosas from Three Many Cooks
I'd make mini Cordon Bleu and Apple Paninis from SimpleBites
Nibbles

Popcorn Trail Mix by GoodLife Eats
Dates stuffed with Parmesan slivers and Walnuts from Deb at SmithBites
Spicy Rosemary Roasted Nuts over at Gourmande in the Kitchen
Sweet Nothings
Homemade Hostess Cupcakes from Bakeat350
Triple Citrus Bars on Bakers Royale
And most importantly, I want someone to make this birthday cake for me. Amanda from I Am Baker made this for her own birthday a few days ago, but it's so stunningly beautiful, I can't help but covet it for my own.


photo courtesy of Amanda of I Am Baker
[wpurp-searchable-recipe]My Imaginary Super Bowl Party – – – [/wpurp-searchable-recipe]