I haven't been as excited to post anything to this blog in a long time as I am these Movie Theatre Cookies.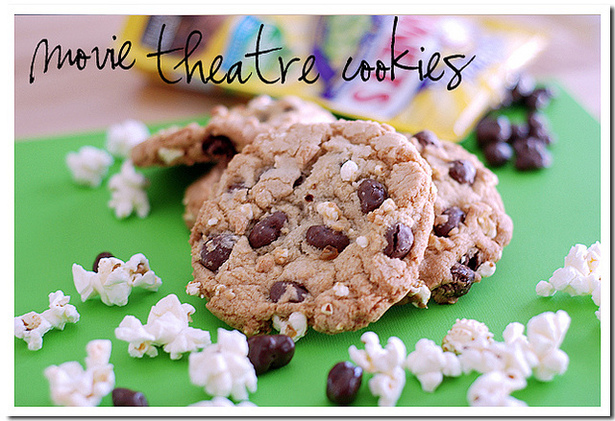 They started out as just an inkling of an idea when James and I went to the cinema to see Tron: Legacy (visually beautiful, but not so much the plot).
I don't know about you, but I can't go to the movies without popcorn. With butter.
It makes me sad to sit through a film without it.
Oh, I know it's horrible for you. I really do. But I love it.
James prefers to have sweets when we go to the film. A "Super Squishy" (ICEE) or some Raisinets.
And that's where this idea first popped up. James got Raisinets that day we saw Tron.
And he said to me, "Wouldn't Raisinets be awesome in cookies?". Yes, yes they would be.
Now, plenty of people have put Raisinets in oatmeal cookies. That one's kind of a no-brainer.
Easy to swap in chocolate covered raisins where you would normally use regular raisins.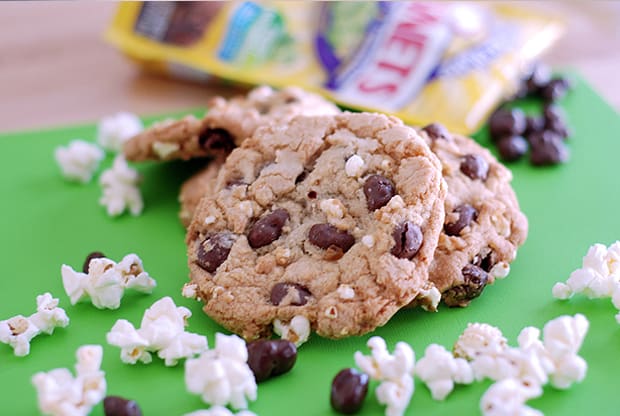 But what if you put Raisinets in a chocolate chip cookie, and you also added popcorn?
It took me a couple of tries, a couple different kinds of batter. I even tried other movie theatre add-ins – whoppers, sugar babies, even snow caps.
All were good, but the flat out, miles-ahead winner in my testing is the Raisinets and Kettle Corn combination.
Did you know that in the UK, the cinema gives you a choice of Sweet or Salty popcorn at the concession stand?
It's pretty awesome.. until you realize they don't offer you Butter topping. That made me sad.
But it also made me think that Kettle corn, with it's sweet and salty beauty, would be the better option here.
Kettle corn might not have been the obvious choice, but I think butter popcorn would have been too overwhelming.
These are literally the best cookie I have ever ever ever made. The kettle corn and raisinets with the cookie dough turn into this sweet-salty euphoria that I could write sonnets about.
I can't stop eating them, I can't stop thinking about how great popcorn is in cookies.. I may need a 12 step program.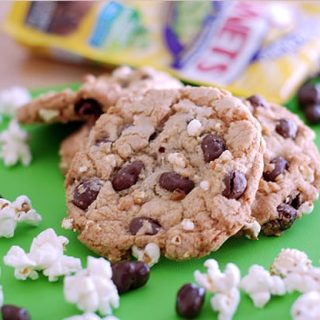 Movie Theatre Cookies
Movie Theatre Cookies combine Raisinets, Kettle Corn, and your new favorite cookie dough into one amazing cookie. It'll be your showstopper for years to come.
Ingredients
2 1/2 cups all-purpose flour
1 teaspoon baking soda
1/2 teaspoon kosher salt
1 cup butter, room temperature
1 cup light brown sugar
1/2 cup granulated sugar
1 tablespoon pure vanilla extract
1 egg
1 egg yolk
11 oz bag of milk chocolate Raisinets
2 cups Kettle Popcorn, crushed
Instructions
Preheat the oven to 325°F.
In a small bowl, combine flour, baking soda and kosher salt. Use a whisk to combine well and aerate the flour. Set aside.
In the bowl of a stand mixer or a large bowl, cream room temperature butter on medium speed until light and fluffy.
Add both sugars and cream again until well combined.
Crack eggs into a separate bowl, adding one whole egg and one egg yolk only. Add them to the butter-sugar mixture and cream on medium high speed until fully incorporated and light and fluffy.
Add the flour mixture to the wet ingredients in increments, mixing on low and then medium speed after each addition.
When the flour is fully incorporated, add the bag of Raisinets and mix them in by hand or on low speed with the stand mixer.
Pour Kettle Corn (pre-bought or freshly microwave popped) into a small bowl. Crush the kernals in your clean, dry hands, to break the popcorn down into smaller bits.
Measure 2 cups from the crushed popcorn pieces and add it to the dough, mixing it through either by hand or with the stand mixer on low speed.
Using a large cookie scoop or an ice cream scoop, scoop balls of dough onto a parchment lined baking sheet. The cookies will spread, so only bake 6 cookies to a sheet.
Bake for 17 minutes or until golden brown.
Recommended Products
As an Amazon Associate and member of other affiliate programs, I earn from qualifying purchases.
Nutrition Information:
Yield:

24
Serving Size:

1
Amount Per Serving:
Calories:

253
Total Fat:

13g
Saturated Fat:

8g
Trans Fat:

0g
Unsaturated Fat:

4g
Cholesterol:

39mg
Sodium:

174mg
Carbohydrates:

32g
Fiber:

1g
Sugar:

20g
Protein:

3g
This nutritional information is just an estimate and not to be considered perfectly factual.