I haven't been as excited to post anything to this blog in a long time as I am these Movie Theatre Cookies.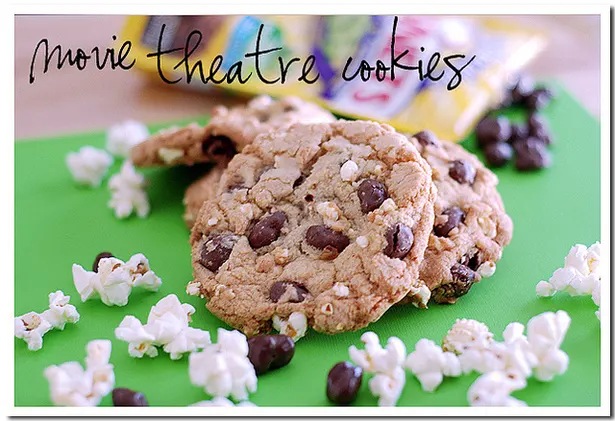 They started out as just an inkling of an idea when James and I went to the cinema to see Tron: Legacy (visually beautiful, but not so much the plot).
I don't know about you, but I can't go to the movies without popcorn. With butter.
It makes me sad to sit through a film without it.
Oh, I know it's horrible for you. I really do. But I love it.
James prefers to have sweets when we go to the film. A "Super Squishy" (ICEE) or some Raisinets.
And that's where this idea first popped up. James got Raisinets that day we saw Tron.
And he said to me, "Wouldn't Raisinets be awesome in cookies?". Yes, yes they would be.
Now, plenty of people have put Raisinets in oatmeal cookies. That one's kind of a no-brainer.
Easy to swap in chocolate covered raisins where you would normally use regular raisins.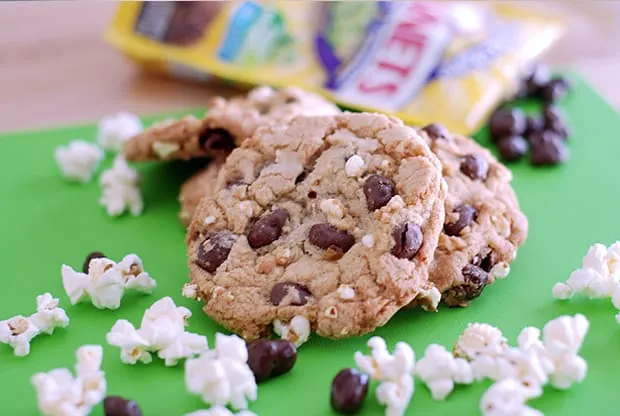 But what if you put Raisinets in a chocolate chip cookie, and you also added popcorn?
It took me a couple of tries, a couple different kinds of batter. I even tried other movie theatre add-ins – whoppers, sugar babies, even snow caps.
All were good, but the flat out, miles-ahead winner in my testing is the Raisinets and Kettle Corn combination.
Did you know that in the UK, the cinema gives you a choice of Sweet or Salty popcorn at the concession stand?
It's pretty awesome.. until you realize they don't offer you Butter topping. That made me sad.
But it also made me think that Kettle corn, with it's sweet and salty beauty, would be the better option here.
Kettle corn might not have been the obvious choice, but I think butter popcorn would have been too overwhelming.
These are literally the best cookie I have ever ever ever made. The kettle corn and raisinets with the cookie dough turn into this sweet-salty euphoria that I could write sonnets about.
I can't stop eating them, I can't stop thinking about how great popcorn is in cookies.. I may need a 12 step program.