When it comes time for Secret Recipe Club assignments, I always feel a little like I'm opening a Christmas present when I open the email from our group organizer, Jane. Who will it be? Do I know them? What will I make?
This month my email led me to Megan's Cookin'. Megan is new to me, but that doesn't mean she's not fabulous. She's got tons of content to choose from, and I really really struggled with what to make. When I choose a recipe for SRC, I like to go back to the oldest recipes.
As someone who's been blogging a long time (in blogging terms, anyway), I know that while my oldest photos are shocking, the recipes I blogged first are often the ones I'm most passionate about. Things like my mom's salsa, or breakfast tacos. I like to think it's the same for a lot of bloggers, so I like to bring light (and traffic) to a recipe they might think is long since forgotten.

As soon as my email arrived yesterday morning, I started digging through Megan's archives. We were having friends (and it turned out, 5 more friends than we originally planned!) over for a barbecue, and I was in desperate need of dessert inspiration.
Suddenly I stumbled on Megan's Strawberry Cream Diet Pie. Something about the creamy filling and crisp cookie crust called to me.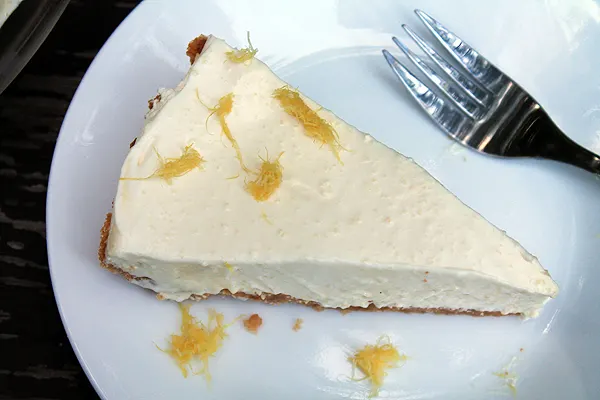 For a while now, I've been meaning to use the new Newton Fruit Thins Lemon Crisp flavor to create a pie crust. From the moment I tasted them, I knew they would be fabulous in some sort of cheesecake-type application. Megan's pie was exactly the push I needed to make that idea a reality.
What can I say? This is probably the easiest pie I've ever made. According to Megan's site, each slice is only 2 Weight Watcher's points. I'm not sure if my changes (using the Fruit Thins instead of graham crackers for the base, using Chobani Greek Yogurt) increase or decrease that situation in any way, but I can tell you that this makes for one crazy delicious pie.
Megan's original recipe is strawberry and chocolate. With the Lemon Crisp cookies, I was planning to make a lemon pie from start to finish. But my whirlwind flit through Target meant I didn't pay quite as close attention as I should have.
I grabbed Pineapple Chobani instead of Lemon Chobani. And poured it into the pie filling before I noticed the happy little pineapples staring up at me from the quickly-torn-off Chobani foil lids. Hoping for the best, fearing for the worst, I threw the pie in the refrigerator.
I'm happy to say that Megan's recipe can now be certified fool-proof! Or at least, this particular fool-proof. It turns out lemon and pineapple are pretty much a marriage made in pie heaven.
Light, creamy, with that perfect crunch from the cookie base. This is a pie you want to make when you have an unexpected crowd or an unexpected craving. It's lovely and versatile. Follow Megan's recipe to a tee, or mine, or pave your own road by subbing in your favorite Jell-O and yogurt flavors. The world is your pie-oyster.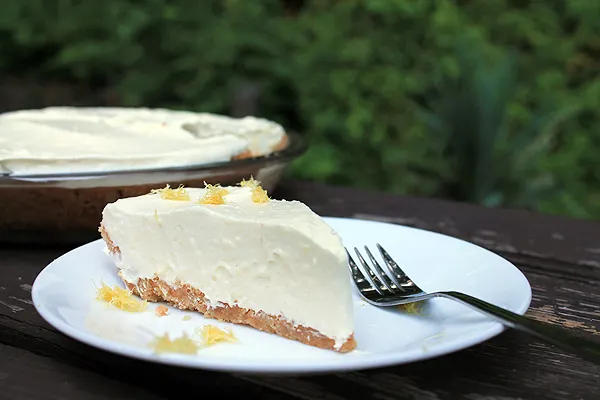 Lemon Pineapple Cream Pie
adapted from Megan's Cookin'
makes one 9″ pie
Ingredients
For the Crust
15 Newton Fruit Thins Lemon Crisp cookies
1/3 cup granulated sugar
6 tablespoons butter, melted
For the Pie Filling
1 3 oz package Sugar Free Lemon Jell-O
1/4 cup boiling water
2 6 oz containers Chobani Greek Pineapple Yogurt
1 8 oz container of Lite Cool Whip
Directions
For the Crust
Preheat the oven to 350°F.
Place all 15 cookies in the bowl of a food processor. Pulse until the cookies resemble coarse sand. Pour into a small bowl.
Add the sugar to the crushed cookies and whisk it to combine the sugar evenly through the cookies. Melt butter in a measuring jug in the microwave (it takes about 60 seconds), then pour over the sugar-crumb mixture. Continue stirring the mixture until all of the cookie crumbs have butter on them and the entire bowl resembles wet sand.
Pour the mixture into a 9″ pie pan and use a flexible spatula or your clean and dry hands to press and flatten the crumbs to line the pie pan evenly.
Bake for 10 minutes. Allow to cool completely. You will not need the oven anymore, so remember to turn it off.
Pour the packet of lemon Jell-O into a large bowl. Use a kettle to boil water, and add 1/4 cup of it directly to the Jell-O. Stir the Jell-O briskly with a whisk until the Jell-O fully dissolves in the water.
Allow it to cool a bit, then add the containers of yogurt directly to the Jell-O and stir until completely combined.
At this point, my pie crust still wasn't quite cool, so I put the yogurt filling into the refrigerator along with the Cool Whip container and waited until the crust was completely cool to the touch before moving on to the next step.
When the pie crust is completely cool, fold Cool Whip into the yogurt filling and continue to stir until the mixture looks completely incorporated.
Pour the filling into the pie crust and smooth it over to create an even, rounded top.
Refrigerate for at least 2 hours, and then serve. You can top it with lemon zest or dollops of whipped cream, or simply as is.

[wpurp-searchable-recipe]Secret Recipe Club: Lemon Pineapple Cream Pie – – – [/wpurp-searchable-recipe]