Jen said it best: Baking for others is a lot more fun and rewarding than just baking for the sake of it.
Not long ago, Amanda from I am Baker put out the call for folks that might need a pick-me-up. A little surprise to let them know how much they're loved. She dubbed it Desserts for the Deserving.
There's no way I could miss out on being a part of such a cause. Food is love, people. Baking is love. Cookies are love.
I signed up as quickly as I could to volunteer, making it just under the wire for the cap-off. And then started thinking about what I might make for Joel and Freda, my recipients.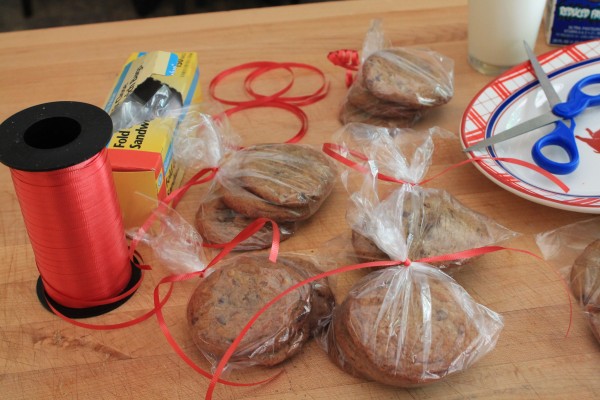 Joel and Freda became surrogate parents for Stephanie, and grandparents to her kids, when Stephanie's own mother passed away. I know if I were in Stephanie's position, I'd want to find ways to thank them too.
In the days running up to my assignment, Jen mentioned on twitter something about cookies with Milk Duds. One quick trip to the The Dollar Tree later, I was in possession of more chocolate covered duds than should be legally allowed, and we were on our way to cookies for Freda and Joel.
I used my old standby recipe, based off Jamie's Rolo Stuffed Cookie recipe. I didn't stuff these cookies, but I maintain that the cookie base from that recipe is absolute cookie dough perfection.
Using a mixture of Milk Duds and chocolate chips resulted in a decadent cookie that I hope oozed with love as much as it did caramel goodness.
After I started to bake these off, a few of them started to do a little sliding action as the caramel from the Milk Duds melted. If I had it to do over again, I would freeze the boxes of Milk Duds first to circumvent that.
Jen will tell you Milk Duds also work fabulously as a cookie stuffer. I beg of you to go check out the by-product of our post-melty Milk Dud conversation. Jen is pretty much a cookie genius.
Bake these Milk Dud Studded Cookies for someone you love. Someone that needs a pick-me-up. And especially for someone that needs to know they matter.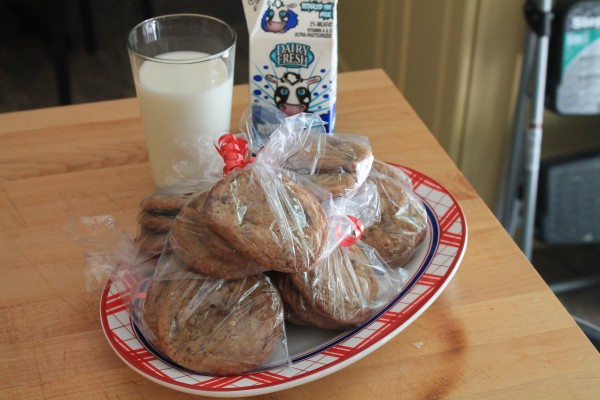 Milk Dud Studded Cookies
makes about 4 dozen medium-sized cookies
Ingredients
1 1/2 cups (3 sticks) butter, room temperature
1 cup granulated sugar
1 cup light brown sugar
2 eggs
1 tablespoon pure vanilla extract
3 3/4 cups All Purpose flour
1 teaspoon baking soda
1 teaspoon Kosher salt
1 cup semi-sweet or bittersweet chocolate chips
2 "movie theatre" size boxes of Milk Duds, frozen
1 cup chopped pecans (optional)
Directions
Start by freezing the Milk Duds for at least an hour.
In a large bowl or the bowl of a stand mixer, combine butter and both sugars. Cream on medium-high speed until light and fluffy, scraping down the sides often.
Crack 2 eggs into a small bowl, then pour them into the butter-sugar mixture. Cream again until eggs are fully incorporated.
Add vanilla extract and mix again.
In a medium bowl, combine flour, baking soda and salt. Whisk for a minute or two to fully combine and distribute the salt and soda.
Add flour mix in increments to the wet ingredients. Mix well after each addition, first on low, then higher until well combined. Scrape down the sides of the bowl with a rubber spatula after each addition.
Add chocolate chips, Milk Duds and pecans. Mix well by hand, taking care not to break open the Milk Duds.
Refrigerate the dough for at least an hour.
Preheat the oven to 350°F. Bake the cookies on a parchment lined tray, 6 at a time, for 17 minutes.
Allow to cool slightly before removing to a wire rack.

[wpurp-searchable-recipe]Desserts for the Deserving: Milk Dud Studded Cookies – – – [/wpurp-searchable-recipe]