It took me a while to join the Pinterest bandwagon, I'll admit. I wasn't really down with one more time suck. In fact, I'm proud that I'm still quite force-ably limiting myself to about an hour a week in browsing the site.
But let it never be said that women aren't visual creatures, you know what I mean? I took one look at the pin for the cake these cupcakes are inspired from and swooned. I love limes, and I love cake, and I'm a fat kid, so how could I not love this lime cake?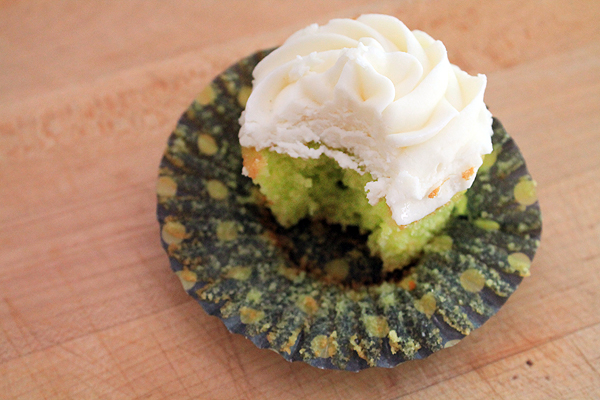 If you follow me on facebook or instagram, you might have seen me post a few photos of a barbecue we had, including fire pit and s'mores.
Originally it was just supposed to be Casey and Dan coming over, but that morning I texted baby cousin Alycia after realizing she lives about an hour away and I hadn't seen her since Christmas. Alycia was all about it, except that she had friends in town from out of state.
As far as I'm concerned, it will always be the more, the merrier around here, so we quickly went from a party of 4 to a party of 10. Cupcakes obviously required!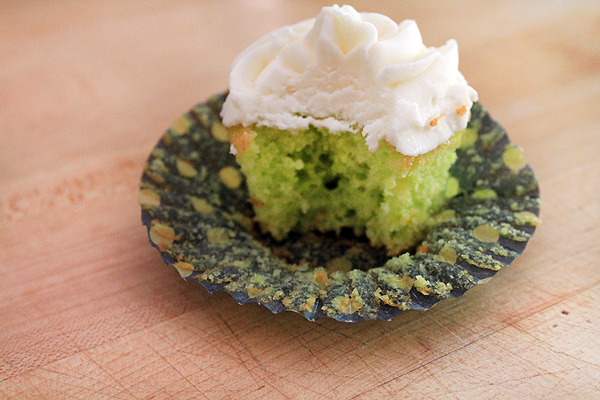 I became enthralled with the bright green color you get when you bite into the cupcakes. It absolutely matches what the cake tastes like, and my brain really likes it when food outside matches what you think it tastes like. Am I the only weird one like that?
The cream cheese frosting, tippled with a little crystallized lime and key lime juice, is perfectly puckery and sweet at the same time. I may have eaten a spoonful or two of just the frosting, it was that good!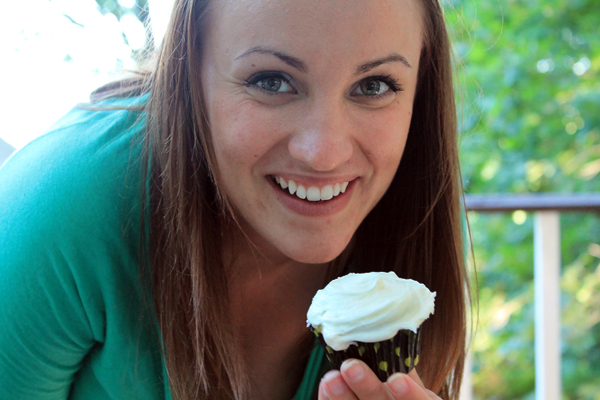 Baby Cousin Alycia shows off a cupcake!
Please, if you make nothing else from this site this summer, make these cupcakes. They are SO perfect.
Key Lime Cupcakes

with Lime Cream Cheese Frosting
adapted from The Lettered Cottage
makes 24 cupcakes
Ingredients
For the Cake
1 box of lemon cake mix
1 3 oz box of lime jello
1/3 cup vegetable oil
3 eggs
1/2 cup of orange juice (I used Trop50)
2 tablespoons key lime juice
For the Frosting
1 8 oz block of cream cheese, room temperature
2 sticks (1 cup) unsalted butter, room temperature
2 lbs (1 bag) powdered sugar
4 packets of True Lime
2-3 tablespoons key lime juice
Directions
Preheat the oven to 350°F. Line 2 12 count or 1 24 count muffin pan with cupcake liners. Spray the pan and liners lightly with cooking spray.
For the Cake
In a large bowl, combine cake mix and jello. Whisk together to combine evenly. Add oil, 3 eggs, orange juice, 2 tablespoons of water, and key lime juice.
Mix together with a spoon or spatula until all the ingredients are well combined. Use a large cookie scoop to fill each liner 2/3 of the way full. You should have just enough batter for 24 cupcakes.
If you come up a few cupcakes short, redistribute batter by the teaspoonful into the empty wells. This will prevent you from baking an overfilled cupcake (can result in divots and falling), while also making sure you have 24 cupcakes.
Bake for 22-25 minutes, until the center cupcake comes away clean when pierced with a toothpick. Allow to cool completely before frosting.
For the Frosting
In the bowl of a stand mixer, or in a large bowl, mix the room temperature butter and cream cheese on medium high speed until completely combined and light and fluffy. Stop and scrape the sides often until they are completely combined.
Add the powdered sugar in increments, mixing on low speed first, then higher speed until each addition is completely incorporated.
When the powdered sugar has all been added, add the 4 packets of True Lime, and 2 tablespoons of key lime juice. Mix again. If you'd like to bump up the lime flavor, add one more tablespoon of lime juice, if you feel it won't cause the frosting to become too loose. You can also add another packet of True Lime instead.
If you don't have True Lime, I highly recommend it. It's great for adding to water and tea for extra flavor, and also in baking. You can use the zest of a lime in place of it, but you will need the zest of probably two whole limes to get the same lime zing.
This frosting recipe makes quite a lot of frosting, so feel free to be liberal as you decorate each cupcake.

There is an Amazon affiliate link in this post. If you click it and then later buy something on Amazon, I get a wee percentage (usually a few cents) of the profit Amazon earns on what you buy.[wpurp-searchable-recipe]Key Lime Cupcakes with Lime Cream Cheese Frosting – – – [/wpurp-searchable-recipe]