I posted these scrumptious Neapolitan Oreo Brownies just after Sandy hit, when I was clearly eating my feelings at having no power.
But now I have a happier reason to re-post them. OREO and Kitchen Play have come together to encourage folks to PLAY UP dessert.
Kitchen PLAY is giving away two OREO Thanksgiving prize packs filled with goodies like: a Crate & Barrel serving platter, a Crate & Barrel pie server, an exclusive OREO cookbook and more Thanksgiving goodies. This prize is valued at approximately $70.
To enter, simply recreate any OREO dessert from this Kitchen PLAY event or come up with your own. Post about it on your site and provide a link to that post in the comments on this Kitchen PLAY page.
Multiple entries are allowed, as long as a separate OREO dessert post is created for each entry. Deadline is midnight PT on November 28, 2012. This sweepstakes will take place again at the holidays, so the earlier you enter, the more chances to win! Full sweepstakes guidelines can be found on the Kitchen PLAY site.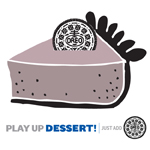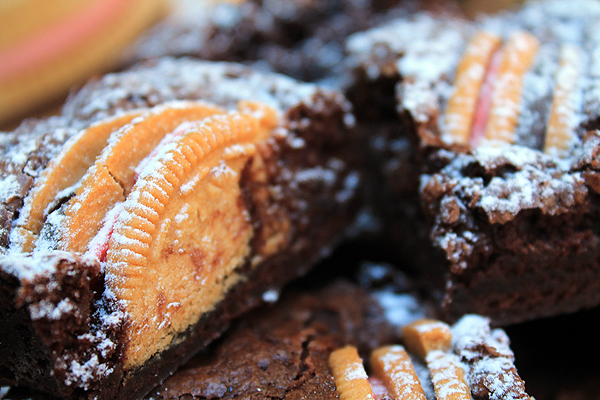 Neapolitan Oreo Brownies
makes one 8″x8″ pan
Ingredients
1 cup all-purpose flour
1 teaspoon baking powder
1/2 teaspoon kosher salt
1/2 cup butter (1 stick)
1/4 cup semisweet or dark chocolate chips
1 cup brown sugar
2 large eggs
1 teaspoon vanilla extract
About 15 Neapolitan Oreos, cut in half
Directions
Preheat the oven to 350°F.
In a large bowl, combine flour, baking powder and kosher salt. Whisk to combine and aerate.
In a medium glass bowl, place butter and chocolate chips. Melt in the microwave for about 1 minute (mine took 1 minute and 10 seconds), until butter is completely melted, and when stirred, the chocolate chips melt completely into the butter.
Stir gently for 1 to 2 minutes or until chocolate and butter completely combine, and there are no lumps of chocolate chips. If you find that there are, microwave at 10 second intervals and stir after each until the lumps are gone.
Add brown sugar to the butter-chocolate mixture and whisk together, making sure the sugar is completely mixed in and there are no clumps throughout.
In a separate bowl or cup, whisk eggs and vanilla extract together with a fork, then add to the chocolate mixture. Stir to combine, making sure eggs are completely incorporated.
Pour wet mixture into dry, and fold gently with a rubber spatula until flour seems to be mostly incorporated. Do not overmix.
Pour the brownie mixture into an 8×8 square baking pan (I used metal, glass is okay too) sprayed with cooking spray, or greased with butter and sprinkled a little flour or cocoa powder.
Place Neapolitan Oreo halves throughout the batter – vertically, horizontally, covered or uncovered (I left quite a few uncovered for visual effect).
Bake for 20-22 minutes or until the top looks set and the brownies are a little squidgy when touched.
Allow to cool completely, then remove from pan and slice into squares.

Disclosure: I received the prize pack for review, and was compensated for a teaser post that appeared on Monday. The recipe, and all opinions are my own. The PLAY UP dessert image was proved by OREO.[wpurp-searchable-recipe]Kitchen Play: Play UP Dessert with OREO – – – [/wpurp-searchable-recipe]