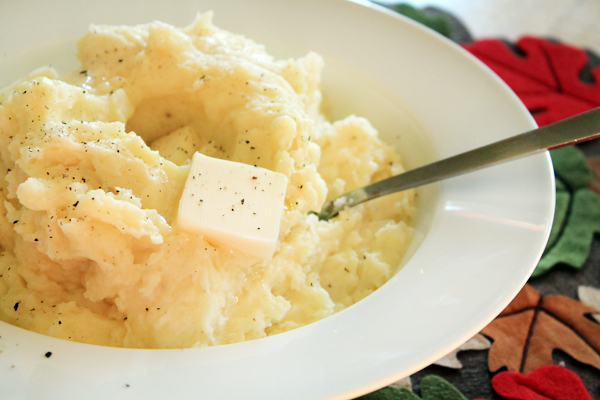 There's no getting around it. Thanksgiving food is nothing without healthy doses of cream and butter. From the butter that crisps the roasting turkey skin to the fluffy whipped cream that tops pumpkin pie, all the food on your Thanksgiving table simply gets better with butter or cream, or both!
And when it comes to mashed potatoes, I take things seriously. Mashed potatoes top the list for my favorite foods – tied only with refried beans. Incidentally, they both only get better with cream and butter added to them. In fact, adding butter and cream to refried beans is an old secret for most San Antonio Mexican restaurants. It's why their refried beans taste SO. DARN. GOOD.
But we're here today to talk about mashed potatoes. That essential Thanksgiving side dish. No matter your feelings on stuffing, green bean casserole, or sweet potato pie, there is no divisiveness to be found in mashed potatoes – except whether there's ever enough of them to go around!

I decided to write about how I make my garlic mashed potatoes because I had the opportunity to improve them with the use of Dreamfarm gadgets. I mean, I didn't change my methods or my ingredients, but things just got a whole lot easier!
Dreamfarm is an Australian company I got to know this summer at a home show event. Every product I looked at was more innovative than the last. They've taken common ideas, like the potato masher, the garlic press, and even tongs.. and just.. made them BETTER.
I'll admit that occasionally I've skipped fresh garlic in recipes and used dried or powdered because I hate it when my hands smell like garlic for days, no matter what I do to get rid of the scent. (Sometimes even the scrub of kosher salt and cold water doesn't work 100%.)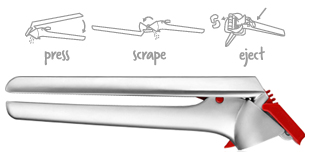 Dreamfarm's Garject changes all that. Not only can you use unpeeled garlic, but Garject actually cleans the minced garlic off it's surface, and ejects the peel without you having to touch it!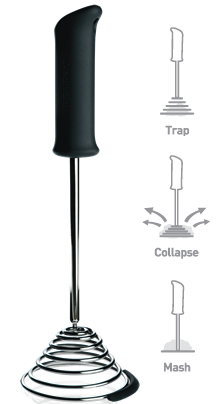 Smood, Dreamfarm's answer to a better potato masher, is simply fun looking. I find myself bouncing it on top of the counter before I put it away. I know I'm weird, but it's fun! And it perfectly mashes potatoes, pumpkin, avocado – whatever you want. Without making your wrists and arms tired in the process.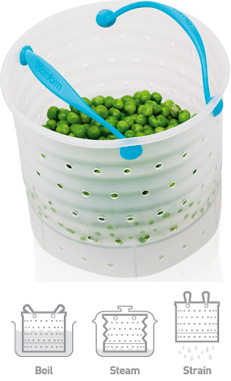 But probably my favorite Dreamfarm product, because of it's sheer versatility, is the Vebo. Vebo is a silicone basket boiler/strainer/steamer that will sit in any round pot and do any of those things.
The silicone handles stay cool to the touch, so all you have to do is lift the basket out of the boiling water and pour the vegetables into a waiting bowl. It stores easily inside another pot, so you don't need to find a home for it in your already stuffed cabinets (if they're anything like mine!).
I've used these three items to create my best mashed potatoes, pictured below. Make sure you come back tomorrow for a Dreamfarm giveaway so you too can be a mashed potato superstar!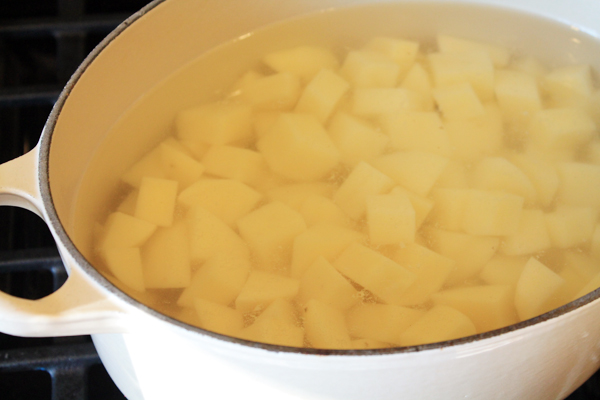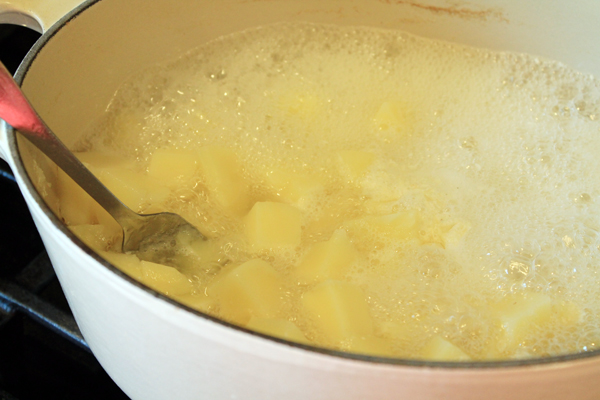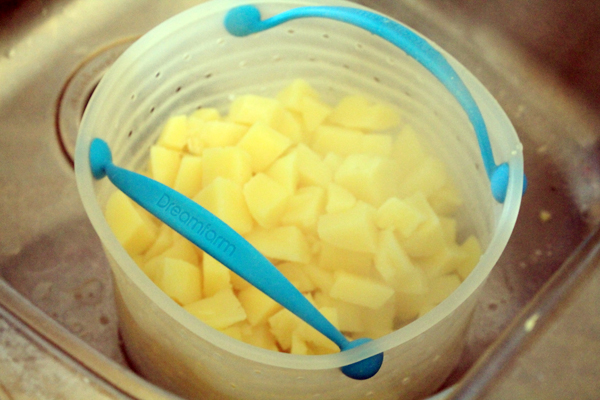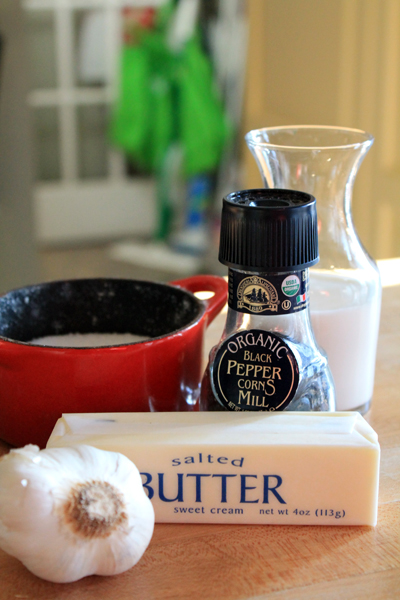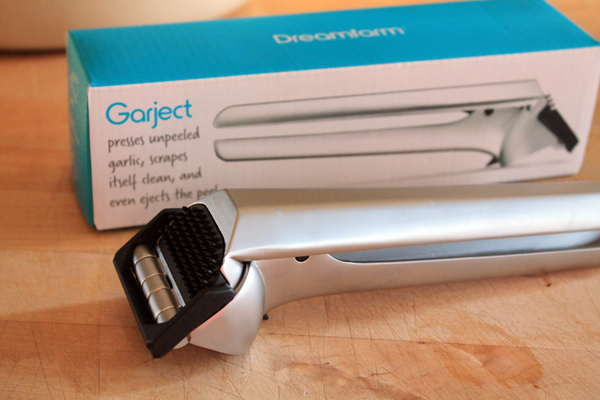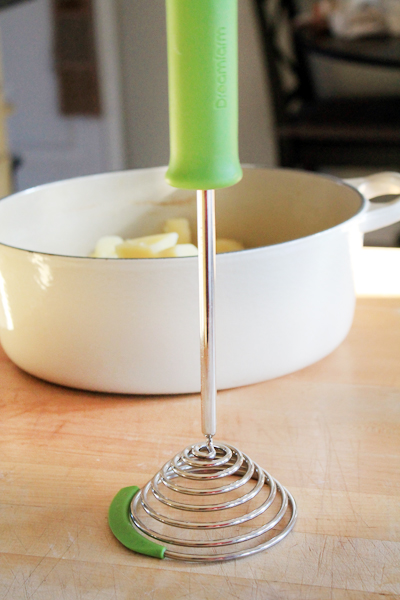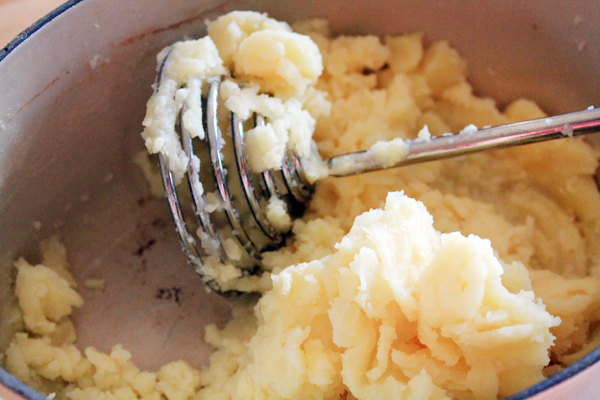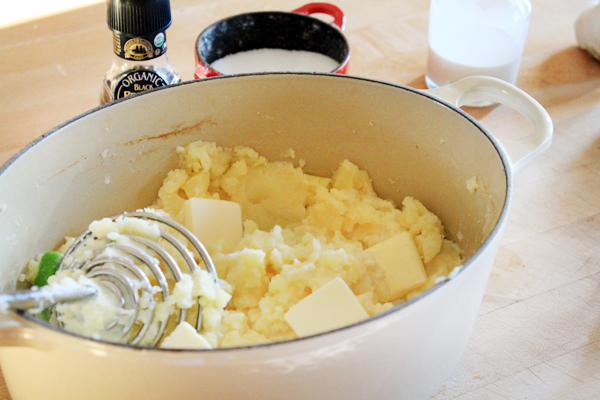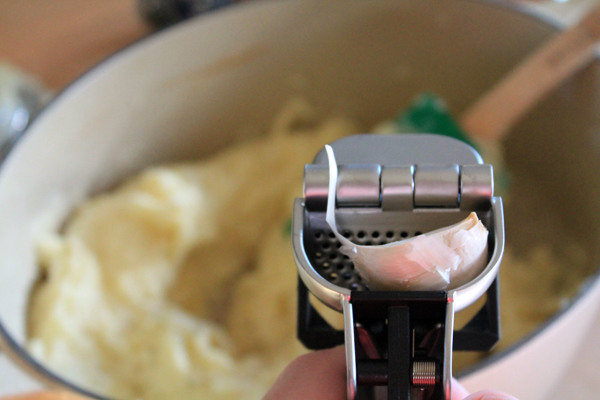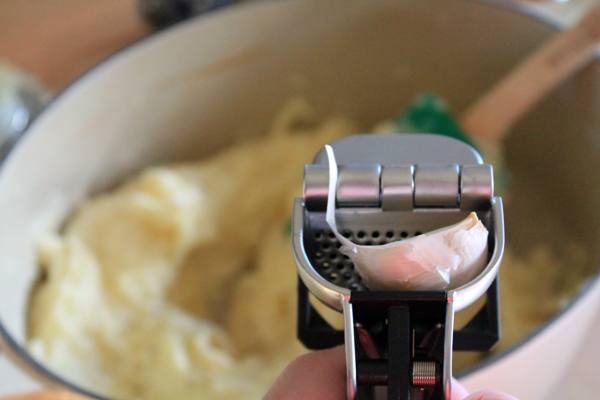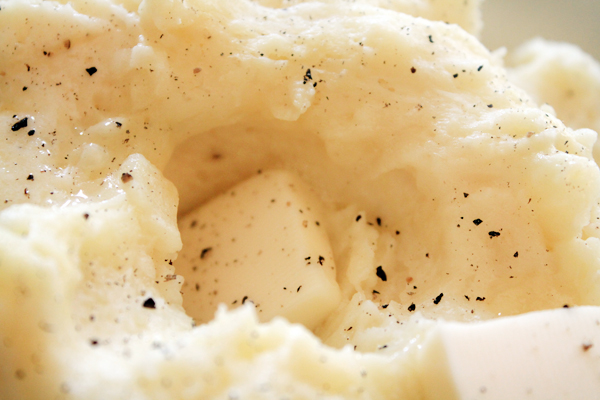 Garlic Mashed Potatoes
Serves 4
Ingredients
6 medium Yukon Gold potatoes
1/4 cup heavy cream or half and half
3 tablespoons butter, plus more for garnish
2 fresh garlic cloves, minced
2-3 teaspoons kosher salt (to taste)
fresh cracked black pepper to taste
Directions
Wash and peel the potatoes. Cut them in half or dice them into 1″ squares. Place the potatoes in a large saucepan and cover with cold water.
Place on the stove on high heat for 20-25 minutes, until potatoes break apart when pierced with a fork.
Heat the serving bowl you plan to use by placing it in the oven (if oven safe) or in a sink full of very hot water.
Strain the water away from the potatoes and return the potatoes to the pot. Mash with the Smood potato masher until all potatoes have been broken down fairly well.
Add cream, three tablespoons of butter, minced garlic, kosher salt, and fresh cracked black pepper. Stir or mash further with Smood until the potatoes reach the desired consistency.
Spoon potatoes into the serving dish, taking care to dry it beforehand if heated in hot water. Press the spoon into the top of the potatoes and drop a couple more tablespoons of fresh butter on top of the potatoes.
Serve immediately.

[wpurp-searchable-recipe]The Best Garlic Mashed Potatoes – – – [/wpurp-searchable-recipe]