You're looking at that tree, and you're thinking, "Gee, Amber, that doesn't look like any kind of luck." When Hurricane Irene took the East Coast (forgive me) by storm last August, we really thought we'd made it through the worst of it unscathed.
The storm's beginnings were on Friday, and the island of Manhattan was evacuated. 45 minutes west, where we live, we knew our biggest issue would be the trees.
We live at the top of a hill, our basement is completely sealed. We're lucky that we don't ever have to worry about flooding. By Saturday evening, the storm really got going.
Rain fell, lightening and thunder crashed, wind howled. James and I barely slept a wink. Around 4 a.m., I forced him to take some Tylenol P.M., thinking we were through the worst of it and he'd be able to sleep in the next day.
At approximately 10 minutes to 7 a.m., the whole house shook with a huge BOOM. We knew immediately it was a tree, but my poor husband was a little to incoherent to even comprehend it at first, and went back to bed.
I knelt on our couch and stared out the bow window at what we would later dub "The BFT" – I'll let you figure out the acronym.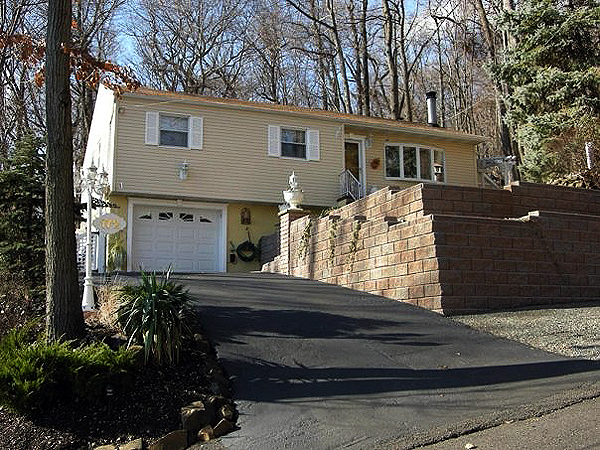 The house as it looked when we bought it.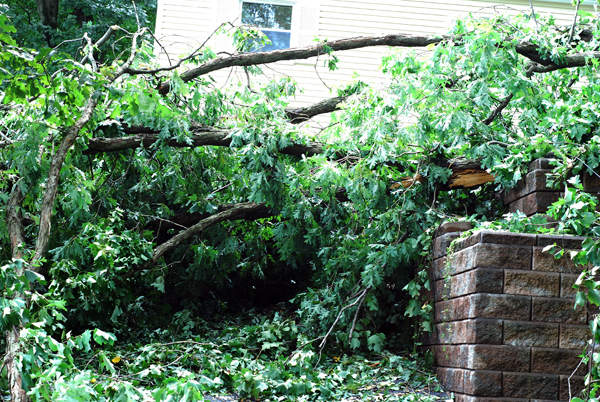 The day after The BFT fell.
I stared and stared, and thought about what would need to get done. I tweeted, wanting to reach out to other humans and affirm I was still breathing. I am lucky to own a smart phone.
At over 80 feet tall, The BFT had fallen from pretty far back in the land preserve we live in. It was just tall enough to lay across our retaining wall, completely block the driveway with its branches and leaves, and hang over the easement into our neighbors' driveway, but not block it.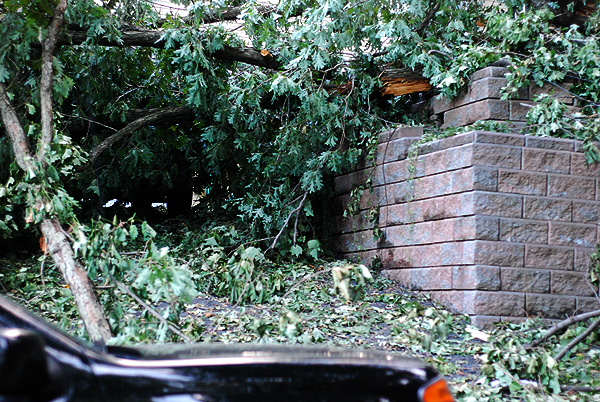 When The BFT fell, it took out the entire street's electricity. As it fell, it landed on our house's main power line, yanking our electricity meter clear off the house, and taking a few shingles with it. For the next few days, life was pretty surreal.
Cooking, reading, eating, bathing by candlelight. Hurriedly cooking all the good steak in the refrigerator on that first day, hoping we'd at least get some value out of it. We ate like kings, actually.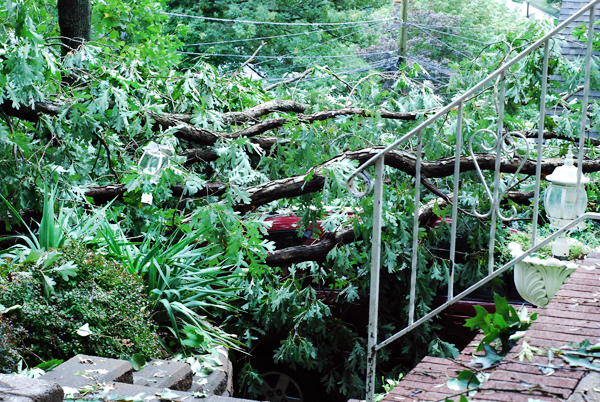 Having to walk through the back yard, down through the forest behind our house anytime we wanted to leave. Realizing that we'd have to rent a car (Thank goodness Enterprise will pick you up!) because one car was under the tree, and the other was trapped inside the garage behind it. And through all this, I tell you, I felt lucky.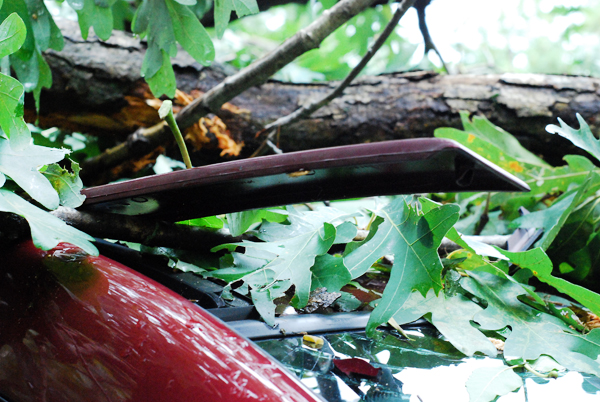 In case you were wondering, this is what happens to a Chevy Equinox when a tree falls on it.
Luck was definitely on our side that day. That massive, several ton tree did not fall ON our house or anyone in it.
Inconvenienced, but alive.
Insured, and alive.
Lucky to have house insurance to pay for the damage. Lucky to be able to afford the cost of a hotel for a few days, eating out, and a rental car until our insurance could cut us a check.
Lucky that it happened to us, and not someone who couldn't do those things.
This all may seem really deep when what I really want to do is tell you about a contest. But it's a really great contest, and I hope you win. We could all use a little luck o' the Irish in our lives, right?
But International Delights asked me to write to you about a the last time I felt truly lucky, and this is it. For St. Patrick's Day this year, International Delight is throwing a Luck of the Irish Contest on Facebook.
One Grand Prize Winner will win a trip for two to Ireland!
Fifteen runners up will win a year's supply of International Delight!
I'd love to hear about a time when good luck was on your side!
For your chance to win a Keurig coffee maker and a one year's supply of International Delight creamer, complete these two steps:
1.Share the International Delight's Luck of the Irish Facebook Contest with your friends below
2.Tell us that you've invited your friends to enter the Luck of the Irish Facebook Contest AND tell about a time when good luck was on your side
This is a sponsored conversation written by me on behalf of International Delight. The opinions expressed by me do not necessarily reflect the view of the International Delight Brand. Official Contest Rules. Official International Delight Facebook Contest Rules.
[wpurp-searchable-recipe]Getting Lucky – – – [/wpurp-searchable-recipe]