These cookies may look like nothing special, but to me they mean Christmas, plain and simple.
Every year of my childhood, Nanny and Mom would set out to make several dozen of these little guys, and then into the freezer they would go. First to be eaten at Christmas, but we'd eat the leftovers all year round, directly out of the freezer.
Whether ice cold directly out of the freezer or warm and gooey fresh from the oven, Reese's Peanut butter cup cookies are a simple, poppable delicious treat for Christmas or any time.

I know a lot of people in blog-land make these with peanut butter cookie dough, but Mom and Nanny always made them with sugar cookie dough, so that's what tastes right to me.
It really couldn't be more simple: sugar cookie dough, reese's peanut butter cups, and a mini muffin pan. That's all you need to create the perfect bites of deliciousness for your holiday get-together.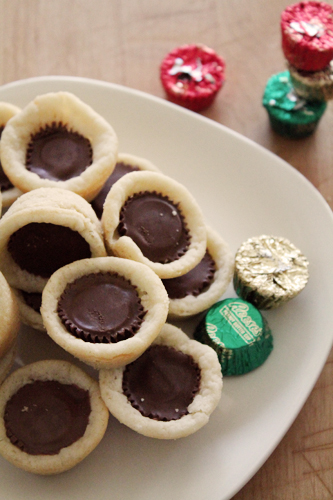 Nanny never used box cake mixes. She refused. But for some reason, when it came to these cookies, she was just fine with using refrigerated cookie dough. I wish I could ask her what seemed different, but it'll have to remain a mystery.
You can make your own sugar cookie dough, but if you're in a hurry, there really is nothing that can beat using good ol' Pillsbury in the tube.
The reason I say that is that it's much easier to portion out the dough by slicing discs directly from the tube, and then cutting those discs into quarters. In a matter of minutes you've got perfect portions to drop into the mini muffin wells.
So even if you make your own dough, I highly recommend forming the dough into a roll, and then refrigerating it for a few hours to make it easily sliceable. The whole process will be much more manageable.
Peanut Butter Cup Cookies
Makes about 50
Ingredients
2 bags Reese's Peanut Butter Cups, unwrapped
1 Large roll Pillsbury Sugar Cookie Dough or your favorite Sugar Cookie Dough Recipe
Directions
Preheat oven to 350F.
Slice Sugar Cookie dough into 1/4″ slices, and then quarter each slice.
Lightly spray your mini muffin pan with cooking spray – this is imperative! Go very light, but DO spray.
Drop each quarter into a mini muffin well. Bake for approximately 9 minutes.
Remove from oven and immediately press 1 Reece's Peanut ButterCup into each cookie.
Allow to cool slightly, then run a knife around the edge of each cookie.
When completely cool, use a knife again to go around the edge of each cookie to ply it out of the pan.
May be eaten immediately or frozen up to – well – Nanny would say forever, but I'll say 4 months.
Enjoy anytime, anywhere, and especially directly from the freezer when Nanny isn't looking.

[wpurp-searchable-recipe]Nanny's Peanut Butter Cup Cookies – – – [/wpurp-searchable-recipe]