Candy Corn White Chocolate Blondies use Hershey's seasonal treat to make them special. Every bite is something special.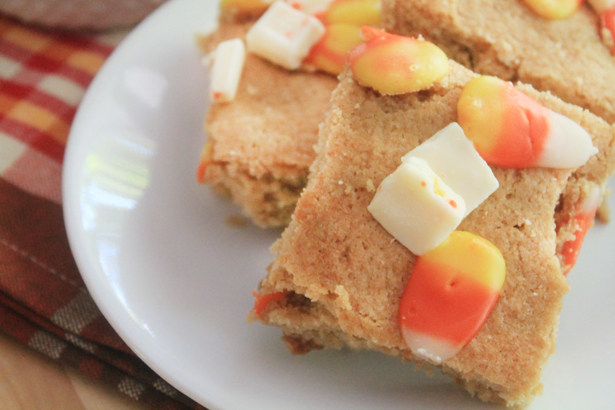 Oh, Target. Whenever any holiday approaches, from 4th of July to Thanksgiving, Target becomes a dangerous place for me to be. I just can't resist the seasonal stuff. Be it in the dollar aisle or the seasonal section at the back of the store, I have no self control.
This is why there are currently three seasonal kinds of Oreos in my cupboards right now (Caramel Apple, Pumpkin Spice, and Halloween, if you must know, nosy), a giant bag of candy corn, and the newest seasonal offering from Hershey; Candy Corn White Chocolate bars.
I'll admit, these sweet little treats, upon first inspection smell a little perfume-y. Maybe even waxy – though my husband would tell you
all
Hershey's chocolate is waxy. But I just couldn't resist white chocolate speckled with bright yellow and orange pieces and an undercurrent of sweet candy corn flavor… hint: it's honey.
But baked into a blondie? Whoa baby. Everything mellows out. The perfume goes away. You're left with sweet, cocoa buttery chunks wafting through thick wedges of chewy blondies. Oh, and candy corn itself? Turns into molten pockets of caramel when baked in dough. Rev. E. Lation.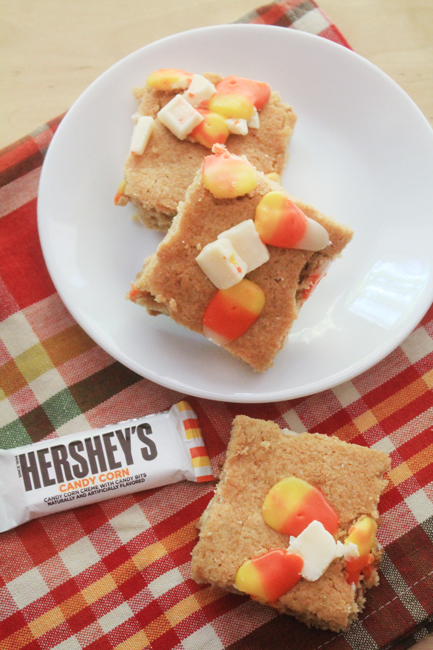 This is one of those recipes that, when made, did
not
go to work with The Brit. Instead, we nibbled on bars every chance we got, which is quite dangerous, because no two people should have access to an entire 9×13 tray of blondies for an unlimited amount of time.
So I urge you, bake these immediately, but only in anticipation of an epic Halloween party or for sharing with lots of folks. They're too good to keep around the house to yourself. Nobody needs a blondie hangover. Really.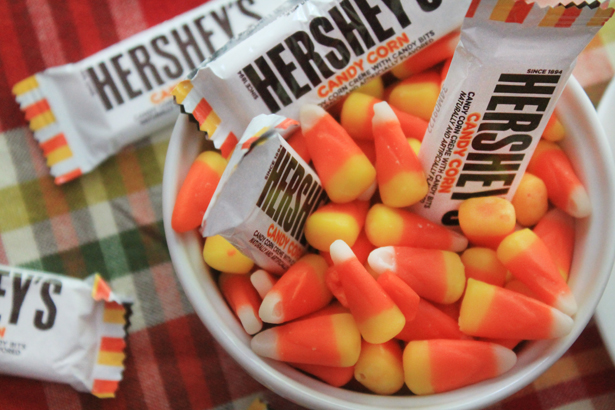 Are you a Target seasonal addict like I am? What's your favorite Target-y thing to splurge on? Mine is clearly the holiday candy and cookies aisle.