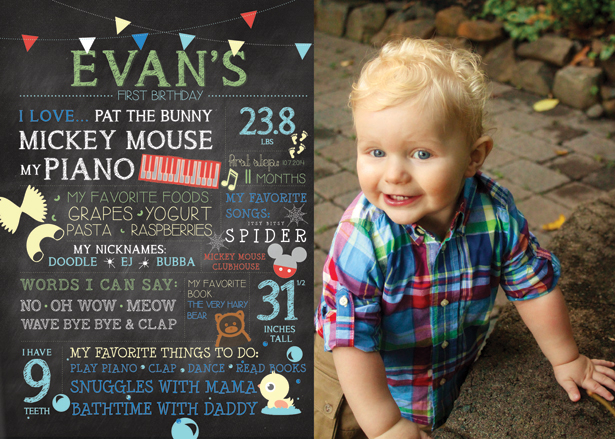 I really can't believe that a year ago today, I fully expected to be having a baby. Evan was due on October 19th. It would be another 10 days, 20 hours of labor, and a c-section before he actually made his appearance.
Oof.
Every single second of waiting was worth it. While physically this has been one of the hardest years of my life, in terms of emotional fulfilment, we are the happiest we've ever been.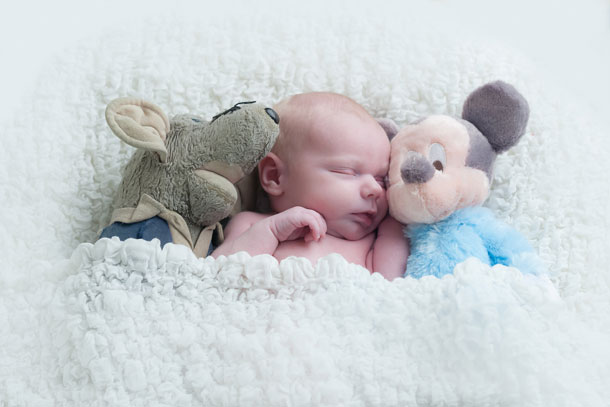 Evan is the epitome of happy kid. Hardly anything phases him, and he tends to go with the flow 98% of the time.
Over the past 48 hours we've been dealing with a feverish, unhappy kid. I think we must be too spoiled, because James and I have been as out of sorts as we were in the first weeks that Evan was home. We're baby lightweights, y'all. It's kind of embarrassing.
So, my little boy has strep throat just in time for his first birthday. What a bummer!
Yup, here we are, 10 days away from this little man being an entire year old. We made it. Together, the three of us made it!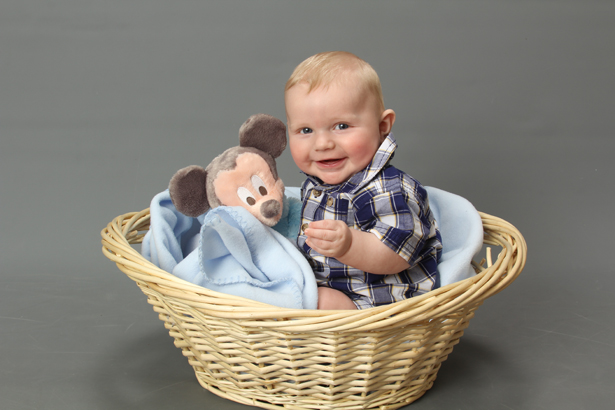 I don't claim to be an expert at parenting – far from it. But there are a few things this year that have made our lives infinitely easier, and that we genuinely love. I sat down to write about his birthday, and decided to start with advice. Mamas are always giving advice, even to ourselves.
If I could give advice to myself this time last year, there's a few things I'd say:
1) Get the c-section. Do not pass go, do not labor. You put yourself and your kid in danger, and it was a hell of a lot of pain and work.
Evan was over nine pounds, and my body was simply not equipped to deliver him. I'm honest with myself a year later that the writing was on the wall much before we were induced, but I didn't want to hear it. I'm still glad that I labored – I now know just exactly what I'm capable of withstanding. But if I had it to do over again? No way, Jose.
2) Always buy excellent quality blankets. Blankets are SO key in the first year. Playing, snuggling, swaddling. From cuddling on the couch to making sure your newborn is comfy cozy, the right blankets are a dealbreaker. Don't waste your time with the chintzy $10 store brand ones. You won't use them.
3) A good sleep routine as soon as the baby's natural schedule emerges. Giving cues that it's time to sleep early on make for a much easier time as the baby gets older and more aware.
In honor of Evan's first birthday, I decided I wanted to share some of the products that have made my life easier and happier this year.
The Liz and Roo Gray Elephants Receiving Blanket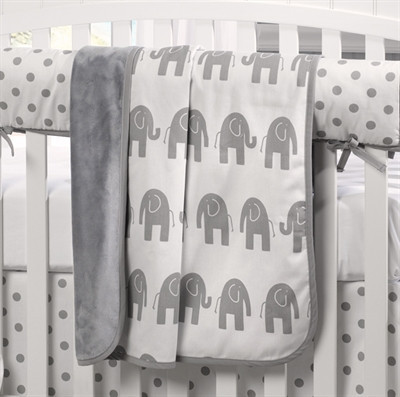 This neutral receiving blanket has adorable marching elephants on one side and a super-soft minky (faux fur) on the other side. Great for tummy time, the stroller, or rocking your little one to sleep.
We love how durable this blanket is, and how it goes with everything. Even though Evan's nursery is brightly colored, this blanket fits right in. It's been through lots of washes now and still looks completely brand new, and feels as soft as it did when I took it out of the packaging.
I love that the Liz and Roo blankets are made in the USA, and that the company itself is a small, woman-owned business.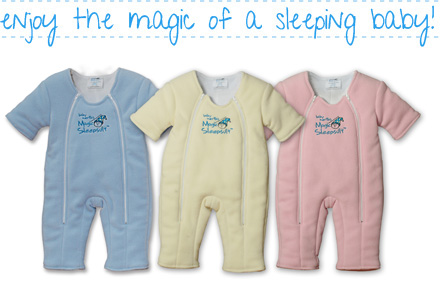 The sleepsuit is baby sleepwear that helps transition your baby from the swaddle. They still get that cozy, secure feeling, and help in muffling their startle reflex.
We started Evan in his sleepsuit, dubbed the super suit around here, at 8 1/2 weeks old. Slightly sooner than the product officially recommends, but Evan absolutely hated to be swaddled. We often referred to him as the "escapologist", because no matter how we swaddled – even the ones with velcro – he managed to escape. And cry and cry and cry, and not sleep.
You might hear people tell you that with babies, sleep begets sleep. It's 100% true. The first time we put Evan in his super suit, he took a three hour nap. A few days later, we tried it at night.
Our nine-week old slept for 8 hours straight, and was the happiest baby ever.
Remember how I mentioned a sleep routine? Putting Evan in his sleepsuit became practically Pavlovian as time went on. As soon as his arms and legs went in, he started to close his eyes. By the time the zippers went up, he was ready for his lovie and half-way to dreamland.
Evan has outgrown his sleepsuit now, and we were so sad. But it set up the sleep cues that we've continued on with a sleepsack. The act of putting him inside a suit and zipping him up is still a cue that he recognizes as "it's time to sleep".
Fisher-Price Piano & Remote Control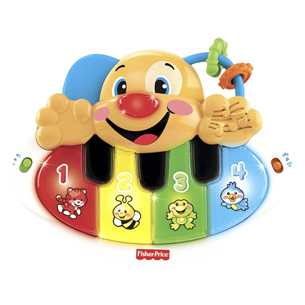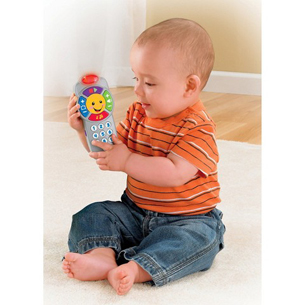 Full of fun songs and learning about letters, numbers, and colors, these two products are simply our favorite toys!
I didn't really buy any toys for Evan before he was born. A few rattles. We were given a few more. But I knew that as he grew, his interests would become apparent, and the toys would come. Oh, would they come. And a few toys rose to the top as Evan's absolute favorites.
What I didn't expect is that there would be toys James and I adore too. While every noise-making toy has its limit of tolerance to an adult's ears, Fisher-Price toys are honestly where it's at, y'all.
Most of them have multiple modes of entertainment – letters, numbers, english and spanish. There's almost always two volumes. I cannot tell you enough how important volume levels are.
This little piano and remote are Evan's two favorite toys. The first time I repeated one of the phrases from the remote to Evan is the first time he well and truly belly laughed. I treasure that memory. He was so amazed that his mama could say the same thing as his toy, in the same way.
This past year has simply been a dream come true. Every moment, good, bad, ugly, messy.. it's all been a dream come true.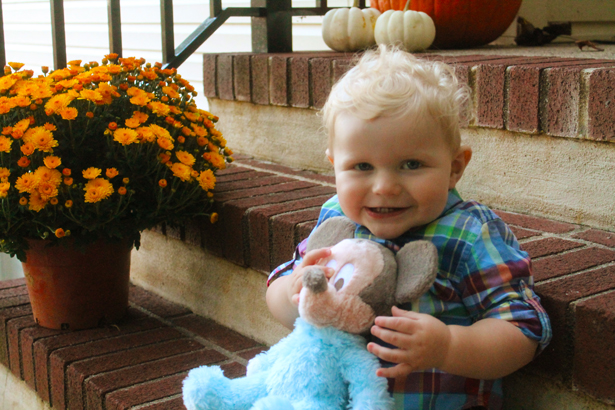 James and I are so grateful to have this little boy, this little love, to share our life with. He makes us laugh every single day. The sense of humor on this kid!
It makes us extremely happy to be able to share some our favorite things from this year with one of you! Use the Rafflecopter form below to enter!
There is a quote that hangs above Evan's crib, and every day I am reminded of how true it is. If you're struggling with infertility, I think you'll understand why I find it especially apropos.
All our dreams can come true, if we have the courage to pursue them. – Walt Disney
Here's to hoping for many more dreams to come true, baby boy. We love you! Happy Birthday.
---
Disclaimer: I received the Liz and Roo Elephant receiving blanket for review, but purchased all other products in the giveaway in the past year. All opinions are 100% my own. The Liz and Roo blanket and Baby Merlin Magic Sleepsuit are being provided by the manufacturers as part of this giveaway, and will be shipped directly to you from them. I am purchasing the Fisher-Price toys for you. Fisher-Price is not associated with this giveaway, nor do they even know who I am. I just love their toys. I have not been compensated for this post at all, and am in fact, spending money to give items away.