Butternut Squash Muffins made tangy with fresh cranberries. They're great for breakfast, or afternoon tea!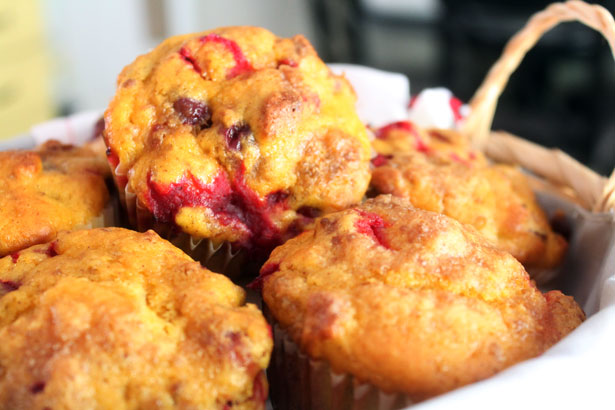 I have to say that butternut squash muffins aren't something that ever occurred to me before. But, faced with one from our weekly CSA that sat on the counter for at least two more, I knew something had to happen. Most people would immediately think soup, but I'm a weirdo. Pureed soups, unless they're tomato, don't always sit well with me. While pregnant? Nuh-uh. Not happening.
I decided I'd start by simply roasting the butternut squash. I mean, anything can be made from roasting a vegetable. Soups, a side dish, even a puree. I must admit, making butternut squash puree was about a thousand times easier than making pumpkin puree, and the flavors are very similar.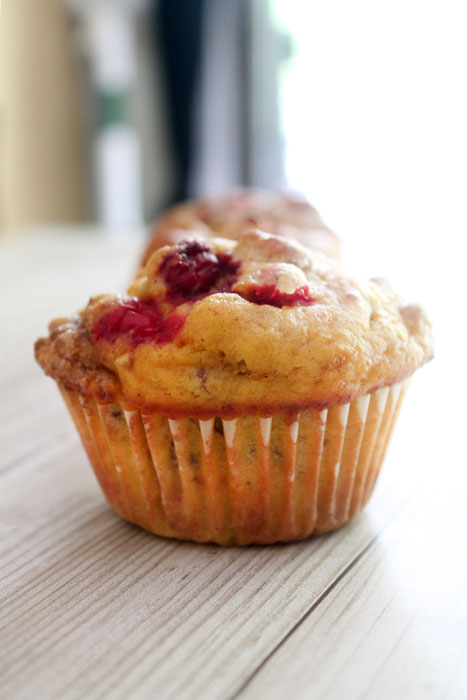 Don't get me wrong – I adore pumpkin in all its many forms. This pumpkin bread recipe? Rocks my socks every season. But pumpkins always seem a lot more intimidating than a li'l ol' butternut squash. Especially since you can peel the skin with a vegetable peeler, and chopping the squash is simple from there.
Tart cranberries are the perfect addition to these muffins. Butternut squash is sweet and earthy, and it needs a counter-balance. You could add some lemon zest and skip the cranberries, but why would you do that? Baking fresh cranberries in anything transforms them into beautiful bursts of tangy, juicy flavor. You could use dry cranberries instead, but if you can get your paws on some fresh cranberries, don't skip them.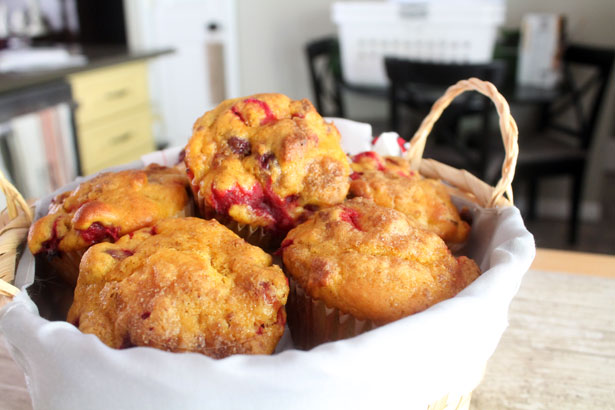 Lastly I added toasted pecans, because, yeah.. Texan. If a pecan can go in a baked good, I'm going to do my best to shove it in there. I love the contrast in texture they provide, as well as the additional nutty tones that complement the butternut squash. But you don't have to add nuts unless you want to. You could also toss in some sunflower seeds, pepitas, or even chocolate chips.
Don't forget to enter my Green Mountain Coffee Giveaway while there's still time!
Butternut Squash Muffins Recipe
makes 12-14 large muffins
adapted from The Farmhouse Cookbook by Susuan Hermann Loomis
Ingredients
For the Butternut Squash Puree:
1 average sized butternut squash, peeled, deseeded and chopped into 1-2″ pieces
oil to coat
For the Butternut Squash Muffins
2 cups all purpose flour
1 tablespoon baking powder
1 teaspoon kosher salt
1 1/2 teaspoons pumpkin pie spice
3/4 cup granulated sugar
1/3 cup vegetable oil
2 large eggs
1 1/4 cup butternut squash puree
1/2 cup half and half (or milk)
1 teaspoon vanilla
1 cup toasted pecans, chopped
2 cups frozen or fresh cranberries
Directions
For the Butternut Squash Puree:
Preheat the oven to 375°F.
Peel, slice, deseed and chop squash into 1-2″ cubes. Toss in vegetable oil to coat lightly.
Spread on a baking sheet and roast for 45 minutes.
Allow to cool slightly, then toss into a food processor or blender and puree until there are no chunks. Should yield about 1 3/4 cups.
For the Butternut Squash Muffins
Preheat oven to 400°F.
Combine flour, baking powder, kosher salt, pumpkin pie spice and granulated sugar in a medium bowl. Use a whisk to combine and aerate well.
In a large bowl, combine vegetable oil, eggs, squash puree, half and half (or milk) and vanilla. Whisk together until well combined. Eggs should be completely broken.
Add dry ingredients to wet, stirring with a spoon until just combined. Add pecans and cranberries and stir again, but gently. Don't overmix, or the muffins will be tough!
Bake for 20-25 minutes. Mine took 22.
This post contains an Amazon Affiliate link. If you click the link and then later purchase something from Amazon, Bluebonnets & Brownies may receive a few pennies.