Garlic Beer Bread made with delicious Shock Top Beer. Great with chili, stew, and your favorite soups!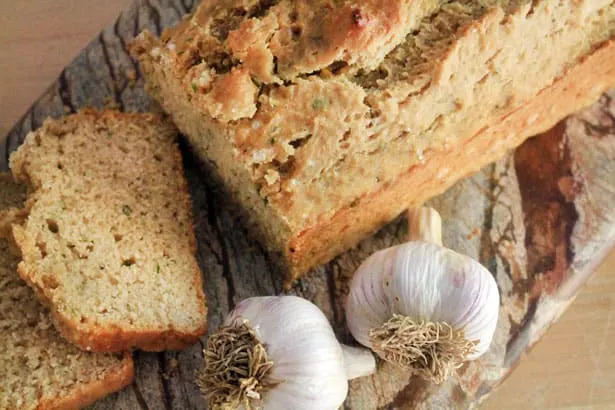 You've had beer bread before, right?
This mind-blowingly simple recipe means you can have fresh baked bread to go along with your favorite chili, soup, or stew in the same time it takes to make them.
Yeasty flavors develop without the need to rise because they've already fermented in the beer. Genius.
If you've read Bluebonnet Baker for any length of time, you know that I love to bake and cook with booze.
From Woodchuck Hard Cider Bread to Shiner Bock Cupcakes, if I can figure out a way to infuse the recipe with earthy notes from a little alcohol, I'll do it.
The weird thing? You'll *never* find me drinking a beer. Can't stand the stuff as a beverage.
As far as I'm concerned, it's an ingredient only. I know, I'm a weirdo.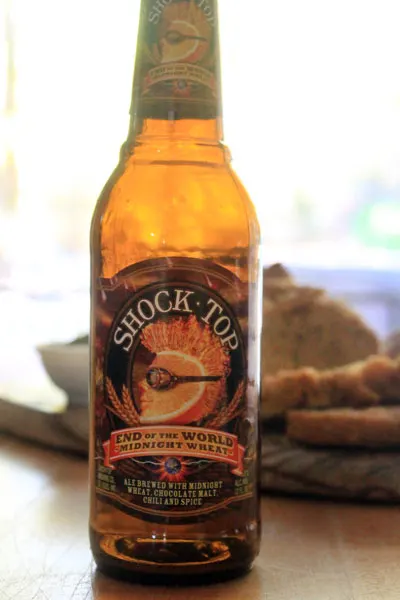 The nice thing is, you can add alcohol to almost any recipe and still have it be kid and pregnant lady friendly.
As the beer cooks, all the alcohol cooks out, leaving just the wonderful flavors imparted into the beer by its makers.
A lot of people don't know that my husband is an amateur brewer. He enjoys playing around with spices and infusing his beer with all sorts of fun flavors.
An offshoot of this is that he's always on the lookout for fun and exotic beers made by the pros.
Such was this Shock Top End Of The World Midnight Wheat. Made with chocolate malt, chili and spices, the beer itself has just a teeny bit of heat.
James took one sip and was intrigued – and I knew immediately I needed to use it in a recipe.
I'm not sure you can find this beer anymore, as it was last brewed at the end of 2012.
However, you can use any dark ale you'd like. Simply add a tiny bit of chili powder (I'd recommend ancho), and maybe some cumin too, to the recipe below.
Use your own taste buds as your guide.
I've made beer bread plenty of times before, but I always kept it simple. I never added extra mix-ins, not even cheese. How silly of me!
You've got to add garlic and black pepper to your beer bread. They combine to elevate every flavor.
Crumbled on beef stew last night? This beer bread was an absolute game-changer.
You could absolutely add some Parmesan or cheddar to the bread too, if you wanted.
I leave it out because the Mister is anti-fromage in most areas of his life. Pretty sure it'd be fantastic though.